Fourth coronavirus wave plateaus in Spain, but hospitals remain under pressure
The rise in cases has been slowed by restrictions and the ongoing vaccination drive, but seven regions remain in a situation of extreme risk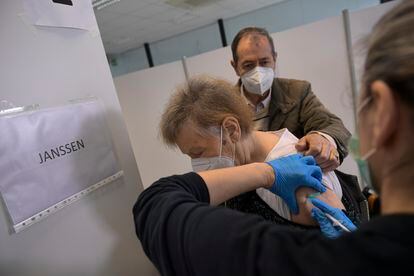 The curve of the coronavirus epidemic in Spain is flattening. The ongoing fourth wave, which is much less pronounced than the first three, appears to be easing – or, at least, it is not sharply climbing. According to the Health Ministry, Spain is at the "onset of stabilization" in terms of the pandemic based on the latest figures.
The report released on Thursday by the ministry shows that the 14-day cumulative number of coronavirus cases per 100,000 inhabitants for the country as a whole remains high, at 232.55. But it barely rose three points on the day before, after two days with no change. The experts attribute this to the vaccination campaign and the ongoing social restrictions in most of the country, but they also warn that the situation in Spain is far from good – seven regions and the two North African exclave cities, Ceuta and Melilla, are at "extreme risk" levels, with an incidence above 250, and one in every five intensive care unit (ICU) beds is occupied by Covid-19 patients. Thursday's report added 132 deaths to the official toll, which now stands at 77,496.
This wave can't be compared with the previous ones and it appears to be stabilizing now

Jesús Molina Cabrillana, spokesperson for the Spanish Society of Preventive Medicine, Public Health and Hygiene
"Caution and prudence," insists Daniel López-Acuña, a former director of emergencies at the World Health Organization (WHO). After more than a month that has seen the incidence rising – the curve started to go up on March 16 – the 14-day cumulative incidence has plateaued for the last week. On Monday it came in at 230, and by Thursday it had gone up by 2.55 points. "We are in a plateau phase, taking one step forward and one step back," explains Toni Trilla, head of preventive medicine at the Hospital Clínic in Barcelona. "Perhaps the health system will not suffer so much and I hope that there is a consolidated fall, but we are a bit confused because this wave has not followed the pattern of other waves."
Some epidemiologists point to the seven-day cumulative incidence, which also confirms the plateau. This data point has been hovering around 108 cases per 100,000 inhabitants in the last seven days, less than 50% of the 14-day figure. "If the seven-day incidence is below 50% of the 14-day incidence, that means that the curve is falling," explains Jesús Molina Cabrillana, spokesperson for the Spanish Society of Preventive Medicine, Public Health and Hygiene. "This wave can't be compared with the previous ones and it appears to be stabilizing now. In any case, if there is an uptick, it won't be a big one. More than a week has now passed since Easter, which is when there could have been an increase in infections, and it is not expected to rise further."
The speed of transmission of the virus in Spain – the R number, which measures on average how many people a person with the coronavirus infects – is also falling. On April 14, the last day for which there is data, the number had fallen below one for the first time in a month – that is the limit below which the health authorities say that the virus is under control. On that day, it came in at 0.98 – that's to say, for every 100 positives, another 98 people will be infected. "It is good for this to continue like this," explains López-Acuña. "But what should guide us is that, if we continue to have a plateau and incidences that are very high and intensive care units with such high occupation, we should be concerned."
What is clear from the data is that the epidemiological situation varies greatly from region to region. Valencia, for example, is below 40 cases per 100,000 inhabitants, the lowest level in Spain. Galicia, the Balearic Islands and Murcia are also under 100. Madrid and Navarre, however, are as high as 400 cases per 100,000 inhabitants while the Basque Country exceeds 500 cases.
"The overcrowding of people can have a big influence," explains epidemiologist Joan Caylà. The population density is not the same in Galicia as it is in the metropolitan area of Barcelona. In the case of the Valencia region, what they do very well there is contact tracing and that can be a determining factor for isolating cases and imposing quarantines."
The toughness of the measures in place – each region can decide its own restrictions – and compliance with the rules, the experts say, constitute another of the determining factors that are seeing the epidemiological curves fluctuate. Valencia, for example, has taken very strict measures and is deescalating very slowly – bars have to close at 6pm, a restriction that is due to be lifted on Monday. Madrid, meanwhile, with an incidence that is 10 times higher, has been a lot laxer with restrictions. Restaurants, for example, are staying open until 11pm.
The experts also assume that the vaccination campaign has also played a key role in the progress of this wave, but there are several nuances here. With just 21.4% of the population so far protected with one shot of the Covid-19 vaccines being used in Spain, above all in the older age groups, the epidemiologists agree that the vaccine has not had such an influence on the infection curve, given that most of the new cases are being registered among young people who have not had the chance to get their shots yet. The big effect, they say, is in terms of the fall in deaths and hospitalizations, where age is a key factor. Vaccination "will have had an influence on the curve of infections," explains Molina Cabrillana, "but where it has really contributed is with serious illness and mortality. There is currently not the kind of overloading [of hospitals] that we saw in November and January."
Spain's ICUs were facing this fourth wave from a starting point of high hospital occupation. On March 16, for example, 20% of beds were occupied by Covid-19 patients, and healthcare professions feared a wave of new cases after Easter week. However, admissions have not, for now, shot up. On Thursday, there were 2,283 coronavirus patients in a critical condition – that is 22.6% of the available ICU beds.
López-Acuña insists on the need for prudence in the current situation. "It is likely that the magnitude of the wave is not so pronounced because there is less mobility than at Christmas, fewer crowds and a segment of the population is protected [by vaccines]. But there are a few worrying elements: community transmission is not under control, and there is an ongoing high occupation of ICUs, with the most severe cases linked to the British strain, which leads to longer hospital stays." This variant, which is more infectious and was first identified in England, has been predominant in Spain since March.
The experts all coincide with López-Acuña and call for the social restrictions in place and protection measures to be respected, and for people not to drop their guard ahead of time. "The impact on the healthcare system will have to fall if the speed of vaccination accelerates, but it will take time before we see this in terms of infections," explains Trilla. The European Center for Disease Control (ECDC) has issued a recommendation stating that two people should be able to remove their masks in a closed space if both of them are vaccinated, as well as calling for a relaxation of quarantine and testing requirements for travel for those who have had their vaccine shots. Molina Cabrillana sees this as feasible, but Trilla and López-Acuña say that it is "premature" because it could convey a message of "false security," and prompt an "excessive relaxation."
As for the social restrictions, Trilla recommends "asymmetrical measures that are adapted to the scale of each region at any given time." Molina Cabrillana is calling for people to "hold on a little longer, until we are below 50 cases per 100,000 [inhabitants]." López-Acuña, meanwhile, is insisting that "restrictions continue in closed spaces." If there is one thing that all the experts consulted by EL PAÍS agree on, it is the major pending task: "Strict contact studies," Caylà states.
English version by Simon Hunter.