Majority of Spanish Congress against EU refugee deal signed by acting PM
This is the first time that the lower house has opposed a European agreement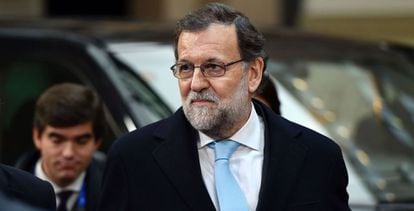 Acting Prime Minister Mariano Rajoy will go to the European Council on March 17 to defend a position that most of Spanish Congress radically rejects.
Except for his own Popular Party (PP), all other congressional groups – 227 deputies out of a total of 350 – feel that the European Union's deal with Turkey to expel refugees is illegal.
Podemos leader Pablo Iglesias said on Twitter that he felt "ashamed of an EU that systematically violates human rights"
Rajoy, who signed the agreement on Monday, has refused to appear before his own Congress to explain the deal and negotiate a common Spanish position on the subject of refugees.
Instead, he will send a state secretary to do the explaining, as he claims that an acting government is not subject to parliamentary control. Following an inconclusive election on December 20, Spain has yet to name a new prime minister, and could face a fresh vote in June if no progress is made in the coming weeks.
Other parties are now seeking ways to force Rajoy to come before them ahead of the European Council date.
EU commitments to Turkey
F.G. / M.G.
The European summit on March 7 yielded the following commitments:
- To return to Turkey all new illegal immigrants (including refugees) who travel from there to Greece. The EU will cover the expenses.
- For every Syrian citizen who is readmitted to Turkey, the EU will resettle another Syrian from the refugee camps located on Turkish territory.
- To allow Turkish citizens to enter the EU without visas as early as June 2016.
- To speed up the release of €3 billion that the EU promised Turkey to deal with the Syrian refugees, and to decide on Turkey's demand for a further €3 billion.
- To speed up negotiations for Turkish EU membership.
This is the first time that a vast majority of Congress has rejected a deal subscribed to by the EU government.
Socialist leader Pedro Sánchez said the European deal with Turkey was "immoral" and possibly even "illegal."
"We have a week to change this agreement. The European Council of March 17 and 18 cannot approve this pact of shame," he said.
But options are few, as Rajoy has no plans to appear in Congress before those dates, nor will the chamber have a chance to vote on initiatives like the one put forward by the Socialist Party, amending the whole of the EU-Turkey agreement.
The opposition feels that Rajoy has no right to go to the Council without first reaching domestic consensus, as he would be overstepping his own role as acting executive official. The deal, say critics, involves future budget increases and political decisions outside Rajoy's current legal mandate.
Podemos leader Pablo Iglesias said on Twitter that he felt "ashamed of an EU that systematically violates human rights." The deal, he said, breaks asylum laws.
Ciudadanos representative Miguel Ángel Gutiérrez described the agreement "as a symptom of weakness" because it was akin to "subcontracting the problem" to Turkey, a country that is "moving in an autocratic direction."
English version by Susana Urra.