Why Madrid's leftist strongholds voted for the conservative Popular Party: 'Freedom' and 'fear of Pablo Iglesias'
EL PAÍS travels to the so-called "red belt" of the region to find out why so many voters cast their ballot for victorious candidate Isabel Díaz Ayuso rather than the socialist parties
Incumbent Madrid premier Isabel Díaz Ayuso of the conservative Popular Party (PP) swept to a resounding victory in last week's regional election. Not only did she win in the PP's strongholds, but she also won in the so-called "red belt," which has historically always supported leftist groups, in particular the Socialist Party (PSOE).
"Freedom," or the fear of losing it, was key to how Ayuso turned the tables in the red belt, which is made up of the municipalities of Fuenlabrada, Leganés, Parla, Getafe and Alcorcón. Fear of Unidas Podemos founder Pablo Iglesias, who stepped down as a deputy prime minister to stand as a candidate, also played an important part. These factors combined created the perfect storm to lead Ayuso to a sweeping victory – albeit falling just shy of an absolute majority. Far-right Vox has already said it will lend her its votes to see her become premier once more.
Óscar Zafra from Fuenlabrada considers himself "on the left, but not the far left." However, when the 18-year-old voted for the first time last Tuesday, he cast his ballot for Ayuso. He tells EL PAÍS that his decision was based on the conservative politician's promise of "freedom" and a lax approach to coronavirus restrictions. "Being able to go out, go to bars, get together with friends... I don't know, I don't understand a lot because I'm still young, but Ayuso convinced me the most," he says, adding that he made up his mind after watching the televised debate on April 21. His friend, Daniel Cáceres, who is too young to vote, agrees with his decision.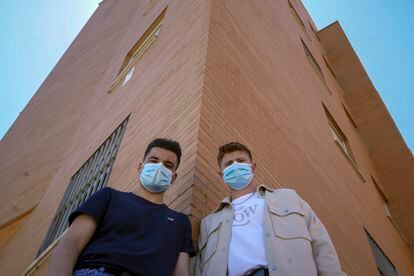 A total of 74.99% of residents in Fuenlabrada voted in the Madrid regional election and 35.95% made the same decision as Zafra. The PP's success turned the political landscape of the area upside down – the party went from winning 10,810 votes in the last regional election in 2019 to 37,691 last week. The PP has gone from being the fourth-most voted group in Fuenlabrada to the most-voted, a title the PSOE had only lost previously in 2011.
Political scientist Alejandro Solís, who lives in Fuenlabrada, says "pandemic fatigue" is the main reason for the shift. Ayuso has been a staunch opponent to coronavirus restrictions, even though Madrid has one of the highest transmission rates in Spain. "People need hope. And this has been an important factor in the PP's campaign," says Solís. "It has played with freedom, with the idea of going back to how it was before. It has not been a purely promotional campaign, but rather one aimed at the idea of recovering our lives. Competing against that is difficult."
Speaking to EL PAÍS at a café near his home, Solís explains that the idea of the red belt is a "myth" because left-wing and right-wing parties have been on even footing for some time now. According to him, one of the reasons for this is due to urban development in the area which "has grown very quickly in a short amount of time." This has divided the municipality into three parts: the center, the traditional PSOE stronghold; the surrounding neighborhoods, where the leftist party Más Madrid made gains; and the new residential developments, which boast gardens and swimming pools. In the latter, the Popular Party has always held more sway – now it dominates completely.
Jesús García, a 66-year-old retired builder, is a longtime resident of Fuenlabrada and has always voted for the PSOE. "I am a man of fixed ideas and it does me good," he explains. After making Social Security payments for 44 years, he now lives off a pension of €1,350 a month. It's enough to go down to the bar on Castilla la Vieja street and spend the morning chatting with other locals as well as the bar's owner, 82-year-old Marcelino Sánchez Mejías.
The bar is on the ground floor of a brick apartment building, where air-conditioning units have been added on and balconies sealed off. Just 10 meters away a new housing development is being built, complete with gardens and pools. "Who I am never going to vote for is [Santiago] Abascal or coletas," says García, in reference to the leader of the far-right Vox and Pablo Iglesias, who is often called coletas – meaning ponytail – in a derogatory reference to his long hair. Following the PP's devastating win at the election, Iglesias announced he was walking away from all of his roles in politics.
García is drinking beer with his brother-in-law Juan Flores, a 68-year-old retired soldier, who prefers red wine. Both complain of the politicians' broken promises, the fighting between parties and the fact that the needs of the people are going unheard. The two share a particular aversion to Iglesias, whom they blame for the Socialist Party's poor results. The central government is formed by a coalition of the PSOE and junior partner Unidas Podemos, a fact they believe hurt PSOE candidate Ángel Gabilondo at the Madrid polls. "Gabilondo is intelligent and cultured, but very slow to move," says Flores, who preferred not to say who he voted for. "The girl has given him a push and there you have it," he adds, referring to the fact that Más Madrid candidate Mónica García won more votes than Gabilondo at the regional election. Neither of them, however, anticipated that the PP would win by such a large margin. On the streets where they live, the conservative party won twice as many votes as the PSOE.
Useless vote
Meanwhile, further down the street, Roberto López, a 56-year-old who was given early retirement from communications giant Vodafone, is parking his car. He says he voted for Ayuso due to the "lies" and "broken promises" of the political class, as well as his "fear" of Iglesias. His first option was the center-right Ciudadanos (Citizens), which had been governing the Madrid region in a coalition with the PP until the early election. But, in the end, he thought that would be a "useless vote." As it turned out, Ciudadanos failed to secure 5% of the vote, meaning it has been left without representation in the Madrid Assembly. He also decided against voting for Gabilondo on the grounds that the PSOE candidate would make a governing deal with Iglesias. He is pleased with the results of the election.
In addition to these two fears – the fear of losing freedom and the fear of a Madrid government with Iglesias – the PP was also buoyed by the growing popularity of 28-year-old Noelia Núñez, the PP's leader in Fuenlabrada, says Solís. With more than 13,000 followers on Twitter, Núñez defines herself as a person who "defends liberalism at all costs, who defends that the state should not get involved at all in the life of the people." The fresh-faced politician used an image of former British prime minister Margaret Thatcher – who oversaw a wave of privatizations in the United Kingdom – to share her message on social media. "Social media allows you to reach many people," she says, while adding that working with people on the ground is also important.
"Ayuso's success has been seeing that the people want to work. The left did not understand that," says Núñez, who will enter Madrid Assembly thanks to the PP's strong results. "But I am not leaving Fuenlabrada, that's my priority. I want to be mayor in 2023," she says.
The sense of victory in the PP contrasts to the surprise of many of the locals in Fuenlabrada, who are still digesting what happened. Just 10 kilometers away in Parla, the same arguments in favor of Ayuso are repeated. "I don't understand anything," says David Jiménez, a 45-year-old employee of the supermarket chain Mercadona. "We have problems with schools that are not built which they have been promising us for years, we have problems with health centers, with everything," he says angrily.
The city of Parla has a population of 130,000 and has grown in recent years due to a property boom that has made it harder to distinguish the left and right blocs. "On the street, people continue to be very much on the left," says Vicente Guisado, a political scientist and Parla resident. But he adds that polarization is "mobilizing both blocs." According to Guisado, the PSOE lost ground in Parla because its strategy to attract votes from Ciudadanos and Más Madrid failed. He estimates that between 5% and 10% of PSOE voters cast their ballot for Ayuso last Tuesday.
That wasn't the case for Almudena Rodríguez, a 40-year-old physiotherapist and her husband, Daniel Guzmán, a 34-year-old Civil Guard officer, who say they have always voted for the PP. But they admit they know people who went from voting for Podemos to the PP or even Vox. "It's an issue of castes and the revolving doors," says Rodríguez. "They criticize and then they do the same. People are fed up." According to Rodríguez, thanks to Ayuso's lax approach to coronavirus restrictions she was able to keep her business open.
The physiotherapist is not the only one who supports Ayuso's decision not to introduce tougher coronavirus restrictions. "She has defended us," says 49-year-old Rafael Navarro, who is happy that he can still open his bar in Parla, Bar de Rafa. According to Navarro, just a few days ago members of the PSOE and Vox were having a meal together at the bar. The establishment is located in an area of Parla called La Laguna, where the PP went from being the fourth-strongest group to the first at last Tuesday's election. Navarro, who previously voted for Ciudadanos, supports the PP's management of the health crisis in Madrid. Not just for the sake of his business, but also "the fishmongers, fruit shops, butchers and Coca-Cola delivery person." He says he knows the leaders of all political parties in Palara and gets along well with all of them. His only criticism is for Iglesias "who is guaranteed a salary for life, which I, as a self-employed worker, will never have."
English version by Melissa Kitson.