Spain declares disaster zones in areas hit by Storm Filomena
Eight regions including Madrid stand to benefit from financial aid, although the Spanish capital's own damage estimate of €1.4 billion is being questioned by the central government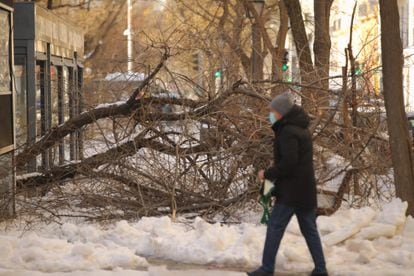 The Spanish government on Tuesday declared disaster zones in the regions hit hardest by Storm Filomena last week.
The Cabinet has approved a measure that will release financial assistance to repair the damage from record snowfall and low temperatures in Madrid, Castilla-La Mancha, Castilla y León, Asturias, Andalusia, Aragón, La Rioja and Navarre.
The details of the aid package have not yet been decided, and it will be up to the relevant ministries to assess the needs of reach region. Regional authorities in Madrid and in Castilla-La Mancha, which includes the city of Toledo, had been pushing for disaster zone declaration.
Government spokesperson María Jesús Montero said that when a damage appraisal is ready, a new initiative will be approved listing specific relief measures. "We appreciate the speed at which we have been recognized as a zone seriously affected by an emergency," tweeted Madrid Mayor José Luis Martínez-Almeida on Tuesday.
But Ecological Transition Minister Teresa Ribera said that Madrid city officials' claims of €1.4 billion in storm-related damage "appear pretty off-track if we look at accredited [damage] estimates of previous weather events such as the DANAs [heavy rainstorms] in the Mediterranean, where figures are vastly different from those under consideration in Madrid."
Last week's snow storm was followed by a cold snap that pushed temperatures down to record lows of -25ºC in some parts of central Spain. The freezing conditions turned snowdrifts into hard-packed mounds that have yet to melt away, causing persistent travel disruptions. Ten days after the storm, 43% of the Spanish capital's streets have yet to be cleared of snow and ice.
There is also damage to public infrastructure and parks, many of which have been closed due to the risk of falling branches. In Madrid, schools have been closed for over a week, although most were expected to reopen on Wednesday.
The national weather agency AEMET is forecasting a new weather event for this week, Gaetan, that will bring significant rainfall, strong winds and higher temperatures to Spain.
English version by Susana Urra.