Anielle Franco: 'Black women are already doing politics just by being alive'
In a meeting coordinated by Colombian Vice President, Francia Márquez, Afro-descendant women leaders from the Americas and Africa met in Bogotá to discuss the challenges they face in accessing politics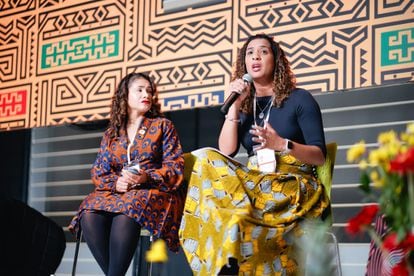 In 1992, a group of 400 Afro-descendant women gathered in the Dominican Republic for the First Meeting of Latin American and Caribbean Black Women. At that time, their participation in the upper echelons of politics was a demand and a dream that seemed unjustly distant. They faced challenges that persist today: the struggle against racial discrimination, political violence, inequality and poverty.
Three decades later, in Bogotá, Colombia, some of them met again and celebrated "the first ones" to succeed. Among these accomplished women are Colombia's first Afro-descendant minister of education, Aurora Vergara; the first-ever female vice president in Costa Rica and in the Americas, Epsy Campbell; Brazil's first minister of racial equality, Anielle Franco; Ecuador's first deputy in the National Assembly, Paola Cabezas; Brazil's first trans federal deputy, Erika Hilton; the first female chief justice of Kenya's Supreme Court, Martha Karambu; and Desirée Cormier Smith, the first-ever Special Representative for Racial Equity and Justice at the U.S. State Department.
"As a person who has written about the history of the first women who demanded their freedom, who went before the Court, being on this panel is very eye-opening about what we are experiencing and what we are building," said Vergara, who moderated the conversation that opened the International Afro-descendant Women Weaving from the Roots Meeting. The meeting was led by Francia Márquez, Colombia's first vice president of African descent and the country's minister of equality.
In the audience, a crowd of women wearing elegant colorful garb and turbans listened to how they did it and celebrated the International Day of Afro-descendant Women. Minutes earlier, they had heard Márquez's defense of disobedience and a tribute to her ancestors. "As a daughter of my community, I learned that obeying can be dangerous. If it were not for the rebelliousness of my community's women, they would have surrounded us and taken away the rivers that are places of exchange and of life itself," said the vice president. She formally asked the Colombian president, Gustavo Petro, to submit a petition to the UN to officially recognize July 25 as the International Day of Afro-descendant Women. Later, the president, who attended the meeting, promised to do so.
Brazil's Minister of Racial Equality, Anielle Franco, asserted the power of "so many influential Black women together." The journalist and educator recalled that the murder of her sister, councilwoman Marielle Franco, was a message intended to silence all poor Black women who wanted to engage in politics. "We Black women are already doing politics just by being alive," she said.
Franco recalled that, as a child, she grew up having to jump over the dead bodies that fell in the Rio de Janeiro favela where she lived on her way to school. She learned politics from her mother and aunt, and then, with the murder of Marielle — who was shot 13 times, including five shots to the head — Anielle jumped right into politics. "I am very proud to carry my sister's blood and, as a Brazilian poet says, I am paying homage to [her] spilled blood. They wanted to silence her, but different seeds of Marielle were born. They killed my sister with five shots in the head, but our ideas are literally bulletproof," Anielle said, with visible emotion. This week, Élcio de Queiroz reached a plea deal to identify the masterminds behind Marielle's murder.
Political violence against Anielle has continued. Similar to what Márquez experienced in Colombia, Franco has also been criticized for her way of doing politics. "Since I took office, they've been telling me that my way is not how politicians do things, and I say yes, it is, [it's] my way of talking, of walking… I am not going to change to get into politics; it is politics that must change so that we Black women fit there everywhere in the world," Franco said.
Campbell, who attended the first meeting in the Dominican Republic in 1992, spoke of the challenges facing Black women in politics. "There we were planting their flags, without imagining that thirty years later we could be in a space like this." Costa Rica's former vice president explained that she began as an Afro-feminist activist questioning the agenda that did not include them. It was "an agenda that considered racism to be a minor issue." Today, she is the president of the Permanent Forum on People of African Descent. While she knows that she was one of the pioneers, she believes that we must continue to make way for those who come after.
Sign up for our weekly newsletter to get more English-language news coverage from EL PAÍS USA Edition