SPANISH ELECTIONS
The jihadist suspect manning a polling station in Catalonia
David Franco Portolés, who was arrested as part of an anti-terrorist raid in 2015, is checking voter IDs in the Ca n'Anglada neighborhood of Terrassa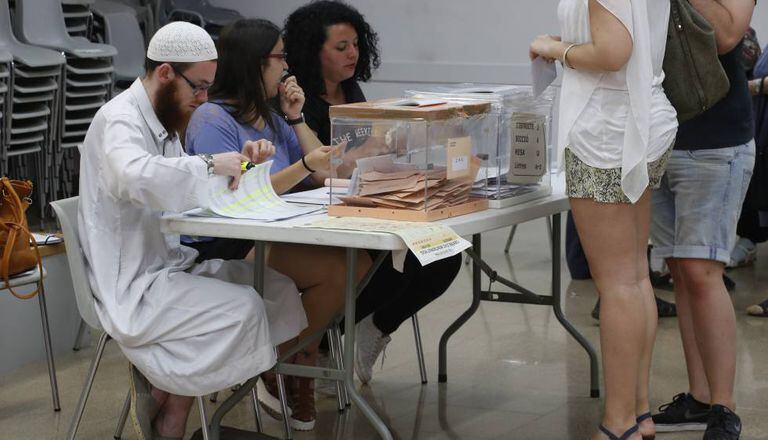 David Franco Portolés was arrested on April 8, 2015 along with 10 other individuals who allegedly belonged to a  jihadist cell in Terrassa (Catalonia).
In a raid dubbed "Operation Caronte," the police rounded up the suspects after investigations indicated they were planning to slit a hostage's throat and plant bombs in a Jewish bookshop in Barcelona, as well as at various police stations in the region.
An Islamic convert, Portolés, 26, was subsequently released along with two others, and has since tried to keep a low profile. But on Sunday morning he found himself assisting with the general election after receiving an official notice appointing him a vocal - the person who checks voter IDs against a list of registered voters.
I am not a terrorist, a spy or an infiltrator
David Franco Portolés
Throughout Sunday, David Franco Portolés - who now goes by the name of Ibrahim Portolés - could be seen sitting at one of the electoral tables at the Montserrat Roig de Terrassa Civic Center, wearing full Islamic attire to perform his civic duty.
Portolés – who does not yet have a good command of the Arabic language - has always stood by his claim that his fellow detainees were innocent, including those now behind bars. He met the leader of the jihadi cell, Antonio Saez (or Alí) in Sabadell. They are both Spanish converts to Islam and worshiped together at the Terassa Mosque. Portolés swears that they only met to discuss Islam, not to plot attacks. "I am not a terrorist, a spy or an infiltrator," he said repeatedly at the trial.
Meanwhile, Portolés' wife Tahiri, who was in the couple's apartment when he was arrested, told EL PAÍS  that "they couldn't accuse him of anything more than watching Islamic State videos on the internet."
English version by Heather Galloway.