In sweeping reshuffle, Spain's Pedro Sánchez names younger Cabinet with more women
The Socialist leader hopes the changes will help focus on the economic recovery and smooth thorny issues such as Catalan independence before Spaniards vote in the next election
Spain's Prime Minister Pedro Sánchez has carried out a sweeping Cabinet reshuffle, replacing some of his most important ministers, boosting the representation of women and reducing the average age of his team.
Sánchez unveiled the changes on Saturday, saying that the new government will focus on Spain's economic recovery and holding up his new team as a global example of gender equality. The new appointments also "represent a generational renewal, with an average age of 50."
In a brief news conference without questions, Sánchez talked about "a new period" that is opening up to reactivate "the social, green, digital and feminist agenda." But the two major goals of the new governing team will be to receive and manage millions of euros in EU funds to facilitate the post-coronavirus recovery, and to reduce political and social tension over the issue of Catalan independence.
The Socialist leader, who was sworn in to a second term in January 2020, is hoping that this reform will help him reconnect with progressive voters and get him re-elected when Spaniards next go vote in late 2023 or early 2024. It will be a "more political government" with many new faces aimed at changing voter sentiment: polls now show the conservative Popular Party (PP) in the lead and potentially securing an absolute majority at the next election with support from the far-right Vox.
Sánchez and his aides are convinced that in the two and a half years left of term, voting intention can be turned around thanks largely to the economic recovery after the pandemic crisis. But the feeling was that a new-look team was required, one that would set a more political tone and dispense with "burnt-out" ministers.
There are now 14 women and eight men in ministerial positions, bringing female representation to 63.6%
The changes only affect the Socialist Party (PSOE), while the five ministers representing junior government partner Unidas Podemos remain unchanged. Spain's first coalition government since the 1930s has been struggling with issues like the recent pardons for jailed leaders of the unilateral secession attempt in Catalonia. Additionally, a May election in the key region of Madrid gave a decisive victory to the Popular Party.
Four men and three women are leaving the team, including the heavyweight foreign and justice ministers, Arancha González Laya and Juan Carlos Campo, whose public image had been eroded by a migrant crisis with Morocco and by the Catalonia issue, respectively.
Another leading figure who is departing is Carmen Calvo, the first deputy prime minister and minister in charge of prime ministerial affairs, who will be replaced by current Economy Minister Nadia Calviño in the first role and by Félix Bolaños in the second. This aims to send out a message to Brussels, where Calviño is viewed as a champion of EU policies, but also to coalition partner Unidas Podemos, whose views on the economy have led to several clashes with Calviño in the past.
There are now 14 women and eight men in ministerial positions, bringing female representation to 63.6%. Three of the new ministers have been serving as mayors until now and bring experience "in municipal action," said Sánchez. The new ministers were officially sworn in on Monday at Zarzuela Palace at a ceremony attended by Sánchez and Spain's King Felipe VI.
It was initially believed that the reshuffle would significantly reduce the number of portfolios, which at 22 makes this one of the largest government teams in Spanish democratic history. But the idea was creating tension within Unidas Podemos because it would have meant losing one of its five ministers and renegotiating each governing partner's share of power.
Sánchez is also planning significant changes within his party, which is holding a congress in Valencia in mid-October. On Saturday, Sánchez said this will be "the government of recovery to completely overcome the pandemic and take the opportunity to bring a better Spain to its feet."
Pilar Llop, new justice minister (47 years old)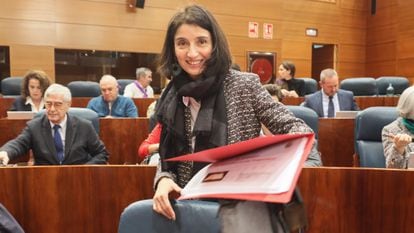 The new justice minister is a judge specializing in gender violence. She began a career in law in 1999 and before joining politics she was working at a gender violence court in Madrid. In 2015 she became a regional lawmaker in the Madrid assembly and in 2018, when Sánchez reached power, she was named the government delegate for gender violence issues. Most recently she has served as speaker of the Senate. Her new appointment is a clear gesture towards the feminist movement.
Raquel Sánchez, new minister of transportation, mobility and urban agenda (45 years old)
The mayor of Gavà (Barcelona) will take over from José Luis Ábalos. "She is very concerned about environmental and feminist issues, she is one of the young women within the Catalan Socialist Party with the brightest future," said a party colleague about her. She previous worked as a lawyer in Barcelona and Castelldefels. As the new minister in charge of housing issues, she will have to deal with new legislation that has created a lot of tension between her predecessor and Podemos on the issue of rent control.
Félix Bolaños, new minister for prime ministerial affairs (46 years old)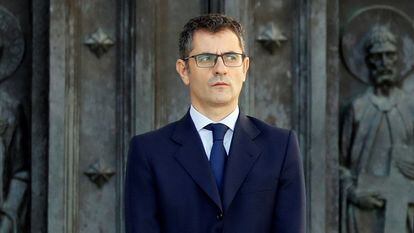 Félix Bolaños is a lawyer by trade who had worked until now as secretary general of prime ministerial affairs. On Monday he will become the new minister of this portfolio, replacing Carmen Calvo. His biggest public success is achieving the exhumation of Francisco Franco's remains from the Valley of the Fallen, following a long legal battle and negotiation with the late dictator's family.
Diana Morant, new minister of science and immovation (41 years old)
Diana Morant is a really fast learner, a strong manager and good at handling large amounts of work, according to sources at the local government in Gandia, the Valencian city of 74,000 that the politician is currently mayor of. A telecommunications engineer, she entered politics in 2011 as an independent and has quickly risen to the top of regional politics. Morant is taking over from the astronaut Pedro Duque, who was one of the star picks of Sánchez's first government in June 2018.
Pilar Alegría, new minister of education (44 years old)
A teacher by trade, the current government delegate in the region of Aragón also served as a PSOE spokesperson in the city council of Zaragoza. She was the most voted candidate to become mayor of Zaragoza in May elections, but a deal between the PP and Ciudadanos (Citizens) prevented her from securing the post. Alegría will be replacing Isabel Celaá, whose new education legislation has been hampered by a lack of consensus.
Isabel Rodríguez, new minister of territorial policy and government spokesperson (40 years old)
Isabel Rodríguez has been the mayor of Puertollano (Ciudad Real), but will now hold a double role in Sánchez's new government: minister of territorial policy (replacing the veteran Catalan socialist politician Miquel Iceta, who is being transferred to the culture and sports ministry) and government spokesperson. In 2004 Rodríguez became Spain's youngest senator, and at age 40, she represents the generational renewal that Sánchez has been underscoring.
José Manuel Albares, new foreign minister (49 years old)
The new foreign minister has been a PSOE member since 1999, and he is considered a trusted aide of Sánchez's. He has been serving as the Spanish ambassador to France, and earlier worked on European affairs. He will be replacing Arancha González Laya, whose image has recently been affected by a major immigration crisis with Morocco.
Miquel Iceta, new minister of culture and sports (60 years old)
Miquel Iceta's change from minister of territorial policy to culture and sports may well be the least expected development of all. The veteran politician and longtime leader of the Catalan branch of the PSOE inspires rejection within the Catalan independence movement but also within the PP and Ciudadanos. In the past, Iceta has tried to build support for a new, more decentralized political structure for Spain that has met with little support on either side of the fence.
This is the updated list of Cabinet members:
First deputy PM: Nadia Calviño, who also remains the economy minister.

Second deputy PM: Yolanda Díaz, who also remains the labor minister.

Third deputy PM: Teresa Ribera, who also remains the ecological transition minister.

Foreign minister: José Manuel Albares.

Defense minister: Margarita Robles (unchanged).

Treasury minister: María Jesús Montero (unchanged).

Interior minister: Fernando Grande-Marlaska (unchanged).

Industry and tourism minister: Reyes Maroto (unchanged).

Agriculture minister: Luis Planas Puchades (unchanged).

Territorial policy minister: Isabel Rodríguez.

Health minister: Carolina Darias (unchanged).

Social Affairs and Agenda 2030 minister: Ione Belarra (unchanged).

Equality minister: Irene Montero (unchanged).

Consumer affairs minister: Alberto Garzón (unchanged).

Inclusion, social security and migration minister : José Luis Escrivá (unchanged).

Universities minister: Manuel Castells (unchanged).

Culture and sports minister: Miquel Iceta.
With additional reporting by Ferran Bono and José Marcos.
English version by Susana Urra.