Why actors and filmmakers are turning their backs on sex scenes
Productions featuring erotic scenes are fewer and further between, and even Quentin Tarantino considers them superfluous. A mere stylistic change or a full cultural shift?
How far will on-screen sex go? Well, precisely as far as it has, according to some actors. Penn Badgley, for example, who plays the fiery psychopath in You (2018-) and, before that, the lover of the protagonist of Gossip Girl (2007-2012), recently revealed on the podcast Podcrushed that he was uncomfortable with "intimate scenes" and that, out of loyalty to his wife, he wanted to reduce the number of sexual interactions in the series. "My desire would be zero [intimate scenes]" in the new series of You, were his exact words. A few days ago, Quentin Tarantino said during an interview with Ara that sex is not part of his vision of cinema. "And the truth is that, in real life, it's a pain to shoot sex scenes," the director of Pulp Fiction and Once Upon a Time in Hollywood added. "Everyone is very tense. If it was already a bit problematic to do it before, now it is even more so."
Badgley and Tarantino are far from alone. After the rise of the MeToo movement at the end of 2017, if anything marks the contemporary audiovisual panorama (beyond the rise of the streaming platforms) it is the way in which its stars are rethinking sex. More and more celebrities, including Anna Kendrick and Keira Knightley, are opposing nudity or sex as a narrative plot. The industry seems to have answered the wake-up call after years of criticism of gratuitous eroticism, as well as numerous allegations of abuse. And when there are scenes, productions have begun to seek greater communication and transparency about the limits of consent.
That is where the intimacy coordinator — who helps "in any scene that has simulated sex, nudity or any other aspect of an intimate nature" — comes in, says Heather Maria Ács, coordinator on productions such as Fire Island (2022). "The priority is to make sure everyone is comfortable and consenting to the action and content."
According to Ács, intimacy coordinators have become indispensable for rising stars. "Younger generations are so familiar with the culture of consent that that's the expectation," she says. Ács doesn't believe that on-screen sex is necessarily in decline, as it might seem from Badgley's stance or watching the languid sex lives of Marvel heroes, but rather that the industry is adopting a more inclusive sexual environment, which translates into stories with non-normative characters and practices far removed from the hypermasculine vision (see the "black kiss" between Lukas Gage and Murray Bartlett in The White Lotus).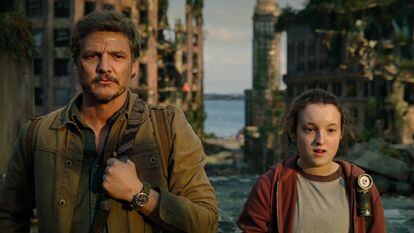 Jessica Bennett, who worked as intimacy coordinator on Lovecraft Country (2020), agrees that intimacy in fiction is changing, and that productions now include more complex stories in which genitalia and passionate encounters are no longer the sole focus of sexual attention. "There's a greater narrative arc," she says. "I'm getting more and more calls for relationship building than just simulated sex."
All of this is, in likelihood, a reflection of a wider paradigm shift. The sexual attitudes of the younger generations have changed: like millennials, Generation Z claims to have less interest in sex. This trend goes hand in hand with increased online exposure, says Lucas Hilderbrand, chair of the Film & Media Studies School of Humanities at the University of California, Irvine. Social networks have enabled new forms of intimacy and transformed sexual culture in the process. "Norms related to taking and sharing photos of oneself, as well as openness about one's own nudity, have changed radically and have become more public than they were 20 years ago," he says. "Whether it's through sexting or sharing photos on Twitter, self-representation is greater." Without portraying fiction that incorporates the complexity of intimacy through social networks, production companies risk turning young people off.
Hilderbrand, like Ács, does not believe on-screen sex is doomed to disappear, but the industry must rethink how it wants to use intimate scenes in an increasingly diverse reality, especially in terms of gender identity. In the U.S., 5% of the population aged between 18 and 29 does not identify with the gender assigned at birth (for example, two of the biggest television stars of 2022: Emma D'Arcy from House of the Dragon and Bella Ramsey from The Last of Us, are both non-binary), which challenges traditional conventions. "We're going to increasingly rethink what sex is and how to represent it, especially with respect to non-binary talent that doesn't fit into the existing sexual framework," Hilderbrand predicts.
"It's time to create the world we want to see and be more honest with the world we live in," Ács says. "I'm very interested in the variety of what sex is beyond the cisgender missionary position."
Sign up for our weekly newsletter to get more English-language news coverage from EL PAÍS USA Edition