Spanish PM warns of 'tough months' ahead during coronavirus crisis
In a public address on Friday, Pedro Sánchez called on citizens to limit all non-essential trips and social contact to avoid a repeat of the total lockdown seen in March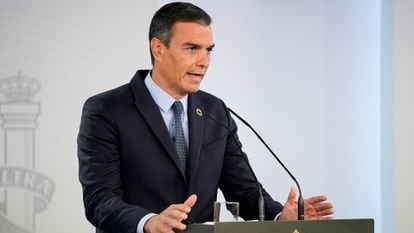 Spanish Prime Minister Pedro Sánchez made a public address on Friday to call for unity as the country battles a second wave of the coronavirus pandemic. The call comes after the central government and regional authorities approved an agreement on a coronavirus alert system aimed at clarifying the measures that should be taken to contain the epidemic, depending on the risk level in each territory.
Sánchez said that now it is up to the public to show civil responsibility and discipline to flatten the curve of transmission, as they did during the first wave. "Tough months are ahead," he said, adding that the "real" number of coronavirus cases in Spain is likely to be "more than three million."
The Socialist Party (PSOE) leader also did not rule out declaring a state of alarm to apply extraordinary measures in regions facing the greatest threat from the virus. Government sources have confirmed that the executive is thinking about the possibility of extending a state of alarm in varying degrees across Spain, but Sánchez did not clarify if such a move would depend on support from the main opposition Popular Party (PP), which has yet to take a clear stand on the issue but has so far been disinclined to embrace a new state of alarm, which is the lowest of three emergency states contemplated by the Spanish Constitution.
Sánchez limited his speech to lifting public morale and did not announce any new coronavirus measures, besides the coronavirus alert system. Under this traffic-light system, regional authorities can ask the central government to declare a state of alarm when they reach the level of extreme risk. After the prime minister made his address, a number of regions called on the central government to implement the measure across the country.
The Health Ministry is also considering a nationwide curfew in a bid to slow the spread of the coronavirus. This measure requires political consensus, given that the government's legal advisors recommend that it only be applied under a state of alarm. While the Spanish government and regional administrations continue to debate the best legal framework to introduce curfews, three Spanish regions – Andalusia, Castilla y León and Valencia – have already taken the initiative to do so. Health Minister Salvador Illa said on Friday that he is looking for "clear support" to apply a nationwide curfew.
"The current situation is not comparable to that of March, when we were forced to order general home confinement. And what we want to do is to avoid this, because of the consequences it has on our social and economic life," said Sánchez. "All of us, institutions, political parties and citizens, must apply measures to slow the virus and its consequences. The virus is spread between people, and to contain contagions, what we have to do is reduce movement, reduce contact between people. There is no alternative. The greater the mobility, the greater the contagion."
The prime minister called on citizens to restrict all non-essential travel and social contact, warning that the situation could worsen as winter pushes more people indoors.
"In Spain, we like social life, we are passionate about human contact, and we like to be this way and we want it to continue to be like this. But now is the time to maintain our distance, to make a parenthesis in order to save lives and protect health," said Sánchez. "Families and friends can also get infected among themselves. Let's limit gatherings and celebrations, let's continue feeling this passion for life, but let's maintain social distancing and hope that better times will come. Every time we avoid a gathering or a non-essential trip, every time that we follow hygiene measures, we are putting down a stone to contain the virus."
Sánchez appealed for "unity, team spirit, a winning attitude and social discipline" and also called on all levels of government to work together to avoid a total lockdown like that seen in March, when millions of Spaniards were confined to their homes. "It's about resisting in order to move forward," he said.
The prime minister, aware that the second wave of the pandemic is taking a heavy toll on the public, urged the country to think of a future without the virus. "We have learned, we are better prepared and closer than ever to the end of the pandemic and to a vaccine. Let's think about what each of us will be able to do with our lives, and all together as a country. Together we can do it. I am sure. Unity is our horizon and it also guides our path."
English version by Melissa Kitson.