Spain's most wanted drug lord turns himself in after appearing in music video
Francisco Tejón is head of Los Castañas, a cartel which has amassed €30 million from controlling the hashish route from Morocco into Europe via the Strait of Gibraltar
Francisco Tejón, the leader of one of southern Spain's main drug gangs, turned himself in to the authorities on Wednesday, shortly after he was recognized in a reggaeton music video.
The head of Los Castañas clan, which is based in an area of Cádiz province called Campo de Gibraltar, walked into the police station in La Línea de la Concepción in the company of his lawyer, police sources have told this newspaper.
They have managed to absorb other gangs and to develop a feudal relationship with the rest
Juan Cisneros, head prosecutor of Algeciras
An arrest warrant had been issued for Tejón, better known as "Isco," in late 2016, and it appears that he never left the city in this entire time. His younger brother Antonio, who worked as his right-hand man, was arrested on June 7 while visiting his lover, in a raid that involved more than 100 police officers.
Despite being one of the most-wanted drug traffickers in Spain, the 39-year-old Tejón made a recent appearance in a music video by the Cuban-born reggaeton singer Clase A. The video, titled Candela, was released 10 days ago although its recording date is unknown.
In September, the singer shared photographs and footage of the video-making process on his social media accounts, but did not reveal Tejón's presence. In the final music video, there are scenes shot outside a house once used by Los Castañas for their private orgies, and located inside the Guadacorte residential estate in Los Barrios.
The police suspect that the Tejón cartel has amassed more than €30 million by controlling the traffic of hashish from Morocco into Europe via the Strait of Gibraltar.
The Tejón brothers went underground after 30 gang members were arrested in April 2017 as part of Operation Ronal. The police broke up their main structure for collecting, storing and transporting the drug coming in from Morocco, but just a few months later most of them were released and went back to their usual activities.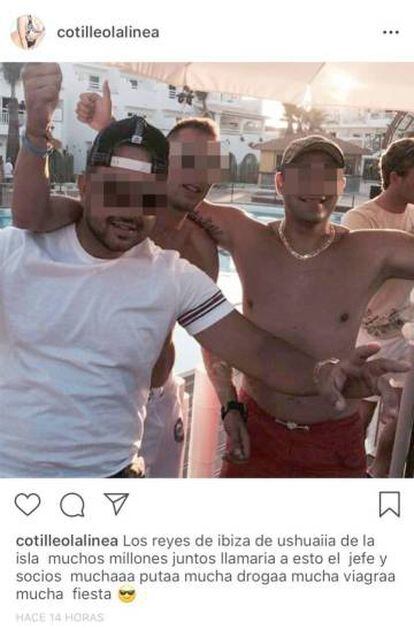 There is an aura of impunity around the drug lords of La Línea, a city hard hit by unemployment where the gangs provide jobs and other benefits that have earned them loyalty from the population. The police estimate there could be more than 30 drug gangs and 3,000 direct collaborators operating in the area.
But Los Castañas controls more than 60% of the business through "professional" practices that have taken it to "a different level," says Juan Cisneros, head prosecutor in Algeciras.
"They have managed to absorb other gangs and to develop a feudal relationship with the rest," he says.
Three months after Antonio's arrest, an unknown individual created an anonymous Instagram account to share photographs of the gang's excesses: drug shipments in full daylight, children's birthday cakes depicting police chases, and gang members with their lovers.
English version by Susana Urra.