CRISIS IN VENEZUELA
Venezuela's pro-government militias terrorizing opposition protest marches
Civilians accused of working with police and responsible for killings apparently operating with impunity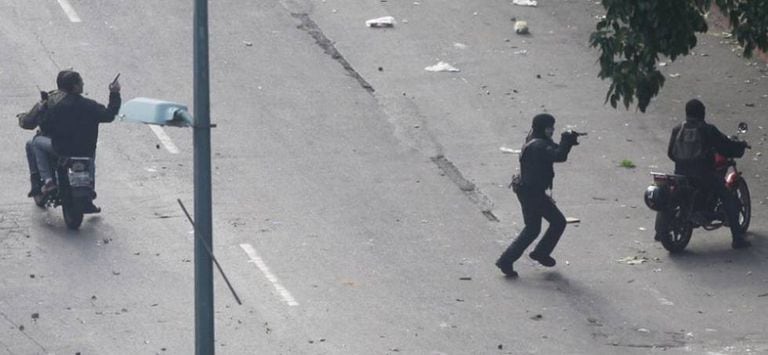 Paola Ramírez, who was gunned down on April 19 in the western state of Táchira, telephoned her mother, Darcy Gómez, to tell her that collectives were patrolling the streets of the state capital San Crístobal. "Mother, the collectives are shooting," her mother says she told her.
The same day Ramírez died, 17-year-old Carlos Moreno Barón was shot in the head in Caracas. Witnesses said that gangs supporting President Nicolás Maduro were responsible.
The death toll over the last month looks set to exceed that of the four months of protests that rocked Venezuela in 2014
On Wednesday, amid continued opposition protests, two more people died: a university student in Caracas was hit in the chest by a tear-gas canister fired by police; in Táchira, a 28-year-old man was shot in the stomach by unknown assailants.
The opposition has organized a rally on Thursday outside the National Assembly and then a march to where the student was killed on Wednesday. Opposition leaders say they will resume protests on Monday.
The death toll over the last month looks set to exceed that of the four months of protests that rocked Venezuela in 2014.
So far, there have been few arrests over the killings. "Four deaths in the April protests have been attributed to these groups, but until now there have been no arrests," said Lexys Rendón, head of the Observatorio de la Paz, an NGO that monitors political violence.
A 31-year-old man was arrested for the death of Ramírez. The government initially linked him to opposition party Vente Venezuela. "I want justice, real justice. I don't believe it was him," said Ramírez's mother at her funeral.
The pro-Maduro militias first appeared during the protests of 2014.
That year, Vice Admiral Pedro Manuel Pérez, then the head of the Marine Infantry, warned Venezuela's Defense Minister, Carmen Meléndez, and the high command that civilians in the capital were working with police to crush opposition protests.
Not only were Pérez's warnings ignored, but he was also retired in May 2014, and last week was detained at his home by military intelligence accused of plotting to overthrow Maduro.
Rocío San Miguel, a lawyer with Control Ciudadano, a security forces watchdog, accused the government of sponsoring the collectives. "Allowing, sheltering, encouraging the activities of armed groups is a crime, and this has been going on continuously under the complacent gaze of the organs of the state, which have a legal duty to act," she said.
Rocío San Miguel from security forces watchdog Control Ciudadano
The collectives are extremely violent. San Miguel says they patrol demonstrations openly armed and on motorcycles, sometimes covering their faces, while shouting slogans in support of the government: "They act in a coordinated way under command structures they receive their instructions from. They use violent methods to attack and disperse opposition demonstrators, monitor neighborhoods, extort shopkeepers, and injure journalists and opposition leaders. They operate freely, knowing that they will not be arrested or charged for their crimes."
The situation in oil-rich Venezuela has worsened in recent months, with a recession leaving millions unable to find or afford food amid shortages and worsening inflation.
The opposition blames Maduro, who is unpopular, and has been vying to remove him via a recall referendum. The former bus driver and union leader, however, has said the opposition is seeking a coup against him and has vowed to serve out his full term, which ends in 2019.
English version by Nick Lyne.
Adheres to