POLICE BRUTALITY
"Before an Arab blows us up with a bomb, I'll blow him to bits first"
Civil guard who shot Moroccan dead after traffic spat was "one of those colleagues you need to hold back"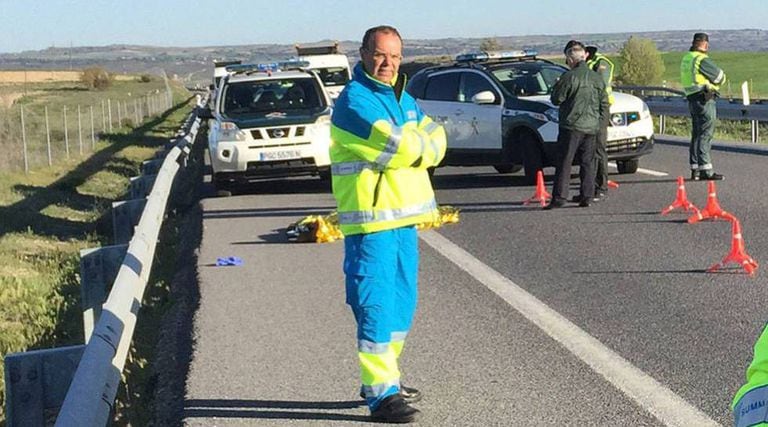 Testimony by colleagues of the Civil Guard officer who shot a Moroccan citizen to death on the A-3 motorway on Monday reveals that the suspect's aggressive nature was a known fact. The man tested positive for cannabis after the incident.
Asked why he shot his victim, the reply was: "Because before an Arab blows us up with a bomb, I'll blow him to bits first."
Until the incident, his fellow officers were not aware that Ángel Luis V. was a consumer of marijuana, but they did know that "he was one of those colleagues that you always need to hold back" and "a very impulsive man."
The shooter will undergo pyschological testing to determine whether he was suffering from an undiagnosed condition
On Thursday, Ángel Luis V.'s defense lawyer said that his client suffered from "a serious psychological problem" that led him to think that the driver of the car that scratched his own was "a terrorist."
The suspect, who refused to make any statements, had been on a medical leave because of back pain.
"It was he who drove the Arab off the road," said one colleague, using the same derogatory expression, el moro – literally, the Moor – as the suspect. "Then they began arguing, and when the Arab left, he went to his car, got his gun and shot him 12 times from the waist down."
Sign up for our newsletter
EL PAÍS English Edition is launching a weekly newsletter. Sign up today to receive a selection of our best stories in your inbox every Saturday morning. For full details about how to subscribe, click here.
"Later he says he walked up to the Arab, who was lying face down, lifted his head, and when he saw he wasn't dead, finished him off with a final shot. Then he sat down on the median with the empty magazine in his hand, waiting for a patrol to arrive," said the same source.
The suspect used his service weapon, which he was not forced to turn in during his medical leave – this is only requested when the leave is for psychological reasons. He tested positive for cannabis but not for alcohol. His colleagues said that he also carried a large machete in his car.
The shooter will now undergo psychological testing to determine whether he was suffering from an undiagnosed condition due to recent personal and family problems. He is being held in a special unit for law enforcement officers at the Estremera penitentiary.
English version by Susana Urra.