Iztapalapa: a round trip in Latin America's longest cable car
The 10.6-kilometer line recently inaugurated in Mexico City can carry 90,000 passengers a day in one of the poorest areas of the capital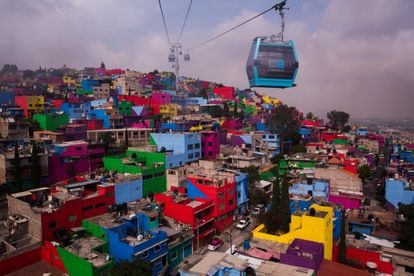 The future has arrived, thinks María del Carmen Montero. The recently inaugurated cable car reminds her of The Jetsons, the fantastical cartoon series loved by her daughter. Then she takes a ride. "It's like something from the future," she enthuses. "How could we imagine we would have something like this here?" She takes out her smartphone to immortalize the moment: the volcanoes of the Sierra de Santa Catarina peak through the mist, with a jumble of homes at their feet.
It is still early and the cold is more keenly felt at altitude. Montero, 55, is bundled up in a fleece, coat and scarf, heading home after her night shift as a government security guard. Her commute usually takes two and a half hours – first a ride in a truck, then the metro, followed by two trips in a minibus. Now at least she could forget the scary bus. "The minibus is a trap. You do know who you are traveling with," she says, recounting how she and others have been attacked on the minibuses.
For seven pesos ($0.35, €0.30), Line 2 of the cable car in Mexico City has cut in half the travel times on the ground, from 75 to 36 minutes, according to the local government. With seven stations and a capacity of 90,000 passengers a day, the swaying cabins glide above densely packed neighborhoods with some of the worst poverty statistics in the city. Iztapalapa is home to 1.8 million people, 35% of whom live in poverty in what is the most populous municipality of Mexico City. In Iztapalapa's neglected east, you can see hens pecking in the dirt from the cable car.
Montero's daughter told her not to go up there, but the 55-year-old is not afraid of heights: "I've always wanted to go to the moon," she says. She tries to recognize the places she flies over, a mass of rooftops with hanging laundry and water tanks. "When I've flown in an airplane, I've tried to locate my house," she says. Such was her excitement and selfie-taking, she worries she has missed her station, and rushes off at the next stop.
Mexico City is somewhat late to the cable car craze. The city of La Paz in Bolivia and Medellín in Colombia have had them for more than a decade, and already have networks of several different lines. The Mexican capital is making up for lost time, however, with Line 2 taking the crown as the longest cable car route in Latin America at 10.6 kilometers, according to the local government. In addition, another 9.2-kilometer line in the north of the city, also in a hilly area, was inaugurated a month ago. The total cost was 6 billion pesos, or $300 million (€256 million).
The cable car is welcome, but not enough to meet demand, says Bernardo Baranda, director of the Institute for Transport and Development Policy. "These are not transportation systems with a large capacity, compared to the subway. We have to ensure integration, and be careful that this is not just a fad, and that we do not invest only in one system, but in all of them," he explains. "Most trips are still made in buses that are often not in good condition."
Altering the urban landscape
At the Torres de Buenavista station, where Montero got off, you can see the green shoots of change, or despair, depending on how you look at it. There are newly painted facades in bright colors, a frontón wall for the children and new pavement. The authorities want stations to open up opportunities in these forgotten neighborhoods. With the economic sting of the coronavirus pandemic, residents have been quick to jump at the chance: several food stalls hawk their wares in what used to be a trash dump. There are 1,475 new businesses thanks to the cable car, according to the government.
Rodrigo Carbellido has worked in front of the Torres de Buenavista station for a year and a half. The packing company where he was an employee closed because of the pandemic, and he decided to start selling fruit juice to the cable car construction workers. Now he has switched to tamales – a traditional Mexican dish made of starchy dough with different fillings – because the price of oranges has tripled due to inflation. "It's pretty quiet; the builders ate more. People still don't know it's open or they're afraid," he says from under an umbrella. Although his tamales don't sell as much as he'd like, he's going to stay for lack of alternatives.
Back in a cabin, the cable car enters steeper territory. Houses dot the hills of the Sierra de Santa Catarina, a protected ecological area, and even cling to the slopes of the extinct 2,820-meter Tetlalmanche volcano. Not surprisingly, 13% of the buildings in the municipality still lack running water, compared to an average of 9% in the city.
Julia Segovia, a 77-year-old traditional healer, and Adolfo Roldán, one of her followers, are heading to a temazcal, a pre-Hispanic steam bath. They gaze at the cement installations and the conversation turns philosophical. "The damage done by man, who does not know how to love mother earth," says Segovia, dressed in traditional embroidery. "It's a marvel of technology, but it also allows us to see its flaws. I don't see any green areas, and the construction is badly done," agrees Roldán. "That we keep growing and growing without stopping has its consequences." Both get off in front of a field of prickly pears and agave.
The cabins are filled with curious onlookers, and workers in freshly polished shoes. "Let's see if it suits me," says Daniel Méndez, a waiter working in Interlomas, a wealthy neighborhood three hours from his home. Maybe he'll manage to save half an hour. Patricia López, 47, and her niece Camila don't miss any detail of Iztapalapa's rooftops, which are suddenly in full view of everyone: "There are so many colors, if we had a house like this I would paint it too, and what's that cable? Look! A little pink pig on the roof, can you buy me one please?" Camila pleads. "She's been wanting to come up all week as a tourist," López explains.