Packed dance floors and no masks in sight: Mexico City's underground clubs
Nightlife venues in the Mexican capital are rebelling against Covid-19 restrictions and opening their doors to hundreds of customers seeking a hedonistic escape after over a year of pandemic life
Diego (an alias) doesn't want any surprises, and he is clear with his clients from the beginning: "If anyone asks, this is a restaurant," the waiter tells them. Until now, the bar where he works had followed Covid-19 protocols to the letter. Inside, there are sanitizing mats to disinfect shoes, digital thermometers and hydroalcoholic gel dispensers. The only unusual request is for mobile phones at the entrance. A security guard peels off two small white tags, one to cover each phone camera. "Please guys, no pictures when you come in," he says.
It's past 10pm and there are only a couple of tables left on the outdoor terrace, where lingering customers are about to pay the bill, finish their drinks and move on. But behind closed doors, staff have already lowered the black curtains and Diego's "restaurant" is in full metamorphosis. "From 11pm the good stuff starts, you're going to see how it gets," says head waiter Nina. Seen from the outside, the bar looks dead and officially closed. Backstage, bottles are popping and sparklers are being lit while smoke rises from water pipes, and more people cram inside. Remixes of '80s and '90s hits boom against the walls, and the only people wearing masks are the service staff.
Clubs and late-night bars have been left out of Mexico City's economic reopening plan, where currently bars and restaurants can open, but with limited capacity and restricted hours. Visitors have to be in ventilated spaces. The Mexican Association of Bars, Discotheques and Nightclubs called for a demonstration in the capital in January using empty glasses to symbolize the loss of 300,000 jobs and 400,000 more under threat throughout the country, according to their own calculations. Since last year, some businesses in the food and drink sector have opened in secret to cater to family and friends, although this is largely kept hush hush. Over the last month though, the rebellion of the antros, as clubs are known in the country, has broken out into the open on social media.
"We opened two or three weeks ago," says Gerardo, one of the partners of the "restaurant" visited by EL PAÍS, gesturing to show that the bar is bursting at the seams. "We are doing really well, thank God," he adds, his shirt partially unbuttoned. "The staff asked us to do this, they couldn't wait any longer." This particular bar is in Santa Fe, a part of Mexico City home to skyscrapers and areas with development markers similar to those of Germany, but also some of the city's most marginalized neighborhoods. Gerardo is blunt when he explains the owners' decision to go back into business. "How many girls at that table do you suppose have already gone to get vaccinated in Houston?" he says. "These people have a lot of money and they're going to keep going out and spending, pandemic or no pandemic. Why not let them do it here?"
They are not the only ones. In the same square, a well-known nightclub has opened for the second week in a row, and while there is no advertising or official announcements, word spreads fast. To get there, you have to go through the kitchen and out the back door of the first bar, and the entrance is through the parking lot, where you will encounter what was once on the street: the lines, the bouncers and the parade of luxury cars.
Screens that once projected music videos now insist in English that photos and recordings are not allowed under the implicit threat of having your phone taken away, or being kicked out. Everything else is the same. Tables start at the price of two bottles, some of which run to hundreds of dollars. All the elements are there to forget about the pandemic. Reggaeton makes everyone dance, flirting gives hope to single attendees, and masks and social distancing are gone. "Covid doesn't exist," says one clubber in the bathroom. "We don't give a shit," one of his friends replies.
On the main street, around 500 meters from all the places that are supposedly shut, the police are breathalyzing people. A little more than three kilometers away, but still in Santa Fe, a clandestine joint takes things up a notch. There, security guards dressed in suits and ties guard what looks like the gated entrance to a bunker. Before the pandemic, speakeasies inspired by the Prohibition era were fashionable, with façades of other businesses like flower shops or dry cleaners. Now that idea of hidden clubs entered through secret passages isn't a marketing trick anymore, but the only way they can stay open.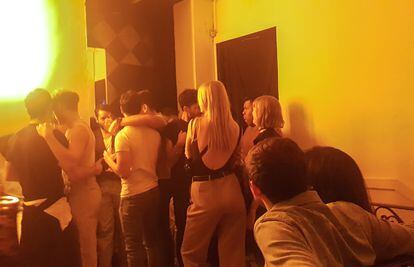 The bunker gate leads to the back rooms of several subterranean shops in a park adjacent to a futuristic shopping mall. Inside is a labyrinth that requires going down several flights of stairs that pass through concrete tunnels. From the mall, one would see a store under renovation, scattered with paint cans, wooden boards and sheets to protect furniture. Next door, one somewhat modest establishment has bathrooms, tables, more security guards, a DJ, a small bar and individual mattresses in the corners. Photos are also prohibited. "The point is not the place itself," explains one attendee, "but that you found it." Admission is exclusively for friends and acquaintances of the owners, who party until the bar closes at dawn.
Increasingly, invitations are common and the options are more varied in Mexico City's hidden nightlife. It could be clubs that lower their curtains, rooftops transformed into bars, or discos hidden under the façades of buildings. Owners from all levels of society are returning to reclaim their clientele, from the wealthy neighborhood of Polanco to abandoned houses in working-class areas. In Colonia Juarez, in the city center, an old car repair shop is transformed every Saturday into a gay club playing dance music. It asks customers not to spend too much time on the street to avoid arousing suspicion. "I needed this, even though I know it's a gamble," says Arturo, after ordering his first drink. Even if life refuses to return to how it was before in Mexico City, glasses are being raised to the new normal.