Making the jump to USB-C: How to use the universal charger and keep old devices
The EU's requirement for a common connector will reduce electronic waste, but leaves old accessories unusable. EL PAÍS tests twelve gadgets that ensure an easy and sustainable transition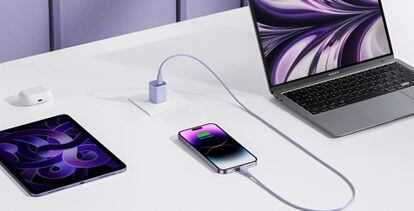 The launch of the iPhone 15, Apple's first phones to use a USB-C connection, is giving a new impetus to the transition towards the universal connector. USB-C will be mandatory in the European Union for all mobile devices that are launched from the end of 2024, in a measure approved with both user convenience and reduction of electronic waste in mind. Charger, cable, and accessories manufacturers have taken advantage of the opportunity to launch their own offers that will stimulate the change.
With the aim of lowering their environmental impact, most of the main mobile manufacturers have no longer included a charger with their new models, on the assumption that everyone already has at least one at home. For a few years now, Apple, Google, and Samsung phone boxes have included a cable to connect the device to a USB-C charger, but not everyone has one of those. Additionally, not all chargers with the new connector have the right output to charge any device. The new system is a very versatile but very complex standard. EL PAÍS has tested twelve gadgets to help make the jump to USB-C simple and environmentally friendly; and for a reasonable price, they help you avoid uncertified bargains, which can damage your equipment.
The dream of the universal charger
The tiny 30-watt Anker Nano 3 can charge any mobile phone, tablet, and even light laptops such as the MacBook Air, Surface Go, or Chromebooks. Compared to official chargers from mobile device manufacturers, it is much smaller, and also cheaper. It retails, on offer, for around €19 ($20) and it has Power Delivery certifications (the standard for fast and problem-free charging) and USB-IF (safety guarantee, against chargers that damage batteries or burn circuits). You should always look for these two certifications on USB-C chargers and cables, as it can cause many more problems than the old USB.
Another decent (and cheaper) alternative is the 30-watt Ugreen Nexode Mini, which you can get on sale for around €14 ($15). You can find 20-watt chargers at a lower price, and they're a good option if you only intend to charge mobile phones and don't need it to go at maximum speed.
For those who want to charge several devices at the same time, including a more powerful computer, there are the 65-watt Ugreen Nexode multi-chargers, for €37 ($39), and the 100-watt Anker Nano II, for €70 ($74). Both include two USB-C ports and one regular USB-A port.
One cable to charge them all
At this point in the transition to USB-C, it's quite likely that we already have a cable at home that we can use with the universal connector and which probably came with a recently purchased device. Will it be able to charge any mobile phone, tablet, and computer at the right speed and without problems? One for a laptop should work, as it is the most powerful device.
Otherwise, if you don't know what the cable is for, or you want a replacement, it's best to play it safe. You can get one from Cable Matters that is 2 meters long and charges up to 240 watts. It has Power Delivery and USB-IF certifications and costs €14 ($15). In addition to charging any computer, tablet, or phone with a USB-C connector, it allows data transfer at USB 2.0 speed between these devices and their accessories. If you don't need that much power, a 1-meter Ugreen cable, has an output of 60 watts and is a very good option for €6 ($6.31). Other lengths are available at a higher price point.
Save your old USB-A
The traditional USB-A has been with us for so long (more than two decades) that nearly every home has chargers, cables, and accessories that use it. There is no reason to throw them away when making the jump to USB-C: they can adapt and work perfectly, even if they do not take advantage of all the new connector's speed. The AmazonBasics adapter, from USB-C male to USB-A female, costs about €7 ($7) and allows you to take advantage of pen drives, hard drives, and other accessories that use a USB-A connector. With this adapter, which is USB-IF certified, you can also continue using old USB-A cables to charge your phone or tablet with a new USB-C universal charger.
But what if you have made the jump to USB-C and use the brand new universal cable, but find that almost all public charging points still have the usual USB-A port? No problem. The Ugreen male USB-A to female USB-C adapter will help you out of this situation (and allow you to take advantage of your old charger). It comes in a pack of two, for €16 (about $17), and also allows you to connect new devices to computers that only have the old connector.
Take advantage of iPhone accessories
Those who upgrade their Apple phone to one of the newly released models (with USB-C) will find that their old iPhone accessories and cables no longer work with them, unless they buy the Apple USB-C to Lightning adapter, which costs €35 (about $37). Today, it is the only option on the market that allows iPhone 15 users (and also those who have an iPad with USB-C) to take advantage of the hundreds of millions of cables and accessories that use the Lightning connector, which have been sold since Apple launched this own system in 2012.
The reverse adapter, with options from different brands, allows you to use a USB-C connector to charge old iPhones, iPads, and other accessories (such as wireless keyboards and mice) that have the old connector. A Boutop Lightning to USB-C adapter, which is sold in packs of two for €17 (about $18), will allow you to charge your device using an output power of up to 27 watts and has the "Made for iPhone" certification, which Apple grants to accessory manufacturers that it considers safe.
Charging without a plug
External batteries are essential accessories for those who work with their cell phone or tablet and may need to charge it whenever and wherever. The Anker 323 PowerCore battery costs €22 ($23) on sale, has 12 watts of charging power and 10,000 milliamp-hours of capacity (enough to charge an iPhone 15 twice). The Belkin Boost Charge 20k costs €53 (about $56), has double the capacity and charges devices via USB-C at up to 30 watts, so it is suitable for both mobile phones and tablets as well as light laptops. Both batteries have a USB-C port (which they also use to recharge themselves) and a USB-A port to maintain compatibility with older devices.
Sign up for our weekly newsletter to get more English-language news coverage from EL PAÍS USA Edition