Madrid's famous El Rastro market returns with new coronavirus safety measures
The weekly event, which was closed for 37 weeks due to the pandemic, is now back in business albeit with some significant changes: half the number of stalls and drones to monitor capacity
The famous El Rastro street market in the center of Madrid opened to the public on Sunday after being suspended for 37 weeks due to the coronavirus pandemic. Stallholders and visitors both agreed it is good to finally be back – albeit in a slightly different guise.
In a bid to reduce contagions, only half of the 1,000 stallholders are allowed to sell their wares, and capacity has been set at 2,702. Without the typical hustle and bustle, the outdoor market – which sells everything from clothes to antiques – has lost some of its character. But that does not deter one group of early arrivals, like Alexia, who came from the nearby city of Getafe to buy a pair of thermal pants. She's annoyed that she hasn't found them yet, but generally, the mood in El Rastro is positive. It's better than nothing, say visitors and the stallholders.
It's been 258 days since the last time El Rastro was open to the public, shortly before the government declared a state of alarm in mid-March. No one remembers a time when the popular Sunday market had been closed for a longer period.
Marcelo Bouso has been preparing his clothes stall since 8am. He carries the metal frames like a cross on his back to the top of Ribera de Curtidores street. Slowly he gets everything ready as just a few police officers walk past. He sells self-designed shirts and screenprints that he makes in El Tiemblo, in Ávila province, where he left from at 6.30am. The new spot he's been assigned to in El Rastro is not too far away from his old one and he says he has had no problem finding it – a view shared by many vendors.
In front of his stand is the legendary antique store Galerías Piquer, which remains closed. It's still early. During the months that El Rastro has been suspended, Bouso has done a bit of everything: painting homes, erecting fences, and working for a moving company. He has even participated the odd concert – he's a percussionist in a batucada orchestra.
"It's been years since I've been here," says one local police officer standing at the corner of the bar Cascorro Uno, where other officers are drinking coffee before beginning their workday. One asks about how the new coronavirus safety measures are going. Under the new rules, each market stand has to be two meters apart. El Rastro is a sprawling market that covers several streets in the downtown neighborhood of La Latina. Now at every crossroad, there are large numbers of officers monitoring capacity. They form part of a team of 150 police officers tasked with ensuring that coronavirus restrictions are complied with.
Maite de la Fuente, 42, is taking out her merchandise from boxes, while the police tell the neighboring stand holder to only use the authorized space. Her father Ramón, who is retired, is there to lend her a hand. "I'm the understudy," he jokes. "I only come out to play when I'm told to."
Blue fences and plastic tape seal off the perimeter of the new Rastro market. Visitors can walk around freely on the sidewalk, but capacity is limited on the car-free streets, where the stands are located. Members of the Civil Protection force are using electronic counters to tally the number of people who are leaving and entering the allocated space.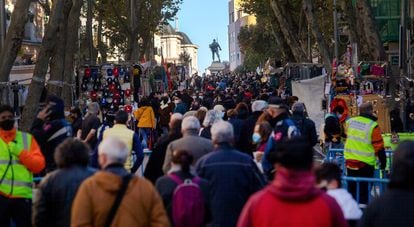 Meanwhile, the sun is warming up Campillo del Nuevo Mundo square, another one of the popular corners of the street market. Sellers and buyers start to haggle over prices. Javier González, a 51-year-old vendor who has come all the way from Tarancón in Cuenca, is trying to sell a watch to a potential customer for €200 – a price that is instantly rejected. González drops the price to €150. "Look, it has green numbers," he says in an effort to highlight its beauty and value. At a nearby stand, a similar scene is playing out over a statue of Baby Jesus that costs €60. It's passed around as the customer begins to haggle a better price. Passers-by gather around to watch the negotiations. In this respect, save for the fact that everyone is wearing a face mask, El Rastro appears just like it was before the pandemic.
Drones
The streets begin filling up and by midday, El Rastro has recovered some of its characteristic bustle. But it's nothing like the mass crowds that used to flock to the market every Sunday. Thanks to the large police numbers and safe distancing rules, El Rastro is at least no longer a haven for pickpockets. And it's not just officers that are monitoring the situation. Police drones are also being used to control capacity at the market. While the drones fly above, the officer operating the device uses a walkie-talkie to call for a road to be cut off to ease the flow of visitors.
Not everyone, however, is pleased with how El Rastro's first day back has been organized. Around 20 vendors from the Rastro Punto Es Association have been protesting outside Cascorro square against Madrid Mayor José Luis Martínez-Almeida of the conservative Popular Party (PP), yelling "Hands up, this is a robbery!" and "Resign, Almeida." They complain that they were not warned that the streets were only going to be one way for visitors. The spokesperson of the association, Mayka Torralbo, accuses Madrid city officials of "improvising" measures, arguing that "neither vendors nor the public knows what rules to follow."
Meanwhile, 60-year-old Ping, a Madrileño of Chinese origin, is walking through the market with his wife, son and his son's girlfriend. When asked why he has come to El Rastro, he simply replies: "Today is the first day." The family is from the Chinese province of Shaanxi, famous for its thousands of clay soldiers known as the Terracotta Army. Nothing at all like the porcelain figures and other odds and ends being sold by 44-year-old Pedro Escudero. "I am selling old things that my father had," he says, pointing to a pillbox with a 1970s black and white photo of the Valley of the Fallen, the controversial memorial site to the victims of the Spanish Civil War where until last year the dictator Francisco Franco had been buried. "Let's see if I make €30 or €40 to feed the kids."
English version by Melissa Kitson.