The nightmare facing Venezuelan tourists still stranded in Spain
Seven months on since the beginning of the coronavirus pandemic, 200 visitors from Venezuela remain trapped in the country, with many surviving thanks to the kindness of strangers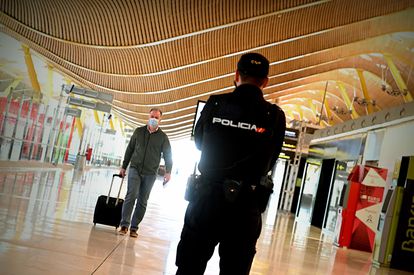 Venezuelan businessman Julio Anzola went to the Adolfo Suárez Madrid-Barajas airport on the morning of Saturday, March 14, with the idea of going home after six days visiting his daughter. When he arrived at the check-in, there were dozens of hysterical passengers. The plane was not flying because Venezuela had closed its air space with Europe, as employees of Plus Ultra airline explained. That night, Spanish Prime Minister Pedro Sánchez, decreed a state of alarm in a bid to contain the coronavirus pandemic. The passengers had a feeling that the situation would not be resolved quickly. "There were people crying and shouting, saying, 'I don't have any money, I don't know what to do,'" the 64-year-old recalls.
The panic was justified. Seven months on and the nightmare continues for around 200 Venezuelans who are still trapped in Spain, their names on a slow-moving waiting list. These people were not able to get on the three repatriation flights that the Venezuelan government has organized since July, and there is still no date for a fourth.
We have survived thanks to the solidarity shown to us by so many

Betty Carrillo, Venezuelan stranded in Madrid
Anzola was able to stay at his daughter's home in Madrid where he has been spending time with his six-year-old grandson, Manuel Angel. But not everyone has family in the city and some of the stranded find themselves in desperate circumstances. Having run out of money, they have been taken in by friends, acquaintances or simply by kind people who have offered them a bed.
Paola Sheuat, 29, and her husband Jonathan Quintero, 37, have been sleeping in shelters for weeks. Jonathan was stabbed last month in Barcelona's El Raval neighborhood while defending himself from a mugger. Paola says she stumbled upon a human trafficking ring while looking for work as a cleaner to help them get by and narrowly escaped abduction. Now in Madrid, she is calling for help: "My son is in Venezuela and my ex-husband is threatening to report me for abandoning him."
Betty Carrillo's ordeal began in February, before flights were canceled due to the pandemic. The 61-year-old Venezuelan landed in Madrid with the idea of taking a break from her country's economic problems and spending a month touring Europe. On the Metro ride to the center of the city, her purse was stolen and she was left without money or documentation. "Excuse me, but your bag is open," another passenger said, alerting her to the crime.
Subsequently, she spent weeks living in the house of some Italians who found her on the pavement with her suitcase. She says that the part of Madrid she now knows best is the street she used to walk up every day to get to the soup kitchen. She is now living with a Spanish couple in El Viso de San Juan, a small town of 4,351 inhabitants in Toledo. "We have survived thanks to the solidarity shown to us by so many people," she says gratefully.
The three repatriation flights from Madrid to Caracas have taken 912 Venezuelans home, according to Mario Isea, Venezuela's ambassador to Spain. They have departed in planes belonging to airlines that operated between both countries before the pandemic and the passengers have had to pay about €500 for the trip. Isea adds that his government has covered the cost for some passengers in a vulnerable situation. A fourth plane, which still has no departure date, will take the last of the Venezuelan tourists home.
The only positive thing is that I have had time to read 10 books and spent time with my grandson

Venezuelan businessman Julio Anzola
Apart from Venezuela, several other countries have helped nationals to pay for their return ticket on repatriation flights, but many, including Spaniards stranded abroad, have had to foot the bill themselves.
With regard to the plight of the stranded Venezuelans, the ambassador blames the international sanctions applied by Spain for obstructing their return. The Venezuelan state airline Conviasa has been blacklisted by the European Union since 2012. Isea claims that everything would have been easier if this company could operate in Spain. "We have asked Pedro Sánchez's government to let Conviasa operate again but we have not received a response," he says.
As the Spanish economy looks set to nosedive, the Venezuelan ambassador is having to deal with other demands too – from thousands of Venezuelans who have been residing in Spain but who are now eager to return home. "We are receiving requests from Venezuelans who have been here for one, two, three years or more," he says.
Last Thursday, a handful of Venezuelan tourists on the waiting list for repatriation staged a protest outside the consulate demanding an urgent solution. Due to their dwindling numbers, it is hard for them to get any media attention. This summer, before any flights were arranged, their situation did manage to make the news when dozens slept for several days equipped with banners at Barajas airport. Popular Party (PP) lawmaker Valentina Martínez is one of the few Spanish politicians who has flagged up their ordeal, criticizing the Venezuelan government of Nicolás Maduro for "extreme cruelty."
Anzola, meanwhile, is struggling to keep upbeat, despite being among the lucky ones. "The only positive thing is that I have had time to read 10 books and spent time with my grandson," he says, adding that he is looking forward to getting back home and giving his wife a hug.
English version by Heather Galloway.