VENEZUELA
The daily battle for survival in Venezuela
After three weeks of protests, living conditions in the South American nation are more precarious than ever
The anti-government protests that have rocked the Venezuelan capital of Caracas over the last three weeks have created an increasingly polarized city where two distinct realities live in parallel. In Petare, one of the country's poorest and most dangerous neighborhoods, residents at the local market look for fruit and vegetables, while people stand in line outside a grocery store that has shutters across its windows.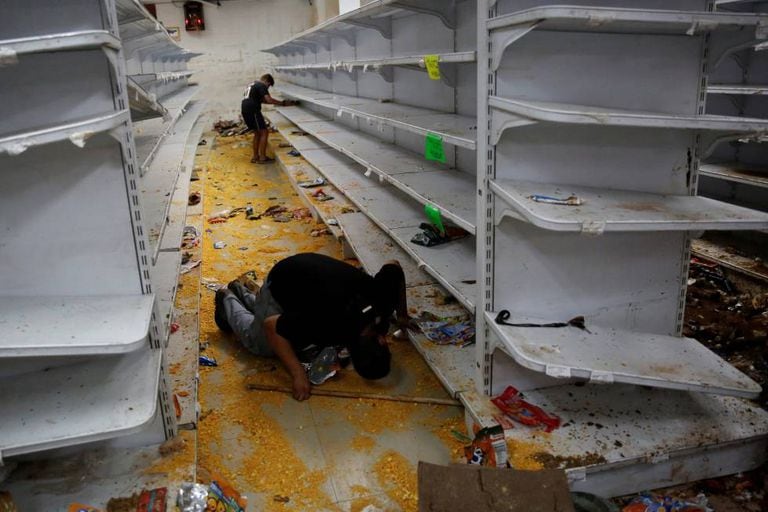 Customers are limited to four packets each of rice and sugar, as well as the same number of bottles of cooking oil. People are taking advantage to stock up ahead of the continued street protests. A packet of rice now costs 4,700 bolívares, equivalent to $1, with the price creeping up as it works it way through the chain of hands in the black market.
Venezuela, an oil producer dependent on crude prices, is in the grip of rampant inflation, with the IMF estimating price rises of more than 1,700% in the coming two years.
The IMF estimates price rises of more than 1,700% in the coming two years
For the last year, the country has been in the throes of an unprecedented crisis that is hitting it from all sides: it has the highest inflation rate in the world, violence is rampant, people have trouble finding and buying necessary everyday items, and the very fabric of society is breaking down.
Meanwhile, a world away in the nearby Las Mercedes district, in the Tolón mall, stores offer European fashion items at three times the average monthly salary: some 40,000 bolívares, less than $10.
"People are dying of hunger. We have to fight so that Venezuelans can express themselves," says Ismael García, a veteran politician who once supported Hugo Chávez, the former president and founder of the ruling United Socialist Party of Venezuela, but who is now a deputy on behalf of the MUD opposition coalition that controls the National Assembly.
The government of President Nicolás Maduro has sought to help the poor through a network of so-called local supply and production committees that provide basic products such as flour and dried milk. They have been described by the opposition as "blackmail," creating dependence on the state. A similar network of health centers was set up by Chávez, who died in 2013, with the help of Cuba. They continue to function, but have been hard hit by rising levels of violence. Last year, there were 28,470 murders in a country of 30 million people, according to the Venezuelan Observatory on Violence.
Last year, there were 28,470 murders in a country of 30 million people
There is little visible police presence on the streets of the capital, except during protest marches. Since the most recent round of opposition demonstrations began three weeks ago, barricades have been set up in the streets of Caracas and there have been clashes with the security forces. El Valle, a small community in the west of the country where Maduro grew up, was the scene of looting and pitched battles on Thursday night, with the authorities saying armed men attacked a children's hospital there. Also on Thursday, three people were gunned down and nine electrocuted when crowds looted a bakery in Caracas. Cartridge shells could still be seen outside the establishment the day after.
Everyday life in Venezuela is increasingly polarized, although not everybody who is protesting against the government supports the MUD opposition. Similarly, defenders of the government are not necessarily hardline supporters of Hugo Chávez or his successor, Maduro; many people are simply afraid of the anarchy that might follow the government's overthrow. Chávez succeeded in installing national pride in the collective imagination, which many people hold onto, seeing the country under threat from a US-orchestrated campaign to oust Maduro.
This view is typical of people like Yilson Rodríguez, a supporter of Maduro who took part in the pro-government march on Wednesday. "We cannot allow them to invade us, we have to defend the revolution," he explains. There is little room for compromise with an opposition that has committed itself to change. Meanwhile, Venezuela is sinking deeper and deeper into crisis.
English version by Nick Lyne.
At EL PAÍS, dozens of journalists are working to bring you the most rigorous information and meet their public service mission. If you want to support our journalism and enjoy unlimited access, you can do so here for €1 for the first month and €10 from the following month, and you can cancel at any time.
Subscribe