Madrid region and Barcelona to remain in Phase 0, but with some coronavirus restrictions eased
The entire Valencia region is transitioning to a looser lockdown, while a few Spanish islands are moving ahead to Phase 2
The Madrid region and the Catalan city of Barcelona will remain in Phase 0 of the national coronavirus deescalation plan, the central government announced on Friday after studying requests sent by the areas' regional governments. The majority of the Castilla y León region will also stay in the first phase of the plan. However, all of these areas will see some small relaxations of the current measures.
The gradual four-phase plan is being introduced asymmetrically, depending on epidemiology metrics at the provincial level and sometimes within smaller demarcations that function as a single healthcare area. Around half of Spaniards moved from Phase 0 to Phase 1 on May 11.
Madrid is in Phase 0, with a few improvements, but in Phase 0

Health Minister Salvador Illa
"The evolution of the pandemic is very favorable, the Madrid region started out with many more cases than other regions," said Fernando Simón, head of the Coordination Center for Health Alerts and Emergencies at a news conference on Friday evening. "But even then, it is still the region with the most daily registered cases, together with Catalonia. The Madrid region must remain for another week in Phase 0, out of prudence."
Health Minister Salvador Illa, who also spoke at the news conference, insisted that "Madrid is in Phase 0, with a few improvements, but in Phase 0."
The regional premier of Madrid, Isabel Díaz Ayuso of the Popular Party (PP), quickly criticized the decision. "Our businesses are being ruined and every week we are losing around 18,000 jobs," she tweeted.
Phase 0.5
The intermediary phase – which the Catalan regional government has dubbed "Phase 0.5" – will see stores and other businesses that have premises measuring under 400 square meters be able to open to the public without prior appointments, but maintaining the current safety measures, Minister Illa explained on Friday.
Under Phase 0.5, regional governments will be able to decide whether social services reopen, with the recommendation that assistance is provided remotely where possible. Science installations such as university laboratories can also reopen their doors. Libraries will be able to start lending books once more, and high-performance sports centers can also restart activity.
A total of 10 people will be able to attend funeral wakes, if they are in enclosed spaces, or 15 if they are in the open.
Mobility will still be limited under Phase 0.5, however, meaning that residents in the areas affected will still only be able to leave the house if they must do so for work, to shop, or during the hours that are set out for walks and exercise. Street cafés will not reopen for now, and social meetings will still not be permitted
A total of 14 million people will continue in Phase 0.5 for at least another week. The majority of Spain's population, 33 million people, will be in Phase 1 by Monday, meaning that they can meet with up to 10 people either in a home or outside, albeit respecting social distancing measures.
Region by region
Madrid. The region, which is governed by Isabel Díaz Ayuso in coalition with Ciudadanos (Citizens), is the only one not to have seen its aspirations fulfilled. For the second week running, it requested a move to Phase 1, but after being rejected last week, is now about to enter the so-called "Phase 0.5." Fernando Simón explained on Friday that while Madrid had made major advances to prepare itself, it still has problems detecting less-serious cases of the coronavirus. Ayuso last night expressed her rejection of the decision, and argued that the region is ready for the transition.
Catalonia. Unlike Madrid, the Catalan regional government itself requested that the metropolitan area of Barcelona move to Phase 0.5, after last week telling the central government that the same area, and several others, should stay in Phase 0. Around 90% of its territory, however, will now be in Phase 1: Girona, Lleida and central Cataluña will be joining Tarragona province and Pirineo de Lleida, which changed phase on Monday. The Catalan government also wanted three areas of Barcelona – Garraf, Alt Penedés and Baix Montseny – to change phase, but only the first two will, Oriol Güell reports.
Castilla y León. Forty-two healthcare zones will move to Phase 1 on Monday, joining the 26 that have done so already. The region is taking the process slowly, given its poor epidemiological data. The step will will affect just 220,000 people, however, in a region of 2.4 million residents. The most-populated area that will move to Phase 1 is Ponferrada, in León. None of the provincial capitals will be changing phase for now.
Castilla-La Mancha. On Monday of this week, Cuenca and Guadalajara moved to Phase 1. This coming Monday, they will be joined by the region's remaining provinces: Toledo, Albacete and Ciudad Real. The region has also been badly affected by the coronavirus, given its proximity to Madrid.
Andalusia. Málaga and Granada, the only provinces that were held back in Phase 0 last week, will on Monday also enter Phase 1.
Valencia. Fourteen more healthcare areas are moving into Phase 1 on Monday, after 10 areas were greenlighted last week. This will bring the entire region under Phase 1.
Basque Country. This region moved to Phase 1 on Monday, on the basis that mobility would be restricted to municipality. However, this measure will be lifted on Monday, and movement within provinces will be permitted.
Balearic and Canary islands. Some locations are moving ahead of the rest of the country. Formentera (Balearics) and El Hierro, La Gomera and La Graciosa (Canaries) are all transitioning to Phase 2 after spending 15 days in Phase 1. This means that social gatherings of up to 15 people are now allowed, stores of all sizes may open, and weddings may be held in certain conditions.
Other regions. Asturias, Galicia, Aragón, Navarre, La Rioja, Murcia, Cantabria, Extremadura and the North African exclave cities of Ceuta and Melilla will remain in their current situation until the end of next week, when the government will review the phases once more.
Situation in Madrid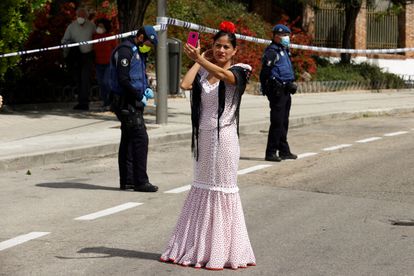 The Madrid region, considered the epicenter of the coronavirus pandemic in Spain, was held back from Phase 1 last Friday, when the government decided to allow some other parts of the country to move into the looser lockdown on May 11.
Each phase of the deescalation plan is supposed to last two weeks, but the Health Ministry has agreed to review requests on a weekly basis.
"The Health Ministry does not seem ready to let Madrid move to Phase 1, but it is not providing technical reasons," complained regional premier Isabel Díaz Ayuso via Twitter on Thursday. "Madrid meets all the criteria: it has increased its bed capacity and PCR [testing], it has a lower contagion index...." continued the regional leader, who is at the center of a growing scandal over a luxury hotel suite she has been using during her own coronavirus self-quarantine.
An antibody study, whose preliminary results were released on Wednesday, shows that more than 11% of the Madrid population, or over 750,000 people, have at one point been infected by the coronavirus. The study also shows that the region is below the national average for cases detected through PCR lab tests, considered more reliable than fast tests.
The regional premier insinuated that there is a risk of social unrest if the region's economy is not restarted soon
Madrid's decision to apply for a looser lockdown last week triggered a political storm within the regional government, whose public health chief, Yolanda Fuentes, resigned in protest, saying that the region was not ready to ease confinement measures any further. Fuentes said that health concerns should take precedence over economic ones.
An internal document from the regional government leaked on Thursday night frames the phase changes as a political issue. "It would be discriminatory compared with other regions," reads the text, which compares Madrid with other parts of Spain that moved to Phase 1 on May 11 despite high case numbers or high fatality rates.
The premier also insinuated that there is a risk of social unrest if the region's economy is not restarted soon. On Thursday, residents of the upscale neighborhood of Salamanca defied social distancing rules to hold the latest in a series of street protests against the government, which is run by a coalition of the Socialist Party (PSOE) and junior partner Unidas Podemos.
The Health Ministry has not released the reports justifying its decision to deny Madrid's request. At a parliamentary appearance, Health Minister Salvador Illa acknowledged that the region meets criteria for critical care bed capacity, but said it could not conduct enough PCR lab tests on all suspicious cases at primary healthcare centers. Deadlines for turning in test results are still not being met, he added.
On Wednesday, Madrid's deputy premier Ignacio Aguado of Ciudadanos – a right-of-center party that is in a coalition government with the PP, with support from the hard-right Vox party – said there is no technical reason to deny Madrid's request. He added that the region will reinforce its resources to track the contacts of newly infected patients, and will hire 685 primary healthcare professionals as well as 400 public health technicians.
Data released on Thursday shows that Madrid, which represents 14% of the Spanish population, accounts for 17% of all Covid-19 cases, 32% of hospital admissions, 31% of intensive care unit admissions, and 8.7% of deaths. On Wednesday, before Catalonia sent in its own updated figures, Madrid accounted for 21.7% of deaths.
English version by Susana Urra, Melissa Kitson and Simon Hunter.