WEATHER ALERT
Two deaths, numerous transit delays as Spain is hit by "Beast from the East"
Flights and trains are running late; 300 roads are affected by heavy rain, snow and gusting winds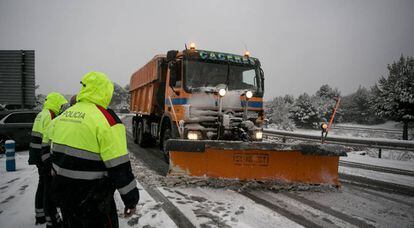 By Wednesday afternoon, the polar front nicknamed "The Beast from the East" had caused two deaths, numerous road closures and transit delays as heavy rain, snow and winds of up to 100 km/h buffeted many parts of Spain.
A municipal worker died in the Andalusian town of Hinojos, in Huelva province, after being crushed by a pine tree while he was out removing fallen branches, the emergency service 112 reported.
And a 65-year-old man died in the morning in the Basque town of Galdakao after slipping on the snow-covered sidewalk, falling and hitting the back of his head against the ground, the Basque security department reported.
"Not even the snow can stop these bathers from having their daily swim at La Concha Bay in San Sebastián."
Travel delays
Air and ground transportation slowed down or ground to a halt in northern Spain as snow continued to fall in parts of Aragón, Castilla y León, Navarre, Galicia, La Rioja, Catalonia and the Basque Country.
Flights were canceled on the island of Lanzarote and in the Basque city of Bilbao, 25 roads were closed off to traffic and nearly 30,000 students stayed home after schools decided to close for the day.
Bilbao airport was temporarily shut down as cleaning crews worked to clear the runways. There were also delayed flights in San Sebastián, Pamplona and Logroño.
Road conditions in Navarre, as recorded by the regional police force.
The railway operator Renfe said that high-speed trains are running slower today on some lines due to a build-up of ice and snow. Commuter trains in the Basque Country were also experiencing delays.
Around 300 roads have been affected to some degree by the icy and snowy conditions. Emergency services in the northwest region of Galicia logged around 60 incidents, particularly in Ourense province. In Castilla y León, five stretches of local roads have been closed off, said the national traffic authority DGT.
Snow, rainfall and gusting winds are expected for Thursday in numerous provinces, especially in the regions of Extremadura, Andalusia and the Canary Islands. Málaga and Granada are bracing for rainfall of up to 30 liters per square meter per hour, and winds could reach 90 km/h. The weather service has also issued alerts for rough sea conditions on the coasts of Andalusia, Canary Islands and the Catalan area of Ampurdán.
English version by Susana Urra.