"We will resist at any price, because all we have left to lose is our lives"
Leader of Brazilian indigenous group in Spain to condemn his people's forced displacement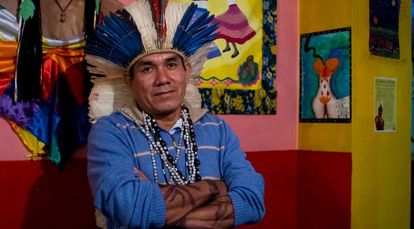 He is called Ládio Veron but his real name, his Guarani name, is Ava Taperende, which means little shining path: Brazilian law prohibits registering babies with indigenous names. Veron represents the Guarani-Kaiowá community of the Brazilian state of Mato Grosso do Sul. A subgroup of the Guarani, the country's most numerous native people, they are around 45,000 strong. But this community is under threat.
"I have come to seek political support, so that people here will become sensitive to the plight of the Guarani-Kaiowá," says Veron, speaking in Madrid.
"We are facing many difficulties from the government and from agribusiness. Our land has been devastated and taken by big landowners," he says.
The land is of interest to agribusiness, which is building factories and planting crops
Ládio Verón, leader of the Guarani-Kaiowá
Veron, whose own father Marcos was beaten to death by rancher-backed militias, will visit 12 European countries between now and June 9 to try to raise awareness about the plight of his people.
The Guarani-Kaiowá were among the first native groups to be contacted over 500 years ago by settlers landing in modern-day Brazil. They once occupied a territory covering 350,000 square kilometers, but enormous cattle ranches and fields of soya and sugar cane have taken the place of the forest they once knew.
As a result, the Guarani-Kaiowá have lost their traditional way of life based on hunting and fishing. Some of them are squeezed into tiny reservations surrounded by massive plantations, while others lack even that and live by roadsides, with no access to fresh water. Children suffer from malnutrition, and the suicide rate is unlike that of any other native people in South America.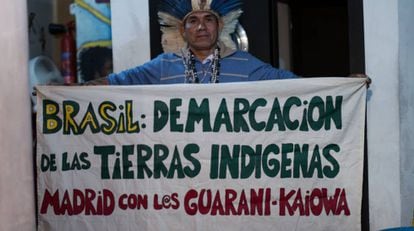 "In 1953 my people were evicted from their land, and the government demarcated eight small areas that we were taken to," says Veron, speaking inside the Maloka cultural association in Madrid's Lavapiés district.
Ever since then, they have been fighting to get their homeland back based on the 1988 Constitution, which upholds the rights of indigenous people to the lands that they have traditionally occupied. Since 1995, they have also been peacefully occupying land in what they call "retomadas," or "re-takings."
"We have waited a long time to get our land back. Today there are 46 areas which have been taken back, and 16 of them have been legally recognized by the government as belonging to us."
Survival International has been denouncing the violations against the Guarani for years at international forums like the United Nations. But successive governments choose to silence them.
Survival International has been denouncing the violations against the Guarani for years
Before her own impeachment, former Brazilian president Dilma Rousseff signed a decree to legalize 16 of the 88 areas claimed back by the Guarani-Kaiowá. But in 2016, her successor Michel Temer placed a rancher at the helm of the National Indian Foundation (Funai), and the government announced a review of the legalization plan, which has been placed on hold.
"I have come to Europe now because the government has signed a decree to remove us from the 46 areas we have taken back, including the recognized ones. It has done so because the land is of interest to agribusiness, which is building factories and planting soya, sugar cane and eucalyptus. The state supports that, because it has given them the freedom to build their factories," says Veron.
New threats
Survival International reports that many members of the new government are also members of a rural, anti-indigenous movement attempting to push through a constitutional reform it says would "prohibit future land demarcation, reduce the surface area of existing land, and open it up to mining, hydrocarbon exploration, roads, military bases and other projects that could be fatal to the indigenous people."
The deadline for leaving the occupied land expired 10 days after the decree was signed, but the Guarani-Kaiowá have not left, and the police have not been sent to throw them out. Not yet, at least. The Funai agency has been ordered to take everyone back to the confined areas, but Veron believes this is not possible.
"We won't all fit, there are too many people," he says, warning that his people will not leave peacefully. "We will resist at any price, because all we have left to lose is our lives. If we have to fight, we'll fight."
English version by Susana Urra.