Upcoming Madrid subway line closures set to spark travel chaos
Engineering work on Line 1 to be followed by shutdown of route to Barajas Airport
Upcoming engineering work on the Madrid Metro system is destined to bring travel upheaval to the city for much of the year.
The closure of Line 1 for four months between May 21 and September 30 is expected to create major holdups in various parts of the capital, according to a study carried out by Madrid City Hall.
That engineering work is set to be followed by the months-long closure of Line 8, which connects Nuevos Ministerios with Madrid-Barajas Airport and the Ifema exhibition venue, to carry out improvements on the tunnels and ventilation system.
Line 1 will also need be closed again either next year or the year after to complete the work
The dates for the Line 8 closure have yet to be set, but the work will only be carried out after Line 1 has reopened, according to the Madrid regional transport department, which is responsible for the Metro system. Neither would it coincide with the 2017 Fitur tourism fair, a major event set to take place at Ifema in February, officials added.
Announced on February 12 by Madrid regional premier Cristina Cifuentes, the Line 1 work will shore up the tunnel structure and install rigid overhead power cables at a cost of €69.8 million.
Built in 1919, Madrid's oldest subway line will also need to be closed again either next year or the year after to complete the work.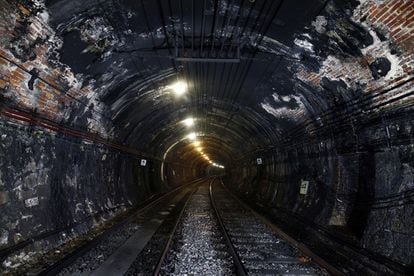 According to the City Hall study, which has been sent to the regional government, the latter's plans to use private companies rather than the city's public EMT firm to operate bus replacement services will likely increase the chaos on the roads.
The report says that the private companies' buses have lower capacity, take more time for passengers to get on and off, are not so well equipped for disabled passengers, and will lack places to stop, given that regular bus stops are reserved for EMT vehicles.
English version by Nick Funnell.