Spanish job market rebounds in November with help from furlough scheme
The number of contributors to the Social Security system is above 19 million for the first time since March, but employment retention programs are playing a role
The Spanish job market is showing unexpected vigor amid an economic crisis of unprecedented proportions, with help from the government's ERTE employment retention scheme. Social Security affiliations, considered a measure of job creation, grew in November for the seventh month in a row.
The average number of contributors to the national safety net program was 19,022,002. This is the first time that this number has reached the 19-million mark since March, when the government decreed a state of alarm and imposed a strict lockdown to curb the spread of the coronavirus.
Registered unemployment rose by 25,269 claims, according to figures released by the Labor and Social Security ministries. The total number of people out of employment reached 3.85 million in November, representing a jobless rate of just over 16%.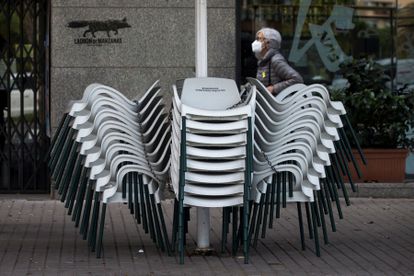 But a picture of the Spanish job market is not complete without considering the effects of the ERTE job retention schemes. The number of furloughed workers reached 746,900 in late November, a rise of around 18,500 from late October. The figure is similar to the one recorded in August.
Those nearly 750,000 workers whose contracts are on hold or who are working reduced hours still count as affiliated with Social Security, a fact that helped the system reach the 19-million mark last month. Another indication that the market has not truly recovered from the effects of the coronavirus crisis is the fact that there are still 354,877 fewer people paying into the system than a year ago, and nearly 230,000 fewer than in February of this year, before the coronavirus restrictions went into effect.
Hiring has also been significantly less dynamic ever since the pandemic began spreading across the country. A total of 1.45 million contracts were signed in November, a 17.8% decline from the same period last year. During the first 11 months of 2019, over 20 million contracts were signed. Over the same period in 2020, that figure was under 14.6 million.
But the underlying trend is positive, especially when affiliations are seasonally adjusted. New hirings were especially strong in the education sector, which added over 30,000 employees, followed by the public sector with 12,000. On the other hand, the hospitality sector shed nearly 78,000 workers.
English version by Susana Urra.