Thousands of workers in Spain could be laid off as second coronavirus wave bites
Unions warn distressed companies will not be able to retain workers returning from furlough, while the understaffed national employment services struggle to pay out jobless benefits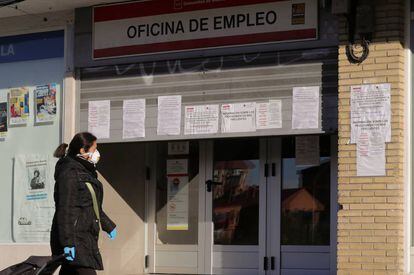 In Spain, the second wave of the coronavirus pandemic is proving to be just as powerful as the first in terms of its ability to inflict damage on the economy.
But there is one difference: the government's ERTE job retention scheme, which kept many distressed businesses afloat during the first lockdown in the spring, is now beginning to feel insufficient. The economic storm is not abating, and more layoffs could be around the corner when the program ends. In September, the government extended the furlough scheme until January 31.
Meanwhile, the country's understaffed employment services (SEPE) are stretched to breaking point as they attempt to process thousands of aid applications. The labor union Comisiones Obreras (CC OO) estimates that there is a four-month delay in processing ERTE claims, and it wants to see "immediate [staff] reinforcements" in order to deal with the "bottleneck."
The coronavirus crisis, combined with structural factors, has dragged Spain to the bottom of the list of advanced economies. According to the International Monetary Fund (IMF), the country is now headed for the biggest decline in activity of all developed economies in 2020. And Brussels is projecting that Spain's gross domestic product (GDP) will contract by 12.4% this year, particularly due to steep falls in the tourism and hospitality sectors.
Just the hospitality industry could lose half of its annual €123 billion earnings in 2020, and one-third of the 300,000 businesses that were open before the pandemic could be closed by the end of the year, according to the Spanish Hostelry Association. The government said it is working on a support package for this sector.
What happens when the ERTE scheme ends
Under the ERTE program, companies suffering losses from the Covid-19 pandemic can temporarily send home workers or reduce their working hours. Thousands of businesses have filed for ERTEs since the government introduced a lockdown in mid-March. There are currently 654,000 active ERTE claims, and several companies have already announced upcoming permanent collective dismissals when the furlough program ends on January 31.
Employer associations and labor unions alike are watching with concern as the ERTE life preserver gradually loses air. Even the Bank of Spain is now questioning the "suitability" of the program if the crisis extends any further.
On Thursday Óscar Arce, the central bank's director-general for economics, statistics and research, said that even though the ERTE scheme has managed to preserve a significant number of jobs during the crisis, some restructuring should be done at the business and industry level to prevent "the decapitalization of furloughed workers." Arce suggested letting workers perform part-time work while still being able to collect their unemployment benefits. He said furloughed workers should also be prioritized in any job training programs.
"Many small businesses are no longer wondering whether to close, only when"

Gerardo Cuerva, president of the Spanish Confederation of Small and Medium Enterprises (Cepyme)
Pepe Álvarez, secretary general of the labor union UGT, is forecasting "an avalanche of layoffs" as many businesses find themselves unable to stay open. Some labor experts estimate that between 200,000 and 300,000 workers who were placed on early ERTEs could lose their jobs between November 1 and December 31, as the six-month period before employers can fire them after bringing them back from furlough ends.
Employer associations also believe that small entrepreneurs, with smaller financial safety nets than large companies, will soon be forced to fire workers coming out of the job retention program. This could push up Spain's unemployment rate, which is currently slightly over 16% but which does not include furloughed workers.
"Around 90% of small and medium enterprises have experienced a reduction in revenues, and 40%, have seen their sales halved," said Gerardo Cuerva, president of the Spanish Confederation of Small and Medium Enterprises (Cepyme). According to Cuerva, 51% of SMEs already see themselves on the brink of failure. "Many small businesses are no longer wondering whether to close, only when."
Payment delays
According to the labor union CC OO, the benefits being paid out now do not include most of the people who filed for unemployment after August 12. The union called this situation "unacceptable."
Although some SEPE offices have sharply increased their staff – from 460 to 700 workers in Barcelona, for instance – the union said there are still not enough employees to handle all the claims, leading to payment delays that increase "poverty and inequality."
The government employee union CSIF has also asked for more human and structural resources to deal with what it termed "a social emergency" in Spain. This group has asked for the possibility of extending the workday at SEPE offices into the afternoon on a voluntary basis.
According to data collected by CSIF, SEPE staff have had to handle nearly 150,000 new ERTE claims affecting over 720,000 workers, along with their ordinary workload. The union said that "SEPE personnel are conveying their extreme concern about the lack of resources in the present circumstances; they have reached their limit in terms of their current workload."
English version by Susana Urra.