Charlize Theron reveals her biggest beauty regret
The 48-year-old actress confesses that she wishes she hadn't embraced a trend that was popular in the 1990s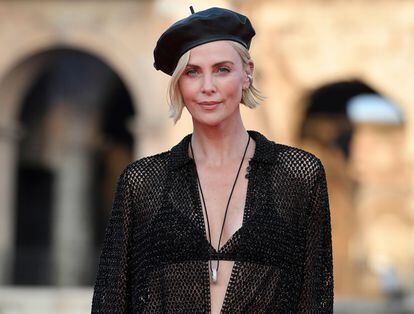 Charlize Theron has gone through many beauty transformations throughout her career, but there's one look that she regrets more than any other: the ultra-thin eyebrows that she sported in the 1990s. The style reached its peak when the South African actress began her Hollywood career more than three decades ago. Back then, everyone had embraced the look: from supermodels such as Kate Moss to celebrities such as Jennifer Aniston and Jessica Alba. And Theron wanted to as well. But today she wishes she hadn't. When asked about her biggest beauty regret by InStyle, she replied: "Hands down, the thin eyebrows in the 1990s. I'm still recovering from that."
The 48-year-old actress is a vocal advocate for aging naturally and is embracing the changes her body is going through. "My face is changing, and I love that my face is changing and aging," she told Allure a few weeks ago. In the interview, she revealed that people have asked her if she has undergone treatments because of the changes. "They're like, 'What did she do to her face?' I'm like, 'Bitch, I'm just aging! It doesn't mean I got bad plastic surgery. This is just what happens,'" she said.
The Tully star complained that there is still a double standard when it comes to talking about age between men and women. "I've always had issues with the fact that men kind of age like fine wines and women like cut flowers," she said. "I despise that concept and I want to fight against it, but I also think women want to age in a way that feels right to them. I think we need to be a little bit more empathetic to how we all go through our journey."
Theron, who has been the face of Dior's J'Adore perfume since 2004, added that she has had to find a way to come to terms with how the body changes with age: "My journey of having to see my face on a billboard is quite funny now."
While Theron is likely to disapprove, ultra-thin eyebrows of the 1990s have been making a comeback, as are the makeup, tweezers and printed T-shirts that were all the rage back then. Little by little, celebrities of all kinds have been moving away from the thick eyebrows which were popularized by model Cara Delevingne. One of the most notable figures to embrace the look is Bella Hadid, who was seen with ultra-thin eyebrows this summer.
Sign up for our weekly newsletter to get more English-language news coverage from EL PAÍS USA Edition