Diego Luna's great triumph: 'I pushed the limits, but I always found my way back'
After playing the starring role in the show 'Andor' (part of the 'Star Wars' franchise), he's an international star. But the Mexican performer, director and producer remains a man of principle. Here, he talks about the Hollywood screenwriters' strike, dealing with difficult subjects on his TV show and surviving success as a child actor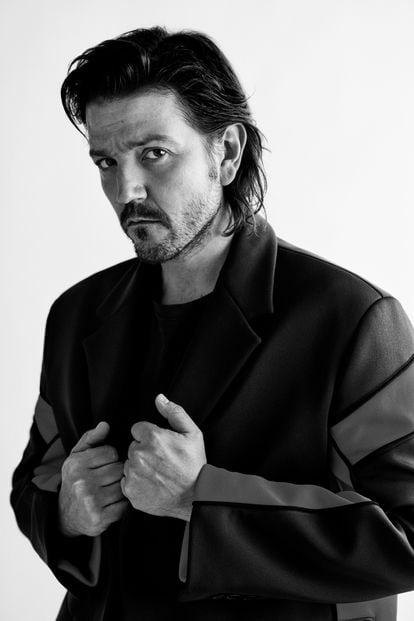 It is not exactly clear where Diego Luna (Mexico, 43 years old) lives these days. According to the biography his agency sent, he lives in Spain. But he denies it. "No, I don't live in Madrid, I'm in London. Now I'd like to live in Madrid, huh?" he says. "Right now, my life is mostly in London and a very little bit in Mexico." But what about his partner and three children? Where is his family? "That's more complex. Let's just say it's someone else's life and I'll keep that to myself."
It doesn't really matter where he lives. Currently, the city that's most important to Diego Luna is Los Angeles, where his representatives are located. Everything happens there, including this zoom call from Madrid, which he answered in the car taking him back to London from filming the second season of Andor ("what a pleasure to spend some time talking in Spanish; I needed it," he says laughing). The Star Wars universe series has finally turned him into a Class A celebrity, a real star. "I think I realized the power of Star Wars the day the first article came out [saying] that I would be a character in Rogue One, not even Andor. That morning started with TV cameras outside my dad's house. They asked him how long I had liked Star Wars. And my dad said, 'He's never liked it!' And I said, 'Oh my, that's the scope of this project. I [hadn't] even signed a contract and the cameras that one runs away from are going after my dad outside his house; they've never gone to bother him there [before].' Clearly, it kickstarts a machine that is sometimes exciting and sometimes also very perverse. It is a project that [got] everyone's interest from the start. I had never felt that [before]. The closest thing I've experienced in terms of scope was when I worked with [Steven] Spielberg [on The Terminal, 2004], which had a global impact, but nothing compared to Andor. How much has this project changed his life? "Dramatically," he replies.
Luna has been in London since November and three months of shooting remain. That is, if it doesn't drag on longer because of the writers' strike that has caused Tony Gilroy, the showrunner of the Disney+ series, to stop filming. It's the first strike of the streaming era, and at the center of the dispute is the amount of money writers get paid each time a show, series or movie in which they participated is watched. In addition to starring in Andor, Luna is the show's executive producer and puts his own money on the line. What is his opinion about the strike? "It's the first time I've been asked this question, so let me think about it," he says, taking a few seconds to silently reflect. "It seems good to me. I mean, I hope it is resolved quickly, but a lot of rethinking needs to happen. The world, and this industry in particular, is changing very rapidly. And working conditions have to be rethought. You can no longer think in terms of cinema. I grew up thinking in terms of cinema…stories that had a beginning and an end, that lasted two hours, that were shown in a theater, that sold a certain number of tickets (or not) and later remained on a thing that you could buy called a DVD. That world is over. Now everything is in a cloud. And in that sense I think what the writers are doing is very, very commendable. I only hope that they receive a quick response so that this industry doesn't get hit very badly and that the change comes so that all the families that make a living from it can continue to do so. But…I [have] always respected what it means for a union to agree…how could Tony not join in? Wouldn't that be absurd? This series is about insurgency, about how oppression creates a citizen and a social awakening. It would be very contradictory if he wasn't [participating in the strike], wouldn't it?"
Andor is the story of Cassian Andor, a Rebel Alliance spy who first appeared in Rogue One (2016), the story of how the Death Star plans were stolen. The film's tragic ending was a rarity in a saga that, since Disney bought the franchise, had become infantilized at times. In 2018, it was announced that Andor, the character Luna played, would have his own series to tell the story of his life before Rogue One. The first season premiered in 2022. Surprise, surprise, the storyline deepened that same path. For the first time, the rebels were not angelic beings without a trace of evil. Here, they are tinged with an almost fanatical determination. The message seems clear: revolutions, no matter how noble the cause, are dirty. "When you're willing to go to the ultimate consequences and sacrifice everything, you can romanticize the story, but we try, as much as possible, to ground it in something realistic. And it's impossible not to talk about darkness, moral contradictions, constant mistakes. The point here is: what do they do when they realize that they are wrong?" We will have to wait until the second and final season premieres in 2024 to find out the answer.
In 2001, Diego Dionisio Luna Alexander burst onto the scene with Y tu mamá también, a feature film by the then-unknown director Alfonso Cuarón. The movie starred Spanish actress Maribel Verdú and two young actors, who are so close today that they seem like a two-headed animal: Gael García Bernal and Diego Luna. It is practically impossible to utter one's name without the other's name following close behind. They are partners in the production company La Corriente del Golfo [Gulf Current], but above all they are friends, almost brothers. They have literally known each other all their lives: "There is a story that I think sums it all up: His father was in a show, John Ford's 'Tis Pity She's a Whore, directed by Juan José Gurrola. My father did the sets. My mother did the costumes and Gael's mother worked with her. Gael was born during rehearsals, and I was born during the performance. That seems to be the origin of much of what has happened to us. The truth is that it's a play that we could do together." That sounds like a nice end to a cycle. "That's why I don't want to do it, because it sounds like the end of a cycle," he says, laughing.
His mother, English artist Fiona Alexander, died in a car accident when he was two years old, leaving Diego and his older sister, Maria, to be raised by their father, Alejandro Luna, a set designer and architect. Little Diego grew up on stage. "I guess when I was six or seven years old I said as certainly and confidently as a seven-year-old can that I was an actor. At first, I wanted to do what the adults around me were doing. I wanted to be part of that ritual that my dad participated in so seriously. And suddenly I found myself doing it with my father's full support. Whether that was an act of responsibility or irresponsibility is open to debate, but he always let me. It also would have been contradictory for my father to make his living in the theater…and tell me that I couldn't do it. I had to go to school and in exchange I could dedicate the other half of my day to the theater. Then came television and movies and that made my head spin a little. But I also started to meet people, to feel like part of a community, and little by little I found my way. And I never stopped."
At the age of 12, Diego was a Mexican television star. At 16, he dropped out of school and emancipated himself. Being a famous teenager with money while living alone seems like a perfect recipe for disaster. "Yes, I had it bad, very bad. They were difficult years, I'm not going to deny it. Between fame and unbridled freedom... but I never left my house completely. I no longer lived there, but I felt I could go back and that gave me [a sense of] security. I think my father handled things the right way, because if he tried to stop me, it would have been catastrophic."
His father — who passed away in December — comes up often in the conversation. "I am fortunate to have always had a very open relationship with him. He didn't tell me what to do, he told me what he thought about what I wanted and that always helped me. I don't want to say that I didn't push the limits, but I always found my way back to safer ground. And I attribute that to my family and to my theater family, because they formed a protective core that helped me a lot. I had a lot of mothers throughout my childhood and adolescence. My mother died when I was two years old. Many actresses, directors and theater women took care of me, guided me and were there for me. They took my mother's absence very personally. I think that saved me."
It would take a book to describe Diego Luna's career since Y tu mamá también. In addition to working as an actor with Steven Spielberg, Gus Van Sant, Harmony Korine and Steven Soderbergh, he has worked as a producer; he has directed movies (his second film, Abel (2010), was an official selection at Cannes); he has starred in Netflix's Narcos Mexico and has even made a show, Pan y Circo (Bread and Circus), in which he cooks and brings people together to talk about complex issues, such as climate change, abortion, migration, democracy and racism. "It's an exercise similar to journalism, but it starts from a place of total bias. I don't have the slightest interest in sounding impartial but [rather] in being attentive and curious about opinions that are different from my own and, in the best-case scenario, learning. But I have very clear points of view on all these issues. My team and I chose the first topic. And at that moment we decided to bring voices to the table that have perspectives that we do not necessarily share; we're always trying to leave toxic voices as far away as possible. But we seek a confrontation of ideas. Because in this polarized world, we don't even have access to that anymore. We live in this bubble that we create for ourselves through what we consume, through social media, and suddenly it seems that everyone thinks like us, and it is nice and interesting to go out into the world and realize that it's not like that."
In 2022, he performed a one-man show in Madrid, Spain, Cada vez nos despedimos major (We Say Goodbye Better Each Time), and directed a series for Amazon Prime Video, Y todo va a estar bien (And Everything Will Be Alright); both seem to talk about the same thing: the possibility (or impossibility) of romantic love.
"I'm so obsessed with that topic.... When I was two years old, I lost my mother, and then my father had a myriad of relationships in his life, and I had to experience that, jumping from one to another with him and constantly questioning what others called family. In my case, family was nothing like that of my classmates at school. The core didn't mean the same thing. It could not be described in the same way. There is also something very beautiful that happens, which is that, in this world that sometimes seems to go too fast, there are also very beautiful examples of people finding new ways to love each other. That's something that, in my line of work, I think, is very important. Love is there, always there, in this storytelling thing. And if suddenly there are these new forms and these new structures, I think it's only right to reflect on them."
What is his favorite way to do that? "If there's one thing I know for sure, it's that I don't like — I don't find myself in — solitude. Definitely. I like what I have now. Now, I'm very good in that regard. I'm very happy and that makes me happy, to be honest."
He repeats the concept of freedom when talking about directing, acting and producing. Having the freedom to do what he wants. How free is he right now? "I feel very free now, to tell you the truth. Freer than ever before in my life. I'm about to reach a destination that I mapped out for myself eight years ago [when he signed on for Rogue One] without fully realizing it, but five years ago I became fully aware. And I can see it now. In August, I'll finish as an actor, then I have one more year as a producer and that's it. That makes me feel very complete, and very free, because I have my life ahead of me, because I have a lot to do and because I have accumulated a lot of interests over the years." The car has been stopped for a while. A message appears on the screen: we have to finish, they say from Los Angeles.
Sign up for our weekly newsletter to get more English-language news coverage from EL PAÍS USA Edition