San Francisco police arrest suspect over murder of Cash App founder Bob Lee
City authorities said Nima Momeni, who describes himself as an IT consultant and founder of Expand IT, knew the tech entrepreneur, who was stabbed to death on April 4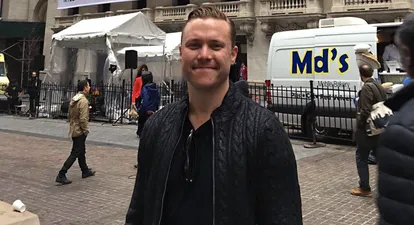 The killing of tech entrepreneur and co-founder of popular mobile payment service Cash App, Bob Lee, sent shockwaves through San Francisco a week ago. The city's police department has been working flat out to solve a homicide that rattled the tech community and sparked a debate about security in the Californian city that Elon Musk joined on Twitter, where he said that crime in San Francisco is "horrific" and that even when attackers are caught, they are often immediately released. Detectives have detained a suspect in the case, Nima Momeni, a 38-year-old who describes himself on LinkedIn as a technological consultant and who was known to the victim, according to police.
San Francisco District Attorney Brooke Jenkins said in a statement that Momeni has been charged with murder in Lee's death and is expected to be arraigned Friday. Prosecutors will ask a judge to hold him without bail, she said. "I acknowledge and understand how the loss of a young, vibrant leader and innovator has rocked our city and even beyond," Jenkins said at the news conference.
On his LinkedIn profile, Momeni describes himself as an "IT Consultant/Entrepreneur" as well as the owner of a company called Expand IT. Business filings with the state list Momeni as the chief executive officer, secretary, and chief financial officer of Expand IT INC, described as an information technology consulting business. He signed the filing in August 2022. According to his LinkedIn profile, Momeni has been "a dedicated technology partner since 2005″ and that he started Expand IT in 2010.
Criminal records show Momeni was charged with carrying a switchblade in 2011, a misdemeanor offense. The case was dismissed the following year after he took a plea. San Francisco Police Chief Bill Scott confirmed Thursday that Lee and Momeni knew each other, but he declined to elaborate on their connection. Momeni was taken into custody Thursday morning in Emeryville, a San Francisco suburb.
"I acknowledge and understand how the loss of a young, vibrant leader and innovator has rocked our city and even beyond," Jenkins said at the news conference. The District Attorney also responded to Musk's tweet, stating that "reckless and irresponsible statements like those contained in Mr. Musk's tweet that assumed incorrect circumstances about Mr. Lee's death serve to mislead the world in their perceptions of San Francisco."
As well as Scott, Jenkins was flanked by San Francisco Mayor London Breed, who defended the city's homicide clearance rate, stating that at 85% San Francisco solved considerably more murders than the national average of 60% in other U.S. cities.
Police found Lee, who was chief product officer for the cryptocurrency firm MobileCoin, with stab wounds in the Rincon Hill neighborhood of San Francisco at 2:30 a.m. on April 4. He died at a hospital. Scott declined to give details on how they linked the killing to Momeni. The chief also refused to disclose a possible motive. Investigators served search warrants in San Francisco and Emeryville. Scott would not say whether a weapon has been found.
Lee was raised in Missouri and had recently moved to Miami with his father, but was back in San Francisco for business when he was killed. Friends described him as adventurous and fearless, and a doting father to his two children.
Lee's brother, Tim Oliver Lee, posted on Facebook the family's gratitude to the San Francisco Police Department for catching the suspect. Tim Lee said his brother dreamed of making technology accessible to all and that he made friends from all walks of life. "Bob loved being in San Francisco, and San Francisco loved Bob. Walking down the street would sometimes be difficult because every young person with a dream would search him out, and he would make time for every one," his brother wrote.
Sign up for our weekly newsletter to get more English-language news coverage from EL PAÍS USA Edition