Why remote workers are flocking to Costa Rica
The Central American country recently passed a law to attract more digital nomads, who in turn enjoy beaches, rainforests, surfing, yoga and adventure at specialized hotels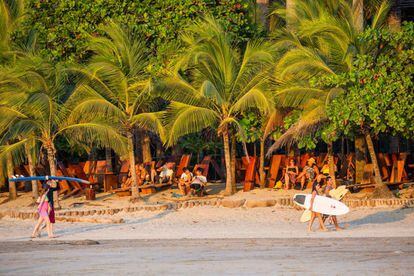 An agreeable tropical climate year-round, unspoiled volcanic beaches on the Atlantic coast and soft white sand on the Caribbean side, forest reserves that contain 6% of the entire planet's biodiversity and plenty of activities including trekking, yoga, surfing and adventure sports: these are some of the reasons that so-called digital nomads are flocking either temporarily or on a permanent basis to Costa Rica. Furthermore, in October the Central American country became one of the first in the region to pass a law aimed at attracting foreign remote workers, which included income tax exemptions, access to local banking and making driving licenses issued overseas valid. The only stipulation: remote workers have to make at least $3,000 (€2,660) a month.
Even before the legislation initiative, Costa Rica – the most stable country in the region, which enjoys the highest standard of living among its peers – had seen an influx of remote workers who had elected to install themselves in a virtual office next to a beach or rainforest during the coronavirus pandemic. Now, with borders being reopened, many are stretching their three-month tourist visa by visiting a neighboring country before returning once more, if they have not already availed themselves of the new law, which allows for the issue of a one-year extendable visa. The Pacific coast beaches of Tamarindo or Nosara, the Bosque Nuboso Monteverde national park and the village of La Fortuna, next to the Volcán Arenal natural reserve, are the most sought-after long-stay destinations.
Barcelona-born Gladys Cali, 33, a business studies graduate and expert in internet marketing, spends six months a year traveling through various countries with her cat Wincat, but now plans to spend three months in Costa Rica "moving between budget hotels that specialize in young nomads, like the Selina de Tamarindo, next to the beach where as well as being able to work and do lots of activities, there is also a good dose of partying. And when I need a bit more peace and quiet, I'll choose from among the hotels near the Monteverde rainforest, in the interior of the country, where the pace is a bit more tranquil." Cali, who has signed up for the hotel's surfing course, plans to go to Brazil after her stay in Costa Rica and then to Fuerteventura. She chose Costa Rica because of its "climate and amazing nature and the energy and inspiration I get from sharing ideas with so many other interesting nomads with great projects. When it started, nomadism was something for bloggers and backpackers, but then programmers and business people started doing it and since the pandemic, remote workers have been signing up in droves."
Sharing experiences is one of the main advantages that almost all nomads cite, as is the case with 24-year-old Londoner Sharon Tremble, whose job involves "positioning financial firms on the internet" and who is also taking advantage of remote work to "immerse myself in Latin American culture." Tremble, who will head to Panama after Costa Rica, also spends her leisure time riding waves or in yoga classes organized by the hotel, which also offers packages for nomads and access to a shared working space. A month at the hotel costs $1,000 (€890) for a private room or $800 (€710) for a bed in a dormitory, says the Selina Tamarindo's manager, Óscar Hernández.
Peace, quiet and nature
In another similar establishment, somewhere between a hostel and a hotel, around a mile away from the Monteverde reserve in the northeast of the country and a little over an hour away from the beaches on the Pacific coast, Colombian couple Camilo Mejía, 39, and Andrea Manosalva, 35, say they chose this area, dominated by the rainforest, "for its tranquility and amazing nature." Mejía, who has been here for two months, is a stock market investor and is also working on a start-up. "I spend my free time taking meditation and wellbeing courses," he says, while Andrea gives online classes for a New York school.
Hotels geared toward nomads in Monteverde also offer multi-adventure activities: zip wires, canopy walkways (the longest such one in the world is found here), forest trekking and even live music nights.
The pristine beaches of Nosara, to the south of Tamarindo, are an emerging tourist destination and the favorite enclave of those digital nomads with cash to spare. The hotel Surf Simply has 12 tastefully decorated rooms, each presided over by a surfboard upon which one of the greats of the sport either won a world championship or tamed the biggest waves in the world, in Nazaré, Portugal. The price of a room is $1,000 per night. "That includes surf lessons given by more teachers than we have guests," says Ru Hill, a Briton who parked his truck on the beach there years ago and started his adventure teaching people how to surf. The rooms tend to be 25% occupied by young Silicon Valley workers who come to the hotel to disconnect and surf, with drones filming lessons so they can be analyzed later. A little walk away from Surf Simply is the Bodhi Tree Yoga Resort, where nomads spend their time practicing yoga and meditating. To keep nomads keyed in, in January Nosara will inaugurate a lavish co-working space, Outpost Nosara, "a new ocean office concept," according to its promoters, where a desk can be rented for $2,000 (€1,774) a month.
"I encourage all entrepreneurs who want to become digital nomads, it's a wonderful way of life, and to those people who say it's a passing fad, I would say the same thing was said about social media for example," says Cali.