Spain adopts conservative attitude to restarting European travel
Most European Union states want to lift restrictions at internal borders by June 15, but Madrid is insisting on July 1
Spain is clearly siding with the most conservative members of the European Union when it comes to reopening borders.
A meeting of interior ministers held on Friday revealed that most member states want to restore free travel by June 15 within the Schengen space, which includes 22 members of the EU plus Norway, Switzerland, Iceland and Liechstenstein. Italy already lifted its restrictions on European travel on June 3. But Madrid is insisting on waiting until July 1.
Spain is also very cautious about reopening Europe's external borders to visitors from other countries, some of which are currently experiencing significant Covid-19 outbreaks, such as the United States, Japan and several Latin American nations.
We all want safety; it is best to have an umbrella to cover us all

Government spokesperson María Jesús Montero
The prime ministers of Spain and Italy, the two European countries most intensely affected by the coronavirus – and the most dependent on tourism – have sent a letter to the European Commission (EC) demanding a coordinated system for reopening internal borders within the European Union, and most particularly for lifting controls on the external ones.
"The time has come to reactivate our economies, to restore normality and also to restore a fundamental aspect of the European project: freedom of movement within the Schengen space," reads a letter to EC president Ursula von der Leyen signed by Spain's Pedro Sánchez and Italy's Giuseppe Conte.
In Spain, there is a lot of internal pressure from regional governments and the tourism industry to reopen as soon as possible, which has led to some confusing situations. On Thursday, Tourism Minister Reyes Maroto announced that the land borders with France and Portugal would reopen on June 22, coinciding with the official end of the state of alarm in Spain. But just hours later, the central government underscored that the only certain date is July 1.
The regional heads of the Basque Country, which shares a border with France, and of Galicia, which is located next to Portugal, have been asking Sánchez to allow cross-border transit as soon as possible.
Government spokesperson María Jesús Montero has said that for now, there are no plans to change the July 1 date, with the exception of a few early projects such as one involving a group of 6,000 German tourists who are scheduled to visit the Balearic Islands ahead of that date. The Foreign Ministry said it did not see any contradiction between this pilot program and the ban on international tourism until July 1. Diplomatic sources told the Europa Press news agency that it will be an opportunity to test the country's healthcare safety system and tracing capabilities before opening up to all visitors. Last year, Spain received 80 million international tourists.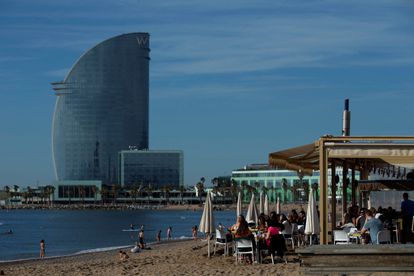 The heads of government of Spain and Italy "are seeking common criteria, so that there will be no differences among countries," said Montero at a news conference following an extraordinary Cabinet meeting on Friday. "We all want safety; it is best to have an umbrella to cover us all."
On Wednesday, Spanish Congress approved a sixth and final extension to the state of alarm that underpins the confinement measures adopted by Spain in mid-March. This emergency state will end on June 21, although the deescalation plan is being speeded up, and half of the Spanish population will enter the last stage of the plan on Monday.
"Thanks to the exemplary attitude of citizens, 52% of the population will be in Phase 3 on Monday," said Health Minister Salvador Illa, adding that in Phase 3, the regional governments will have full powers to decide how long this stage should last and when to enter the "new normality." The central government is recommending that travel between Spanish regions not be allowed until after regions have exited Phase 3.
English version by Susana Urra.