Spain's macro study shows just 5.2% of population has contracted the coronavirus
The results of the second round of testing suggest the deescalation of confinement measures has not so far caused a significant resurgence of the SARS-CoV-2 virus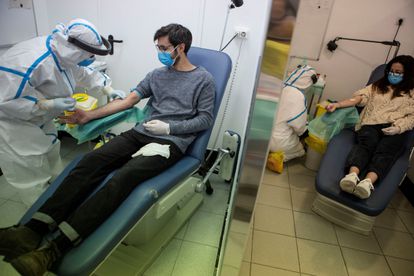 A second set of tests conducted in Spain as part of a macro coronavirus study show that 5.2% of the population has developed antibodies after exposure to the virus, according to results released on Thursday.
This is up just 0.2 percentage points from the results of the first wave of the study, which were released on May 13.
The results indicate no major resurgence of the virus in this period, and confirm geographical variations observed the first time around. They also underscore the role of asymptomatic spreaders and the greater presence of the coronavirus in large cities.
The eight-week seroprevalence study is being conducted by the Carlos III Health Institute, a public research agency. It comprises three waves of testing on a random sampling of households across Spain, and is due to end in late June.
Between May 18 and June 1, researchers tested 63,564 individuals, a large sample size compared with similar studies conducted worldwide.
No major resurgence
The results, which reflect the presence of IgG antibodies against SARS-CoV-2, suggest that the gradual scaling down of confinement measures in Spain has not so far caused a significant resurgence of a pathogen that has already killed more than 40,000 people, according to some estimates.
"The increase was predictable," explained Daniel López Acuña, a former director of crisis health action at the World Health Organization (WHO). "I wasn't expecting a huge increase, but it makes sense to expect some, because this is a cumulative study that incorporates new cases."
But other experts warn that Spaniards should not let their guard down because coronavirus transmission is still taking place in practically every province.
"It's a very important reminder that this is no time to relax. The figures are good, but we've got to remain alert," said Pere Godoy, president of the Spanish Epidemiology Society.
Godoy also noted that the second wave is "highly consistent" with the first one, which shows that "the study is very well done from a methodology viewpoint, making it even more valuable as a tool at the current stage."
Asymptomatic spreaders
Experts also underscored the fact that around a third of individuals with antibodies said they never experienced any symptoms, making them effective spreaders of the virus.
"This drives home the point, and it's an important one during the deescalation process, that the real problem lies with this type of [asymptomatic] infection," adds López Acuña.
Another pattern that emerges from the study is that the coronavirus spreads more in urban settings with populations of over 100,000. The second wave of tests shows that prevalence in these areas grew to 6.8% from the 6.4% recorded in the first round of testing. In smaller localities, the prevalence rate remained unchanged.
For the first time, the research also reflects people who tested negative in the first wave and positive in the second, indicating a recent infection. The national average for this group of people is 0.8%, but it rises significantly in some central and northern provinces: in Ávila, Valladolid and Palencia it is close to 2% while in Madrid, Soria and Segovia it is 1.5%.
Broken down by gender, 5.4% of women showed antibodies, compared with 5.01% of men.
The study also confirms that younger children have lower seroprevalence rates: 2.2% among babies under one year of age, 2.4% for children between one and four years old, 2.9% for those between five and nine years old, and 3.8% for those between 10 and 19.
For the 20-40 age bracket, the seroprevalence rate was around 4.5%, and after that the figure is similar to the national average.
Geographic variation
The noticeable differences between provinces that were observed in the first round of testing were also confirmed by the second round of tests. No province comes even close to reaching so-called herd immunity, which experts place at 60% at the very least.
The three regions of Spain with the greater proportion of residents who have developed antibodies are Madrid (11.4%), Castilla-La Mancha (10.3%), Castilla y León (7.5%) and Catalonia (7%). The lowest rates are in the Balearic Islands (1.5%), Murcia (1.6%) and Asturias (1.6%). The biggest rise between both sets of tests was recorded in Catalonia (1.1%), but in general the variations were very low.
The study is made up of three rounds of testing. The third one will take place in late June.
Deaths and cases
Spanish health authorities on Thursday reported 195 new daily coronavirus cases, although there are 139 more cases to add from previous days. The Health Ministry reported 56 new deaths, but only five took place in the previous 24 hours. Since the beginning of the pandemic, Spain has recorded 240,660 positive cases through PCR tests and 27,128 official deaths. Both indicators show a downward trend based on accumulated seven-day figures.
The Health Ministry recently changed the way these numbers are being presented, to factor in cases and deaths that were recorded several days after they occurred. This has made it difficult to compare current data with older figures from the beginning of the pandemic.
With reporting by Emilio de Benito.
English version by Susana Urra.