Hitmen, organized crime and the successful police team solving cases on Spain's Costa del Sol
A special unit created in 2019 to investigate drug wars in towns along the country's southern coast — particularly Marbella — has arrested 50 people and solved 18 cases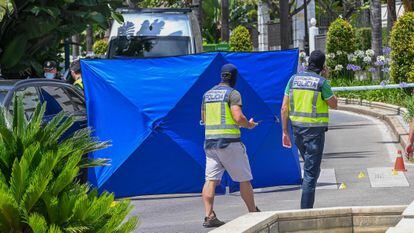 On October 27, 2019, a hiker found the bullet-riddled body of a man in a roadside ditch between Marbella and Istán (in southern Spain). The victim's partner said she hadn't heard from him in two days. During the investigation, the police found small glass fragments at the crime scene and, further down the road, a bloody bullet casing next to a CD with Cyrillic letters. These clues were crucial for the specialized group within the National Police's Organized Crime and Delinquency Unit (UDYCO). Established after a murderous 2018 that saw over 20 killings on the Costa del Sol, the group successfully solved the case in 15 days. The perpetrator was apprehended in Germany and was sentenced to almost 19 years in prison. The unit's success story doesn't end there — all of their 18 cases have been brilliantly solved.
The events in 2018 that unleashed so much violence on Spain's touristy southern coast remain unclear. Experts believe a combination of factors such as increased gang activity, a distributed business network, frequent clashes and heightened police pressure contributed to a shocking 20 murders in the vicinity of Marbella, followed by a dozen more deaths the following year. In early 2019, the National Police established a specialized team with agents from different units. Their primary goal was to tackle organized crime-related vendettas on the Costa del Sol. They quickly made progress by solving their first case — the fatal shooting of a Marbella entrepreneur while he was driving into his garage on January 21. Since then, they have maintained a remarkable 100% success rate in resolving all the cases brought before them, making 49 arrests in the process. The team's leader said, "It's totally unprecedented and historic — we're really proud of the work we've done."
"I don't think there's any [law enforcement] group in Spain that has achieved this level of effectiveness," he adds. Their unit thrives on challenges. "We're all about giving things a try. No matter how tough it may seem, or how weird the idea is that pops into our heads, we have to give it a shot. Sometimes we don't find the way immediately, but other times, that spark of inspiration hits when we least expect it. Sometimes a little detail offers a thread to follow that just appears out of nowhere! You start from scratch — all you have is a body," he said, noting that their work is quietly meticulous. It involves viewing hundreds of hours of security camera footage, reviewing countless documents, and putting in long hours of surveillance. "It's a 24-hour job," he said. A criminal he arrested once asked, "You're the guys cleaning up the coast, right?" The spiral of violence that once plagued the Costa del Sol coastline has notably diminished. Over the past two years, murder has become the rare exception rather than the norm.
Gang wars
In June 2022, a Serbian was held hostage by four men in Marbella's Golden Beach residential development. They bound and tortured him, and finally executed him with two shots. Drug money is often the motive behind these crimes. However, there was one exception: a Moroccan street vendor in Torremolinos who was shot 10 times in April 2021. At first, it was believed to be drug-related, but further investigation revealed that it was the fatal outcome of a business dispute resolved with bullets.
The flea market murder was very different from another one in Marbella a year earlier. Two members of a gang from Montenegro shot and killed a Serbian national in broad daylight on the street. The perpetrators fled on a motorcycle. The officers quickly located the vehicle within a few hours, but the leak of that information to the press complicated the investigation. They later discovered a cap near the vehicle and a shirt covered in blood a few meters away in an open field. The cap led investigators to the store where it was purchased, and the store's cameras helped identify the buyer and his accomplice. Coincidentally, they had already been identified at a Covid-19 checkpoint while traveling from Barcelona to Malaga. A search of their home uncovered a sketch of the victim's residence and an X marking the planned location of the murder. "We arrested them 10 days later," said the police officer. The accused murderers have been in preventive detention since their arrest.
The murder of the Serbian was a result of a gang war between two clans from Montenegro — the Kavacs and the Skaljars — that has left a bloody trail of death throughout Europe. "The hitmen we arrested are actually part of one of the most sophisticated criminal organizations we've come across," said the police officer. The victim, who carried fake identification just like his assassins, was on parole from a drug trafficking sentence at the time of his death. The special unit has arrested 49 individuals from various countries, reflecting the diverse criminal groups operating on the Costa del Sol. Only one Spanish citizen, who is believed to be the mastermind behind a number of revenge killings, has been arrested. In November 2019, he was linked to an incident where a Moroccan man lost his life and another was paralyzed after being shot by two Romanians during a drug deal in the Alvarito Playa area of Marbella.
"These days, criminals really should think twice before they act. There's always someone who thinks they can get away with it, but trust me, we will catch them," warns the officer, who says their job is not finished until a judge hands down a guilty verdict. The issue lies in the slow judicial process. Out of their 18 cases, only one has made it to trial so far. That particular case involved a Bulgarian national who was convicted of murdering a compatriot and disposing of the body in a ravine near Istán. In March, a jury unanimously convicted the murderer and a judge gave him an 18-year prison sentence. "We gather all the evidence to make the strongest case possible for conviction. That case is a shining example." None of the other criminals arrested have made it to trial yet. "At that point, there is nothing more we can do," said the officer, who only asks that the justice system finish the work they started. "Otherwise, all the bad guys will start thinking that murder has zero consequences."
Sign up for our weekly newsletter to get more English-language news coverage from EL PAÍS USA Edition
More information