The changing face of Spain's drug trade
The staggering rise in marijuana production and trafficking is the hallmark of a new era of organized crime in the country, where anonymity is key as gangs go global and diversify. From Galicia to Cádiz, EL PAÍS looks at the hotspots for the drug trade across the territory
Spain
and its
narcotraffickers
Ir al contenido
Madrid / Pontevedra / Barcelona / Málaga / Cádiz -
Drug trafficking in Spain is evolving rapidly. While recently released 2020 data lists the seizure in 2019 of a staggering 1.5 million marijuana plants, almost 38 tons of cocaine and nearly 350 tons of hashish along with 20,437 arrests*, drug traffickers are becoming masters at adapting to new circumstances, including those of the pandemic. This is due in part to the broad-based criminal activities of the Eastern European mafias and the marijuana mega-boom. The narco has ditched his iconic underworld status and the monikers that go with it, and embraced anonymity in a bid to keep trade on track.
Arrests for drug trafficking in Spain increased by 12.3% in 2019
As the data suggests, the system of producing, receiving and distributing the drugs is like a well-oiled machine. According to narcotics prosecutor José Ramón Noreña, who has spent 14 years dealing with drug crime, "this is an area that has no boundaries and is only going to grow, not just in Spain but across the world, and the solution, if there is one, is complex."
Drug crime is neither created nor destroyed, only transformed. "The system is as follows: due to its geographical position, Spain is a receiver – hashish from Morocco and cocaine from Latin America – and it's also a big marijuana producer," says a Civil Guard police chief involved in the fight against organized crime. "It has perfect, fluid distribution channels, mainly road transportation, with trucks carrying all kinds of fruit and vegetables across Europe."
"We can dismantle stronger or weaker groups, but others will come behind and they will also try to impose themselves and fill the vacuum, as can be seen with the violent clashes between rival organizations on the Costa del Sol," says a senior police chief of UDYCO, the National Police's Drugs and Organized Crime Unit. "The only thing we can do is prevent this system from replacing and competing with the state itself, as happens in some countries, such as Mexico."
The predominant trend noted by the latest Drug Trafficking Report from the Intelligence Center against Terrorism and Organized Crime (CITCO) is a spectacular increase in marijuana crops, both indoor and outdoor. The report also talks about the clear South-to-North cocaine route with Galicia once again becoming the main gateway for the narcotic coming principally from Brazil and Colombia. In November 2019, the first narco-submarine was intercepted off the Galician coast with 3,000 kilos of cocaine on board, confirming a suspicion that narcotics officers had been harboring for years: that the drugs were coming in via submersible vessels.
According to the report, hashish trafficking between Spain and Morocco remains steady and even shows a slight upturn, despite the special security plan for the Campo de Gibraltar that the Interior Ministry launched in July 2018 to combat the brazen and incessant arrival of speedboats on beaches in broad daylight. At times, the boats would unload their packages of hashish in full view of tourists and use violence against law enforcement officers.
Currently, dozens of narco-vessels are still waiting for good weather to load their cargo in the waters near Chafarinas. Both new and old routes to the eastern coast are being tested to smuggle the drugs into Spain through Almeria and Murcia – as well as further north – or west via the Guadalquivir River toward Huelva and the Algarve area of Portugal. Similarly, different means of transportation are appearing, with recreational yachts loading on the Moroccan coast and smuggling the cargo into any port in the south or east of the peninsula.
Meanwhile, the boom in the cultivation and trafficking of marijuana is going from strength to strength. Already grown in 13 of the 17 Spanish regions, marijuana is a sound, low-risk business that is mainly in the hands of Eastern European gangs, who are increasingly settling in Spain, according to CITCO data.
With the first of at least three harvests a year, they pay off the costs of the electricity installation required for indoor crops, according to police and judicial sources. "They don't even pay electricity bills because they hook up illegally to the grid," says a police spokesman. With swathes of the country depopulated and largely free of police surveillance, the Spanish countryside is perfect for concealing these plantations. Also providing cover are the many industrial parks attached to most mid-sized towns.
With marijuana, the penalties are quite light. "They range from one to three years in prison," says Noreña. "If it is proven that you are a member of a criminal organization, it can go up to four years. Maybe it should carry a bigger penalty."
He goes on to stress that there is a general lack of awareness in society of the serious nature of the problem regarding marijuana, which has been modified to contain an increasingly high concentration of its active ingredient – the marijuana produced in Spain and exported can no longer be classified a soft drug. "It can lead to a pandemic, a psychotic one on this case, or to serious and irreversible psychiatric disorders," he says.
As if that were not enough, the police and the Civil Guard point out that exploitation is a feature of these grow operations, which are often looked after by undocumented foreigners working in conditions of slavery.
Although hashish continues to be the most-trafficked drug, followed by cocaine, marijuana is experiencing the fastest growth because of the number of organizations involved, according to National Police and Civil Guard sources. Attracting everyone from Spanish and British, to Chinese and Eastern European nationals, the business has increasingly become a source of violence in the form of robberies between gangs ­– what the Spanish police call a vuelco – and score-settling.
Operation Verde (Green) was launched in early 2019 by the National Police after it emerged that many of the police raids against marijuana in European countries such as Britain, France, the Netherlands, Italy, Portugal or Serbia had Spain as the point of origin of the drug.
More than 2,000 specialized officers participated in this raid, which led to the seizure of almost half a million cannabis plants in 800 grow operations amounting to 25.6 tons of the drug and more than €7.6 million between August 2019 and October 2020. It also included an electricity scam estimated at costing €7 million.
According to experts, the explosion in Spain's marijuana production and export industry is the next big challenge for the drug squads. A second internal CITCO report on the type of organizations engaged in drug trafficking, to which EL PAÍS has had access, highlights the increase in groups dedicated mainly to marijuana trafficking in 2019 – a total of 71, or 21 more than the previous year.
A haven for 504 international organizations
But the data on most drug hauls and arrests is only half the story. The other half is the nature of the organizations involved in a sector whose activity amounts to more than €6 billion a year, the equivalent of 0.5% of Spain's gross domestic product (GDP), according to data from the Interior Ministry.
Despite the increase in arrests, the number of gangs dedicated to drug trafficking in Spain continues to multiply. According to CITCO, there were 504 gangs in 2019, a 4% rise from the previous year. Of these, 109 are dedicated principally to cocaine trafficking, according to top-ranking CITCO officials.
The CITCO report also points out that Málaga is the distribution and transportation hub for Spain's drug traffickers: "In terms of the groups' territory, it is worth highlighting Málaga as one of the provinces where organized crime is most active."
"Similarly, the eastern coast and Cádiz, which have seaports, as well as Seville, with its river port – all of which are important logistics and communication hubs – are strategic points of entry for narcotic substances into our country, mainly in containers," adds the report.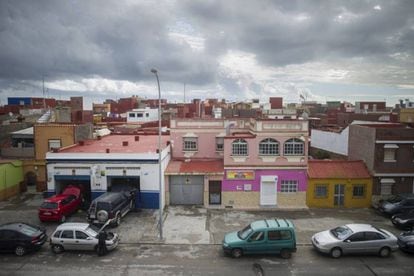 The Costa del Sol is the departure point for distribution as this is where most of the drugs enter. "In the same way that tomatoes can be sent to Europe, anything else can," says one investigator with the Civil Guard as he explains the organizations' most-popular methods of moving merchandise.
"Rotten society"
Then there is the case of La Línea de la Concepción in Cádiz province; while this city merely receives and distributes hashish, the seriousness of the problem lies in the fact that the money derived from the drug trade has become woven into the very fabric of its society.
"In a population with 30% unemployment rate – perhaps even more among young people – a guy can earn €1,000 just for being a lookout, €3,000 for unloading packages from a boat on the beach, and €30,000 for transporting drugs," says one chief inspector of the National Police's GRECO unit (Special Response Groups for Organized Crime). Try convincing them that they should look for alternative employment," he says. "The special plan came very late; what is needed here is an integral plan."
"The money that reaches the banks and the large and small businesses comes in large part from drug trafficking," says another investigator with the Civil Guard. "It is the economic engine of society here and in that sense, the society is rotten."
CITCO's internal report on drug-trafficking organizations categorizes them by nationality: the Spanish are the main players when it comes to cocaine and hashish, followed by Moroccans and Colombians. Chinese nationals are involved in marijuana trafficking, although this year their participation has dropped considerably and the slack has been taken up by other groups such as the British, Lithuanians and Poles. According to police experts, the violence of these other groups has driven the Chinese out.
Meanwhile, arrests have risen by 12% from the previous year – these include arrests of Moroccans primarily engaged in hashish trafficking as a result of police strikes in the Campo de Gibraltar and nearby areas, and arrests of Colombians, whose main criminal activity is cocaine trafficking. Meanwhile, arrests of Albanians have quadrupled; among other illicit activities, they were involved in marijuana trafficking, according to the CITCO report.
"But there is no point in making arrests if the judicial system is incapable of processing them," says one Civil Guard chief. The justice system is overloaded and there is an immense sense of impunity; many drug traffickers have their businesses running so smoothly that "they continue to operate behind bars and get out on bail using their drug money," he adds.
"The big bosses now are the Dutch, Swedes and Belgians of North African origin," says another senior figure in UDYCO. "They are the ones shifting a lot of the business on a European scale after managing to take control of the main port areas. And then we have the transporters, distributors and money launderers coming from the East European gangs – mainly Serbians and Russians who have settled in Valencia and Alicante and have connections on the Costa del Sol. There are also some Asians in Catalonia dealing in heroin and adding to the number of cannabis grow operations." In short, it's a melting pot of criminal organizations all carving up Spanish territory into pieces of a pie.
By territory
Spain is choice territory for drug traffickers due to its geographical position, its proximity to Morocco and its many large ports offering a gateway to Europe – namely Algeciras, Barcelona and Valencia. Add to that a smuggling tradition in the Campo de Gibraltar and Galicia, the anonymity offered by tourist areas such as the Costa del Sol or the eastern coast, and good infrastructure, including significant connectivity and shipping capacity in Andalusia, Europe's market garden.
If you factor in the enormous expanses of depopulated land in rural Spain and the many warehouses in the industrial districts of practically every town, the result is an unprecedented boom in marijuana grow operations, the numbers of which are breaking their own records.
The drug traffickers also mark out their territory, although this is done with increasing anonymity. "If you ask me what characterizes the narco in Galicia, I would say discretion; in Catalonia, it's the cosmopolitan nature of the network; the eastern coast is the narco's Plan B; the Costa del Sol is the logistics platform; and the Campo de Gibraltar is ground zero," says one Civil Guard chief.
"Compared to the notoriety of the traditional drug lords – Sito Miñanco, Laureano Oubiña and El Pastelero in Galicia; or the Castaña brothers, Messi and El Tomate in the south – the new ones keep a low profile, although they use the same infrastructure," says an official with the central UDYCO. "Making noise makes them easy targets, as seen in the raids in Campo de Gibraltar. Efforts by police and politicians have targeted that area, but the drug trade works like communicating vessels; when you squeeze one side, it moves to another."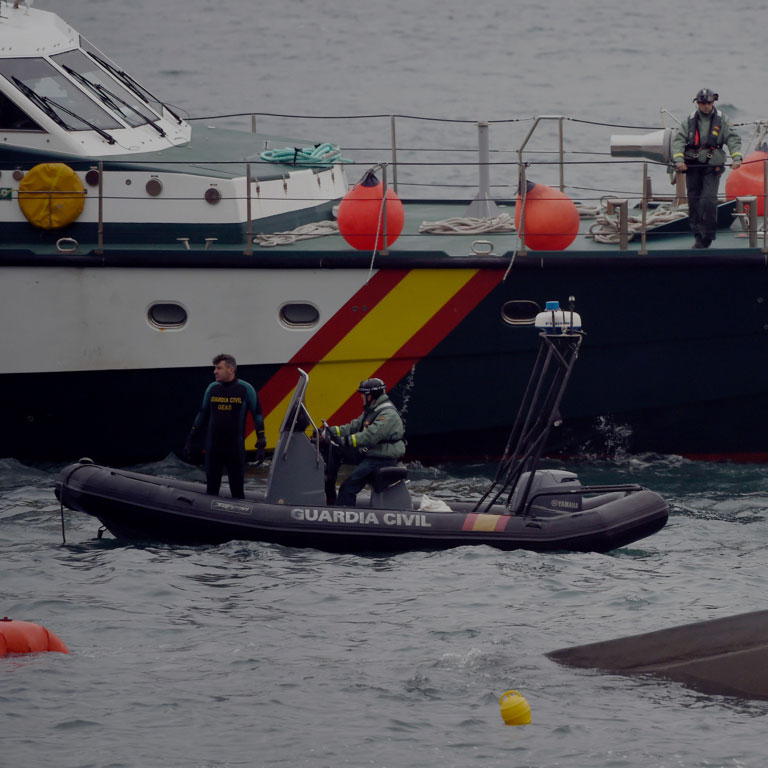 Galicia
Cocaine and low-profile traffickers
Elisa Lois
Pontevedra
Members of the Civil Guard with the narco-submarine seized in Galician waters. AFP
The traditional Galician drug trafficker has been brought down. Gone are the clans and the charismatic bosses who controlled the drugs that were smuggled into Spain along with tobacco 40 years ago. The pyramid scheme of past mafia groups that opened the Colombian cocaine market to Europe has slowly crumbled and all but disappeared, giving way to small and resilient groups that act as service companies, offering their maritime infrastructure and their knowledge of the environment for transporting the goods. Nevertheless, Galicia is once again, according to the latest data from the Interior Ministry, the main entry point* for cocaine into Spain.
In 2019, 7,642 kilos were seized; nine times more than the previous year's 824 kilos
When it comes to globalized cocaine trafficking, powerful mafias from Eastern Europe are now in charge. Experienced and violent, they use networks in North Africa for storage and shipment, and networks in Belgium and the Netherlands for distribution. They are the heirs of the historic Galician drug traffickers who once operated as authentic cartels, emulating their suppliers – the powerful Colombian drug lords in Cali and Medellín.
These Balkan gangs have been able to take advantage of the vacuum left by the more ostentatious local drug lords, some of whom are still in jail while others are either too old or too weary of media attention. And although Galicia continues to be a magnet for cocaine shipments, the profile of the new Galician cocaine trafficker – an almost anonymous secondary figure in the current hierarchy – is an indication of the ground they have lost in the international drug-trafficking scene, where economic potential and minimal risk are prized above all else.
The emerging mafias, according to Europol, are at the pinnacle of organized crime. They are multifaceted and, although they lack specialization in transporting drugs, they rely on Galician seamen to get their merchandise into Galicia and have their own representatives in South America to negotiate the direct purchase of cocaine, just as the former Galician drug lords did. Their strategic advantage lies in the logistic chains they use to smuggle the drugs as well as clothing and weapons – but there are other aspects to their business such as gambling, money laundering, real estate, prostitution and illegal immigration.
"We are looking at a new dimension of crime; in Galicia, nothing works as it used to," says Judge Juan Carlos Carballal, who works in the city of Vigo. Familiar with the fine detail of a number of police operations against notorious traffickers, he explains that these mafias from Eastern Europe are not only operating in Galicia, but also in Andalusia and throughout Europe. "Their structure is impressive and difficult to control in the immensity of the ocean and within the intense traffic of the ports," he says. "They don't aim to compete with the South American cartels but to cooperate with them. Theirs is a trading empire within which the Galicians can unload shipments on commission, but nothing more."
We are looking at a new dimension of crime; in Galicia, nothing works as it used to

Juan Carlos Carballal, judge
While the actual number of drug hauls in Galicia has fallen compared with the past decade, the shipments currently being intercepted are bigger and the purity of the cocaine much higher due to a surplus of cocaine stocks in Colombia, the main supplier. The constant movement of merchandise was evident during the Covid-19 lockdown, a period during which two consecutive operations led to the seizure of more than seven tons along the Galician coast. "That came as a surprise," says the head of the Organizational Unit of the Judicial Police of Pontevedra, Tomás García. "And we have found that the traffickers had gone back to the old methods of transporting and bringing the drug in."
"The profile of the new drug trafficker is his experience and specialty as a transporter and cargo receptionist, and even the building of boats in their own shipyards," adds García, who also highlights that new technologies are on the rise, such as encrypted telephone networks that make it impossible to identify the lines and servers. "Pontevedra and Algeciras are the two hot spots for drug trafficking in Spain," he says.
While Europe consumes increasingly pure cocaine and Latin America produces even more of it, the future lies in the drug market's use of digital technologies and the evolution of maritime resources such as submarines. As the police chief of the Central Narcotics Brigade, Antonio Duarte, points out, the police operation of December 2019, in which 3,000 kilos of cocaine were seized from a semi-submersible in the Rias Baixas, "has not been the first and will not be the last." He believes this method is being used a couple of times a year and is being perfected.
According to Duarte, "the Galician trafficker has lost clout, but not so drug trafficking in Galicia, which is still very much alive. So there are more boatmen than ever," he says. "They do what they know how to do, and although they have run into trouble a fair bit, they always fix things with another job." He points out that there are still two groups with the capacity to operate at any time, and that although fishing-boat transportation has declined, container and merchant vessel traffic is on the rise, the latter being almost impossible to tackle.
Galicia reflects the constant evolution of increasingly influential organized-crime gangs that are taking advantage of globalization to better manage local markets at strategic points. Experts estimate that only 10% of shipments are seized in transit while, in the Galicia region alone, the size of the drug hauls increased by 827% in 2019 over the previous year, while the price of cocaine remains steady at around €30,000 per kilo on the black market. In 2020, 10 tons were seized on Galician territory.
The anti-drug prosecutor in Pontevedra, Pablo Varela, explains the changes in drug trafficking in the context of an evolving international narcotics market, and he points to Galicia as an essential component of this global system that has further strengthened the industry. "Organized crime evolves just like society, and the Galician organizations are no longer the same," he says. "They now bring their main asset, which is transportation skills, to the new global structure, in which better-connected mafias share distribution channels and new computer-based tools."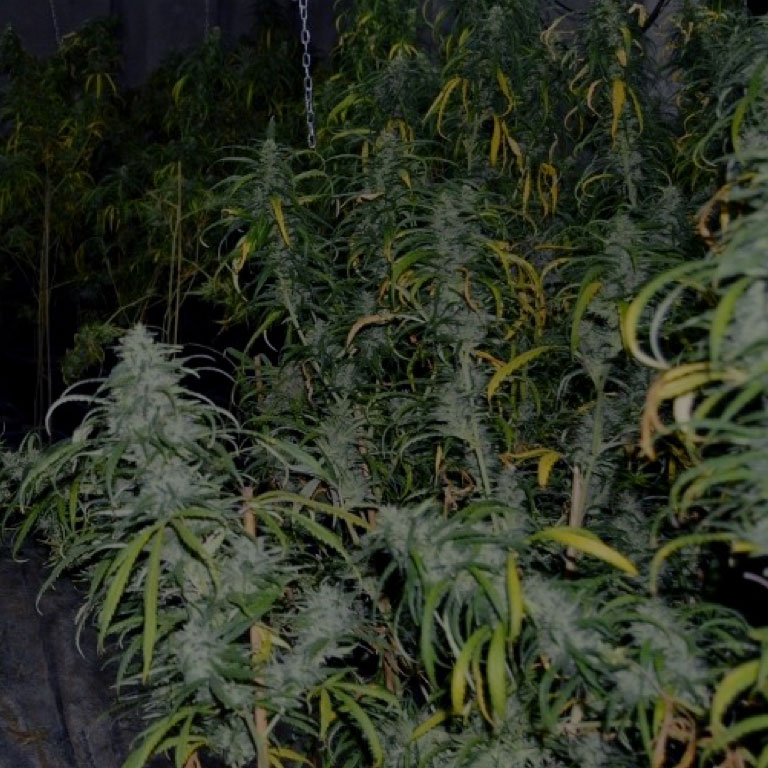 Catalonia
A vast marijuana plantation
Rebeca Carranco
Barcelona
A marijuana grow operation discovered by the police.
Catalonia is Europe's main marijuana nursery. "It is its Silicon Valley," says Toni Rodríguez, the superintendent of the Catalan regional police, the Mossos d'Esquadra, and deputy chief of the Office of the Commissioner General for Criminal Investigations. "There is permanent innovation and there are trade fairs, which are now held virtually. There is incredible specialization at an economic level, and the cannabis associations are a huge cover for the dynamics of cultivation and sales."
The drug has become the Catalan police force's main headache, prompting an extensive report on the risks of the marijuana trade and the danger of ending up with a criminal economy similar to the one that holds sway in Campo de Gibraltar, in southern Spain.
"Seventy percent of organized crime is also active in the marijuana trade," says Rodríguez, who insists that this crop has overtaken other drugs on the market. "Burglary networks invest at least some of their ill-gotten gains in the drug to maximize their profits."
There is no police operation of any kind in which the Mossos do not come across marijuana. For the last eight years, it has been the most seized drug in the region; 10 years ago, says Rodríguez, its presence in a market dominated by hashish was almost anecdotal. In 2018, Catalonia was the region to seize most of this drug – 12,398 kilos, followed by 9,565 in Andalusia and 4,694 in the Valencia region, according to data from the Interior Ministry.
Its popularity has also meant an increase in violence. Since 2016, the Catalan police have attributed 11 murders to inter-gang theft and tussles over market control. A recent incident took place on December 12, 2020, when two clans ended up shooting at each other in the border area between Barcelona and the district of La Mina in Sant Adrià de Besòs. In the building where the shots were allegedly fired from – no injuries were reported – the Catalan police stumbled across a crop of 400 plants.
70% of organized crime is linked to marijuana

Toni Rodríguez, superintendent of the Mossos d'Esquadra
Over the past six years, the Mossos have dismantled 150 criminal networks made up of different nationalities, each doing business in their own way, and even collaborating with each other and creating hybrid organizations. It is now a "mosaic" market where, despite the occasional violence, all the mafias can coexist thanks to the balance between demand and supply. The fear, they say, is that this will come to a halt, triggering gang warfare.
They also point to several new trends emerging in the last year, namely people with no criminal record running legal businesses who decide to get involved with marijuana due to economic problems, as in the Neretva case in which several local families from the Vallès area of Barcelona were arrested. The other involves the corruption of police officers: the Catalan police arrested three officers accused of being part of a marijuana-trafficking ring. They were remanded in custody for a month and a half.
Traffickers of other drugs are also doing good business in the region. Cocaine continues to enter mainly through the port of Barcelona but also overland, concealed inside vehicles. It is a more complicated drug to get involved with than marijuana. "You need external contacts that you can trust and rely on, and you need to pay a commission for transportation," says Rodríguez, who adds that there is not much specialization in the region. "At the most, you might find finishing laboratories here, small kitchens that finish the cocaine."
The drug is still in the hands of local clans, and some organizations involved in petty dealing have been dismantled. The last trafficker with direct communication with Colombia and a real capacity to negotiate with the cartels at source, Juan Carlos D., was arrested in 2016 and charged with smuggling in more than 300 kilos. It is not the biggest cocaine haul to be intercepted by the Catalan police – they found 1,400 kilos during a raid on a warehouse in November 2018 – but Juan Carlos D. was the player with the greatest capacity to move it, according to police sources.
The Port of Barcelona now has strict access control after developing better technical systems and video surveillance to record entries and exits. "When it comes to moving goods, there is no longer a guard at the door who asks for your documentation," explains a Customs Surveillance source. "The system reads your license plate, checks that everything is okay, and the barrier is either raised or not." Previously, according to this source, a person could enter or leave more easily carrying several backpacks that would be filled with drugs taken from a container. This has now become more complicated as it is necessary to access the containers without being picked up by the new system.
In 2019, the National Police and Customs Surveillance arrested two computer experts accused of manipulating the technology to allow two transporters to remove containers full of drugs and return them empty without leaving a trace in the port's computer system. In total, more than 5,000 kilos of cocaine were seized.
But despite these technological developments, the quantity of drugs coming into the port has actually increased. "It's no longer removed in backpacks; now you have to risk taking out the whole container, which means they really fill the container up," explains a police source. "There is hardly anything under 1,000 kilos in 'rip-off'," he adds, alluding to a method where drugs are packed in containers alongside legal merchandise, without the owners' knowledge – a trend that kicked in at least three years ago. They have also detected cases in which attempts are made to remove the drugs from the ship before its containers are unloaded. Cocaine is the drug of choice at the port, although there have been cases of marijuana being exported, and, occasionally, cannabis plants imported from the United States and Mexico.
The heroin trade remains stable, with a consumer base associated with marginal groups. It is sold mainly in the center of Barcelona, in the neighborhood of El Raval, where three macro-operations have been carried out against street sales since 2018. The drug can also be scored in traditional markets such as La Mina in Sant Adrià de Besós, La Font de la Pólvora in Girona, Sant Cosme in El Prat de Llobregat, Bon Pastor in Barcelona and Marca de l'Ham in Figueres.
"A little more than a year ago, it seemed that consumption had increased, but we found no data to support that perception," says Mossos superintendent Toni Rodríguez. But something quite different is happening in La Jonquera in Girona, on Catalonia's border with France. "We are studying the crime model in border areas and how it is changing," says Rodríguez, who adds that that criminal activity has a social and economic impact on its surroundings. "It is not an area of large storehouses, but of continuous movement and trafficking." The Mossos are still puzzling out the structure of the various criminal organizations along the border.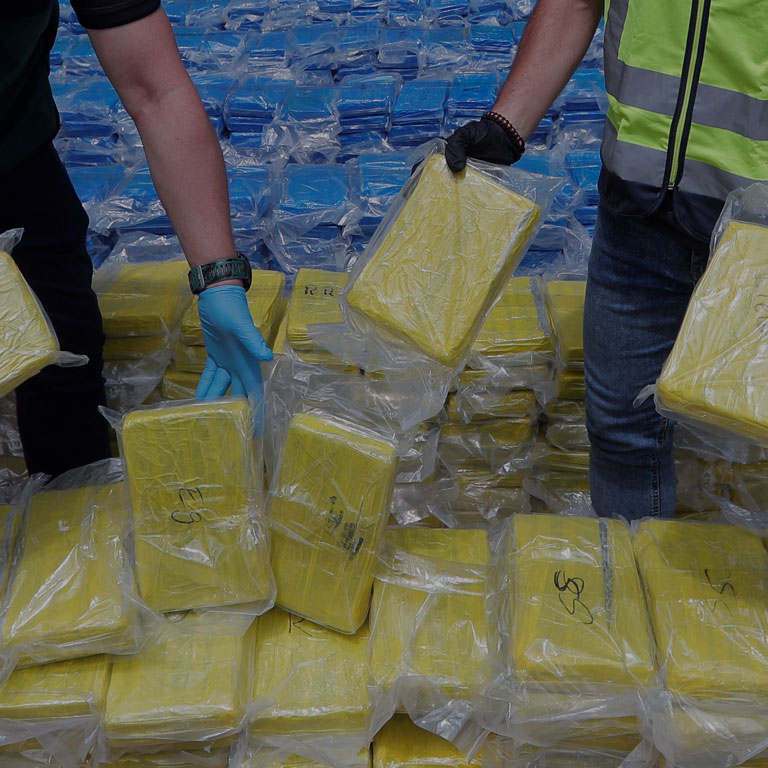 The east coast
A 'Plan B' for narcos
PATRICIA ORTEGA DOLZ
Madrid
Officers with merchandise seized in the port of Valencia. EFE
Drug trafficking works like communicating vessels. "When you squeeze one side, it moves to another," says a member of UDYCO, the National Police's Drugs and Organized Crime Unit. The pressure in the Costa del Sol and Campo de Gibraltar from the special security plan launched by the Interior Ministry in July 2018 to combat drug trafficking has prompted the gangs to look for new routes into the eastern coast of Spain – mainly Almería, Murcia and Valencia – causing this area to be described by one Civil Guard chief as "the narcos' Plan B."
"We are seeing the gangs that traditionally operated in the south now using local organizations that have infrastructure in this area, especially in Murcia, to bring in hashish," says an agent from GRECO Levante (Special Response Groups for Organized Crime). In 2020, 13 high-speed boats were intercepted in this area, compared to the usual three or four. Officers have confirmed that the drug traffickers are using cranes at the marinas to put the boats in the water, something that used to be done in the Campo de Gibraltar and Málaga.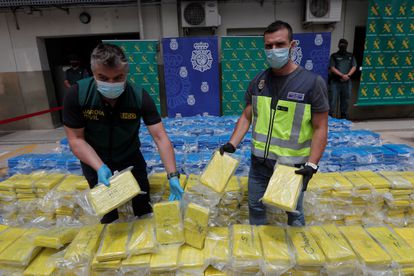 "Now there's a truck covered with tarpaulin that carries a zodiac [inflatable boat] with three or four engines, a navigation system, wetsuits and the 5,000 liters of gasoline they need to reach Morocco," the GRECO Levante officer explains. "They arrive at a port with the help of a local operator, put the boat into the sea using a crane, and head to the Moroccan coast to load the hashish; they refuel again there, return and roll up on any beach in the area." In 2020, 11 such organizations made up of Moroccans and Spaniards were dismantled.
According to the data in the CITCO report, the drug's main routes of entry are Valencia, whose large port is perfect for big cocaine shipments hidden in containers of fruit and other products coming from Latin America, along with the 275 kilometers of Murcia's coastline.
In the Valencia region, 3,000 kilos of cocaine were seized in 2019, but in a single recent raid in June 2020, police seized 4,000 kilos of the white powder hidden among sacks of sugar and pineapple pulp from Panama and Colombia. The investigation, which resulted in 11 arrests ranging from Dutch nationals to an individual from the Ivory Coast, involved several Spanish truck drivers with authorized access to the port.
In Murcia, 149 kilos of cocaine were seized in 2019, compared to 20 kilos seized the previous year – a rise of 646% – and more than 17 tons of hashish, with a 155% rise* in marijuana plantations.
2,086 kilos were seized along with 32,750 plants
The eastern coast has become a kind of haven for drug-trafficking organizations hounded by the security forces on the Costa del Sol and the Campo de Gibraltar. The mafia bosses are able to operate below the radar due to the large number of tourists and foreigners living in the area. It is a good place for the traffickers to settle, as it has cities and ports that are well connected to the rest of Spain and Europe for transportation and distribution.
Drugs and weapons
Members of the Eastern European gangs – mostly Albanians and Kosovars – settling in the Marina Alta area of Alicante province are dedicated predominantly to cocaine and marijuana trafficking as well as arms, the volume of which, according to one National Police investigator, has tripled in recent years. "In the last three years, we have seized more than 60 weapons, including rifles, Kalashnikovs and machine guns," he says. "The situation is getting tough around here."
"Organized crime is moving forward and expanding its workforce while ours has been the same for 20 years or getting worse," says a Civil Guard source. According to another UDYCO-Alicante investigator, "we have a notable rise in Lithuanian and Polish citizens dedicated to marijuana trafficking. And the French mafia – not all of whom are of Moroccan origin – are dedicated mainly to the 'go-fast' business of hashish: they land the stuff on beaches in Murcia and Almeria then send the goods to France directly and quickly in SUVs."
"In the last three years, we have seized more than 60 weapons, including rifles, Kalashnikovs and machine guns. The situation is getting tough around here"

National Police Investigator
The eastern coast is also ideal for laundering drug money. One of the largest operations against the Russian mafia was carried out several weeks ago in Alicante and Benidorm, where more than 20 people were arrested, including two security councilors from the right-leaning Popular Party (PP) – the current councilor of Benidorm, Lorenzo Martínez, and the former councilor of Altea, Jaime Sellés – as well as a police inspector and two civil guards. The investigation is ongoing.
"There is less pressure on them here and the living conditions are very similar to those on the Costa del Sol; it's a good standard of living, there is ease of doing business and international schools for their children," says the GRECO-Levante investigator, who adds that they have recently noticed the presence of British organizations "settling mainly in Alicante and dedicated to the acquisition of marijuana, which they transport to the United Kingdom where the price is six times as high." He also mentions violent colonies of Swedish criminals that have settled in Altea and the surrounding area who are involved in the theft of goods between gangs and extortion.
Rising violence
The violence is on the rise. "In the middle of December, they killed an Albanian citizen in a restaurant with five bullets," says the GRECO-Levante investigator. "He had been arrested for drug and arms trafficking only a year ago and was working a lot with the British."
But, according to a member of the Civil Guard's Judicial Police Technical Unit, the biggest risk posed by the mafias is that they could manage to infiltrate the country's institutions. "Fortunately corruption in Spain is sporadic," he says. "A decent democratic conscience prevails and the system has tools to root out the bad apples, but we have to be aware that a single case can wreak havoc and wipe out years of investigation."
In the operation against the Russian mafia in Alicante, leaks forced the investigation to stall three times and delayed arrests for years, says a National Police source.
Sources in the Civil Guard, meanwhile, say that large-scale drug trafficking is driven by big investors who finance shipments and take a significant percentage of the profits without ever getting close to the drugs. The last operation against the Russian mafia was certainly a case of bringing down big businessmen hiding behind real estate, leisure businesses and luxury lives.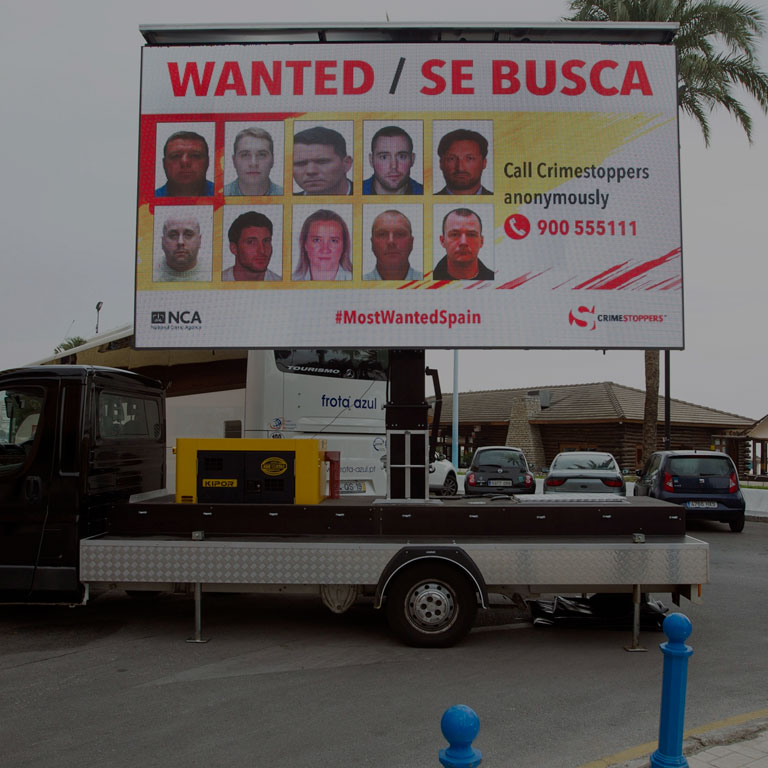 Costa del Sol
Narco logistics hub
Nacho Sánchez
Málaga
A billboard in Marbella displays the faces of some of the most wanted criminals on the Costa del Sol.
More than 100 gangs of drug traffickers from many different countries are concentrated along just 20 kilometers of Málaga's coastline, enjoying the climate and luxury the area has to offer as well as the facilities and infrastructure it provides for acquiring, storing and distributing drugs throughout Europe.
"In no other part of the world do you find so many people dedicated to the same thing and with such intensity in such a small area," says one police officer working on the Costa del Sol. The activity is, of course, organized crime, which takes place largely in the triangle formed by the towns of Estepona, Marbella and Benahavis. The players can operate all but anonymously within this area of coast and hills that forms one large drug market supplying the whole of Europe.
Most of the mobsters are dealing in hashish, but the triangle is also home to those who smuggle cocaine through the port of Algeciras and to those who distribute marijuana to northern Europe – an extremely lucrative business that attracts gangs from all over the world. It is a cocktail that inevitably results in periodic street shootings, assassinations, explosions, kidnappings and corpses dumped in ditches. "This is an explosive situation," insists the officer, who has led operations against known drug lords such as the Castaña brothers, Messi del Hachís, Sito Miñanco and a group of Dutchmen who were arrested over six tons of cocaine seized in Málaga in 2018.
International organized crime loves the Costa del Sol. There's the beach, good weather, good communications and a luxury lifestyle that means they can show off and enjoy their money. "Why live in a slum in La Línea when you can have a large luxury villa in Marbella and go unnoticed?" says another agent. It is also close to Morocco, Algeciras and Gibraltar, key strategic points of entry and money laundering, as well as providing an ample offer of gangs specializing in car theft and hit men.
Cocaine and marijuana surge
Sometimes dubbed the Costa del Crime by the UK media, the area attracts a constant stream of criminals. According to the Interior Ministry, while there were 73 organized crime gangs known to be based in Málaga in 2012, that figure rose to 113 in 2018 – the latest data available. Half of them are dedicated to hashish, which is usually smuggled in narco-boats from the Moroccan coast and then sent in luxury vehicles to northern Europe, although it is also taken in trucks, hidden among other goods.
Meanwhile, cocaine is moving an increasing amount of money and the marijuana business is clocking record growth: between 2018 and 2019, five tons were seized in Málaga province, according to data from CITCO. "Given the range of crime and the amount of money involved, there is violence between organizations," notes a report from the Andalusian Prosecutor's Office in 2020.
Málaga is not only a large drug marketplace, it also acts as a warehouse from which the drugs can be distributed to the rest of Europe. Like large multinational companies, the gangs diversify their activity to increase revenue and minimize risk. The Málaga area also accounts for a large proportion of Spain's marijuana production with crops being grown in houses, greenhouses, industrial warehouses and rural properties, not to mention apartments: 21 apartment-based operations were dismantled last November by 300 officers in Rincón de la Victoria in the so-called Operation Gentleman.
Other growers travel to Málaga to buy buds and transport them in trucks, as did a German gang that recently acquired 110 kilos of marijuana along with 20 tons of garlic to hide it under. "It is a very profitable business," says a source from the Civil Guard's Organized Crime Team (EDOA). The investment is minimal, the profit is enormous. A kilo of weed in Andalusia costs about €1,700 compared to €6,500 in Germany and more than €9,000 in Sweden.
Movie mobsters
Photographs used internally by the National Police show parties in luxury villas, cars worth more than €1 million, extensive surveillance systems and security personnel armed with hand grenades, submachine guns or pistols with silencers.
The scenes are worthy of a Hollywood drama. The main characters hang out at the luxury clubs of Puerto Banús, get their exercise in state-of-the-art gyms and are on constant spending sprees. Their henchmen also enjoy a high standard of living and, naturally, Social Security payments are not on the agenda.
In the hashish-smuggling ventures that take place almost daily along the Málaga coast, you can earn €1,000 as a lookout, €3,000 for unloading bales and €30,000 for driving an SUV loaded with drugs to a storehouse where it is stashed until the owners arrive. Anyone performing these tasks will be the first to be nailed by the police.
In four operations last September alone, three tons of hashish were seized on the coast of Málaga and 36 individuals arrested. Bringing down the people at the top is more challenging. "It is difficult to prove their crimes and we also have 'hyper-protectionist' laws that make our work very difficult," says an officer, who believes that the support of judges and prosecutors is "basic" to the success of the war on organized crime.
It is difficult to prove their crimes and we also have hyper-protectionist laws that make our work very difficult
Málaga boasts the highest number of hashish hauls. Between 2018 and 2019, 131 tons were seized, according to the Interior Ministry. "But the main drug is cocaine; it is what generates the most money," says a police officer who discovered 1,500 kilos of the narcotic in an apartment on the Costa del Sol during lockdown.
It is cocaine that usually triggers the headline-grabbing settling of scores. Deceit or theft between organizations is usually behind the murders, which do not appear to cause undue social alarm as the rest of the community is rarely affected. The last bullets to hit a stray target were fired in 2004, when a child and a man were killed. In recent months, however, several innocent parties have been knocked down and injured during car chases with the police. The recent escalation of violence has set off alarm bells among the security forces. "You see more weapons than ever now," says a Civil Guard officer based in Fuengirola.
One of the gangs causing alarm is Los Suecos (The Swedes), a group of young assassins who ramped up the violence in 2018. Gang member Amir Mekky murdered David Ávila, aka Maradona, in May, 2018, as he was leaving his son's communion ceremony at a church in Marbella. Three months later, Mekky pumped Sofian Mohamed, aka el Zacato, full of bullets in front of his luxury villa in Estepona. "We had never seen such a violent gang," says a source from UDYCO, which set up a unit last January to deal specifically with gangland shootings.
A melting pot of nationalities
Sometimes Málaga is simply the battlefield for wars between mafias operating in other countries, such as the one waged by the Kinahans – Irishmen who were linked to a dozen murders, three of which were carried out in the area. The nationalities of the drug traffickers include Spanish, Dutch, Belgian, Bulgarian, Romanian, Russian, Moroccan, Italian, Serbian, Croatian, Irish and Colombian. "We have the best of each," says a member of GRECO drily.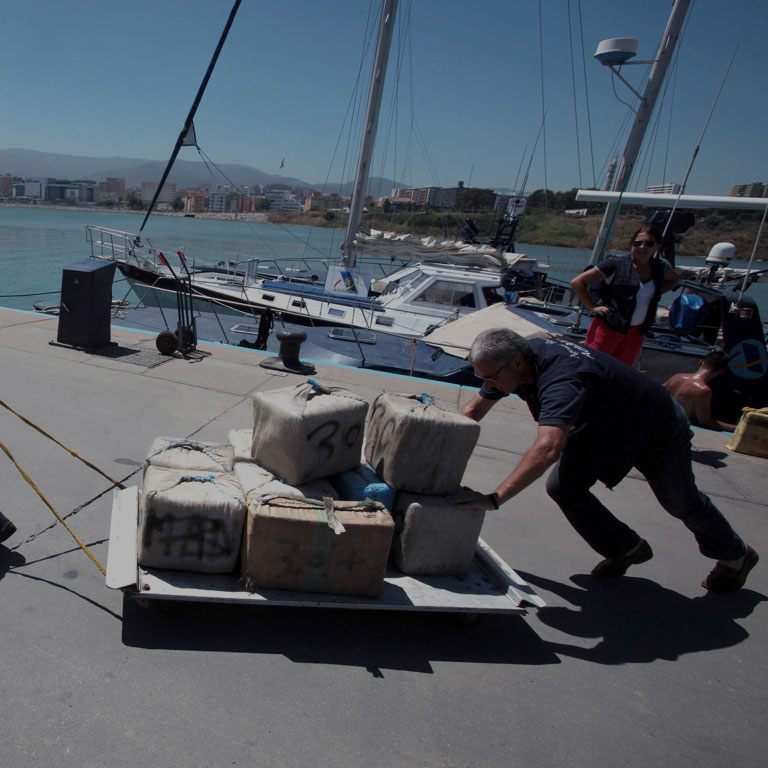 Cádiz
Ground zero
Jesús A. Cañas
Cádiz
Two Customs Surveillance agents move packages smuggled by a yacht docked in Algeciras. ANDRÉS CARRASCO
Only two years have passed since the powerful drug lord Isco Tejón, aka Castaña, starred in a reggaeton video clip while being on Spain's most-wanted list, only to find himself in prison awaiting trial. But it seems like an eternity in the hashish underworld of the Strait of Gibraltar, where all the players are used to fast living, wild spending and prison by the age of 30.
Isco and his brother Antonio cultivated a kind of iconic status for themselves but are now just two names on a growing list of around 2,000 detainees involved in drug trafficking that have been rounded up since the Campo de Gibraltar's special security plan was implemented in July 2018.
The Castaña brothers' rise and fall is an accurate reflection of drug trafficking's recent history in the province of Cádiz, an area plagued by endemic unemployment, which stood at 30% even before the coronavirus pandemic. This was the context in which these two young men from the town of La Línea de la Concepción began bringing packages of hashish from Morocco across the Strait of Gibraltar. Whether on board powerful narco-boats, fishing vessels or yachts, the drug has been flowing into Cádiz for decades.
The special security plan has secured startling arrest statistics since 2018. With €20 million in investment, it has been responsible for more than 9,300 detentions in different Andalusian provinces – 2,000 of them in the area of Campo de Gibraltar alone, according to data from the Interior Ministry. In 2019, 47 raids carried out in the province of Cádiz produced 1,523 arrests, according to estimates by the Anti-drug Prosecutor's Office.
OCON Sur – the unit set up by the Civil Guard to fight the drug trade in southern Spain – ended 2019 with 176,455 kilos of confiscated hashish and 4,341 kilos of cocaine
Drug trafficking has also been the domain of figures such as Abdellah El Haj Sadek, nicknamed Messi; Kiko El Fuerte and Antonio Romero, aka El Tomate. All are now in prison or, in the case of Messi, on the run, though that does not mean the game is over. "Though they are hurting, there is still activity," says Francisco Mena, president of the anti-drug federation Nexos. "But there is less brazenness than we were used to." Both Mena and the police unions are fully aware that, in the Strait of Gibraltar alone, there are 30 family clans in the hashish business, capable of providing work for some 3,000 families. Now, given the number of arrests, Mena wonders if their estimates fall short.
Though they are hurting, there is still activity. But there is less brazenness than we were used to

Francisco Mena, president of the anti-drug federation Nexos
In their bid to keep one step ahead of the police, the drug traffickers have explored new points of entry. "In the 1990s, La Línea had already been 'taken' by the police and [the traffickers] moved to Barbate," says one investigator. "When the police clamped down in Barbate, they went to Sanlúcar de Barrameda and then came back again to Campo de Gibraltar."
Now they are once again trying out areas used in the past as well as other parts of Andalusia such as the coasts of Granada and Almería, and along the east coast. In each of their traditional areas of influence, the set-up is the same with small idiosyncratic differences – small clans usually consisting of families that hook up with each other to transport the goods. "They work as cooperatives to get ahead," says one officer.
Hit men
What is increasingly alarming police is the escalation of violence – for example, the score-settling episode in September 2019 between the 11 members of two mafias from Cádiz and Madrid who had joined forces to smuggle hashish from Morocco to Italy. The Madrid mob hired five French hit men who tortured three of the Cádiz gang members and threw them onto a highway in September 2019, one of them stabbed to death. The gangs were dismantled by the police last November.
The Cádiz narco is no longer in the mood to strut around in music videos, or to enjoy opulent parties, big cars and expensive designer threads. Instead, he is busy plotting the kinds of attacks on police that became notorious at the beginning of 2018. In the space of a few weeks last September, civil guards and police officers were the target of dozens of these attacks, including dodging gunfire from marijuana traffickers in the small town of Bornos and a violent attack on a lone agent in Campo de Gibraltar.
A civil guard from this region attributes the spike in violence to Antonio Tejón's release from prison for a few days due to a judicial error. "The order to ram the vehicle in front while the car behind speeds away loaded with drugs bears his hallmark," he says. "He made it clear in a meeting with his people that lost revenue had to be recovered."
Lost revenue is increasingly fraying the nerves of the organizations working out of Cádiz. Day in and day out, police are targeting money-laundering schemes associated with hashish, such as the one involving a civil guard known as Trini from Algeciras and her girlfriend, the manager of a car repair shop. Trini went from eavesdropping on the Castaña brothers to working with them in an operation that laundered at least €2.2 million of the drug lords' profits.
In each police operation targeting money laundering, an average of 20 to 30 people are arrested, many of them relatives of the ringleaders. "They are fathers, mothers, brothers and sisters who are not linked to drugs, but have let themselves be sucked in by allowing properties to be put in their name," says one civil guard. In order to crack the networks, reinforcements and the creation of new units specialized in money laundering have been key. This is how the National Police in La Línea managed to break the case of a 50,000 square meter narco-development in which 40 of those arrested had laundered €2.5 million through illegally built luxury villas.
Justice bottleneck
But so much investigative success can result in bottlenecks in the justice system. "The increase in police resources has not been in step with our own," says Ana Villagómez, a narcotics prosecutor in Andalusia. The macro-cases are overwhelming the courts in Campo de Gibraltar to the point that Algeciras' five courts are already dealing with an average of 50 pre-trial detainees each.
Although the judicial headquarters have expanded, the lack of personnel is still evident and the cases at the epicenter of the hashish trade in Spain could be delayed for years, fuelling the drug traffickers' sense of impunity. Meanwhile, it's business as usual from behind bars for the drug lords whose cases will eventually be tried. As Villagómez says: "Even if it takes a long time, they will not go unpunished."