From 'broken fingers' to drunkenness: Outlandish excuses for avoiding polling station duty in Spain
The courts insist that the accused must prove the reasons why they did not show up and sets out hefty fines and even prison terms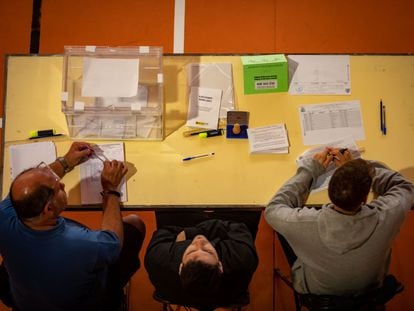 Prime Minister Pedro Sánchez surprised everyone on May 29 with his announcement of an early election on July 23. It caught many Spaniards off guard, with many trying to disrupt their vacation plans as little as possible. Requests for postal voting doubled compared to April 2019, and there was a surge in requests to be excused from mandatory electoral duties (Spaniards who get called up in a lottery must man the polling stations in a system similar to mandatory jury duty in other countries), according to electoral sources consulted by EL PAÍS. But what if someone does not report for duty? What punishment does the law set out? And what kind of excuses have people made up to try to dodge a conviction in court?
The answer to what happens can be found in the Official State Gazette (BOE): Article 143 of the LOREG (Organic Law of the General Electoral Regime) provides for the "crime of abandonment or non-compliance at polling stations." The penalty for offenders is three months to one year of imprisonment, or a fine for six to 24 months, which may be imposed on presiding officers and members of polling stations (or their respective deputies) "who fail to attend or perform their duties, abandon them without legitimate cause or fail to comply without just cause with the obligations of excuse or prior notice imposed by this law."
But before someone is convicted, the jurisprudence of the Supreme Court has established a series of conditions. First, it must be proven that the individual was duly notified. However, once this point is proven, the burden of justifying their absence is placed on the accused. In other words, the accused must prove that there was sufficient cause for not performing his/her duties and for not having notified the authorities in time, according to several rulings. In spite of this, during almost half a century of democracy, the tricks used by some people to try to avoid a sanction have been quite varied. EL PAÍS has compiled some of the worst excuses:
"I was asleep"
Antonio (not his real name) was supposed to report to the Mendia public school in Balmaseda, in the northern Basque region, at 8 a.m. on April 28, 2019. He had been selected for electoral duty for the general elections but did not attend. According to him, he fell asleep, so he did not go to the facilities until "9 or 10 a.m."; where, upon seeing that the voting was running smoothly, he cast his ballot and left. However, Criminal Court 2 of Barakaldo and the Provincial Court of Bizkaia did not buy his version. "It is an allegation devoid of any principle of proof," countered the appeals court in a February 2, 2023 ruling, which insists that Antonio did not prove that he fell asleep "accidentally" that day, thus opening the door to his doing so "intentionally" or that his defense was merely an excuse. The court sentenced him to a fine of €4,050 (US$4,508).
Tummy trouble
On January 30, the Court of Asturias sentenced a man to pay a fine of €900 (US$1001) for not showing up for duty at the community center in Pumarín (Oviedo) on May 26, 2019, for the municipal, regional, and European elections. He claimed he did not go because he was suffering from an "upset stomach." The court did not believe him: "The reason given lacks any evidentiary support [...] Nor did he provide medical justification for his illness by any means, and he did not even communicate with the electoral board to explain the circumstances in which he found himself on that day or with the polling station he was to man." Nor did it help him that his mother testified in his favor: "The version his mother offered does not allow us to sustain that the accused suffered a serious illness that constituted an impediment, nor is it logical to argue that he did not notify the polling station because its members had already been picked out."
"I don't live at my parents' house anymore"
In an attempt to strike down the accusation, the defense of Matilde (fictitious name) focused on trying to convince the court that she did not know that she had been selected for election duty because she did not receive the official notice, since it arrived at her parents' house, and she no longer lived with them — and her parents did not notify her. However, the Barcelona Court of Appeal concluded that she lied to the court, as did her mother and brother in supporting her version. The judges took into account that the mother contradicted herself, as she testified during the trial that, "whenever she receives something for her daughter," her son takes "a photograph of it with his cellphone" and sends it to her via WhatsApp: "[He does] this with all the letters she receives." The court sentenced her to pay a fine of €1,800 (US$2003), as stated in the sentence, dated October 5, 2021.
"I had a broken index finger on my right hand"
On April 21, 2021, the Court of Oviedo ratified the fine of €900 (US$1001) against a man who did not show up for duty at his polling station on May 26, 2019. His excuse was that he "had a broken index finger on his right hand" and that, due to "severe pain," he could not drive from his home to the polling place. To justify this, he submitted a medical report dated May 22. However, the judges pointed out that this document "states," precisely, that "no clear fracture lines" were "appreciated" and that "the cortices appear to be intact." "No evidence was proposed at the appropriate procedural moment aimed at accrediting a greater seriousness in said ailment," said the court, which emphasized that the electoral board itself had rejected this excuse when the man communicated it to them and that, despite this, he did not show up on election day.
Being drunk
Criminal Court 4 of Móstoles (Madrid) describes the following scene that occurred on May 5, 2015, 19 days before the regional and municipal elections of that year. "The accused, who was at his home in Fuenlabrada (Madrid), refused to accept the notice served to him by the notifying agent," in which he was designated as the first member of a polling place. In view of this attitude, two members of the local police went to the house and warned him of the legal consequences. But he was not convinced. "He refused again and again." Meanwhile, he shouted: "I'm going to shit on the fucking mother of these democrats, who do nothing but suck on the teat. I am not going to sign anything or go anywhere. [...] I don't give a shit if I have to go to a trial and if I have to shit on the judge's fucking mother. I'll put my balls on table if I have to."
Of course, the man did not show up at the polling station on May 24. And the courts initiated a case, which ended with him being sentenced to pay €450 (US$500). During the trial, the defense alleged that he was drunk when he was notified. The Madrid court rejected this claim in October 2022 after studying his appeal: "The officers of the Local Police who appeared at the scene stated that they had not found that the defendant was drunk at that time [...]. It cannot be concluded that addiction — for which the accused was treated after the facts — and/or alcohol intake could have totally or even partially annulled his cognitive ability and will at the time of the facts. And it should not be forgotten that the act of refusing a notice is not an act that constitutes a crime. Rather, on the day of the elections he did not show up at the polling station for which he had been appointed."
Sign up for our weekly newsletter to get more English-language news coverage from EL PAÍS USA Edition