Spain reports 4,994 new coronavirus cases as seven territories enter high-risk level
The 14-day cumulative number of infections per 100,000 inhabitants fell three points to 146 on Tuesday due to an adjustment in population data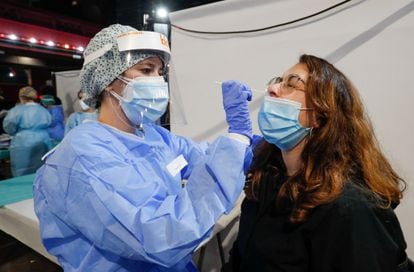 In seven Spanish territories, the 14-day cumulative number of coronavirus cases per 100,000 inhabitants now exceeds 150 – the threshold considered to indicate a situation of high risk. This is the case in Asturias, Catalonia, Basque Country, Navarre and the North African exclave cities of Ceuta and Melilla. According to the latest Health Ministry report on the crisis, released Tuesday evening, in these territories the seven-day cumulative number of cases is 76, while more than 15% of intensive care units (ICUs) are occupied by Covid-19 patients. The Madrid region continues to be in a situation of extreme risk, with the 14-day cumulative number of cases per 100,000 inhabitants now at 257.
On Tuesday, the Health Ministry updated its coronavirus figures with new data on the population in Spain – an adjustment that has affected the incidence rate, which is measured per 100,000 inhabitants. Based on the new data, the 14-day cumulative number of cases per 100,000 inhabitants now stands at 146, down slightly from Monday's figure of 149. Spain, however, is on the brink of crossing the 150-threshold and entering a high-risk situation.
Since the beginning of the pandemic, 75,305 people have died after testing positive for the coronavirus
The Health Ministry also reported 4,994 new coronavirus cases on Tuesday, and added 106 deaths to the official toll. Andalusia, however, only partially updated its number of infections due to an error. According to Tuesday's report, 3,275,819 coronavirus cases have been recorded in Spain since the beginning of the pandemic. The official death toll now stands at 75,305, but this is likely to be much higher given that thousands of people died during the first wave without being tested for the virus. In the last seven days, 265 fatalities have been recorded.
Fernando Simón, the director of the Health Ministry's Coordination Center for Health Alerts (CCAES), said on Monday that the evolution of the pandemic was on an upward trend, but was not rising evenly across the country. "If we manage to maintain this trough a few weeks more, with the level of vaccinations being carried out these weeks, we could have an epidemiological wave, if indeed we have one, that is much smaller than the previous ones," he said.
With respect to the pressure on Spain's hospitals, 8,065 Covid-19 patients are in standard hospital wards and 1,844 in ICUs. In the last 24 hours, 1,027 new Covid-19 patients were admitted to hospital and 957 were discharged. The occupancy rate fell slightly on Tuesday to 6.51% for standard hospital beds and 18.52% in ICUs.
English version by Melissa Kitson.