Spain reports new rise in daily Covid-19 cases: 1,772 in 24 hours
The number of weekly infections has increased tenfold since June 25, while Aragón has the highest cumulative incidence of coronavirus of any area in Europe
The Spanish Health Ministry reported on Wednesday that 1,772 new Covid-19 cases were diagnosed in the past 24 hours. This is up from 1,178 on Tuesday and 968 on Monday. But there is a discrepancy between the the number of new infections and the total. On Wednesday, the Health Ministry reported a total of 305,767 cases, compared to 302,814 on Tuesday – a difference of 2,953.
The northeastern region of Aragón recorded the highest number of new cases, with 614 in 24 hours, followed by Madrid (539) and Catalonia (146). According to data compiled by the international weekly publication The Economist, Aragón has the highest 14-day cumulative incidence of Covid-19 of any region in Europe, with 567 cases per 100,000 inhabitants. This rate has risen tenfold in just 20 days. By way of comparison, the average incidence rate in Spain is 72 cases per 100,000 inhabitants, while in Catalonia, Spain's second-most affected region, the figure is 153.
The rise in cases is beginning to put pressure on hospitals in Aragón, where 491 patients have been admitted for Covid-19, 42 of whom are in intensive care (ICU). In just over 10 days, the number of hospitalizations has doubled, and the regional government is considering suspending staff holidays and recruiting retired doctors to help. The average age of hospital patients has also increased, rising from between 60 to 65 last week to more than 70. On Wednesday, a senior home in Burbáguena, in Teruel province, where 80 cases have been detected, reported the sixth death of a resident.
According to the latest figures, which are based on data provided by the regions, a total of 305,767 Covid-19 cases have been detected in Spain. This figure, like the number of deaths, hospitalizations and ICU admissions, only takes into account cases that have been confirmed via PCR testing, which can detect an inactive infection.
The number of new coronavirus cases on Wednesday is still a long way off from the nearly 10,000 that were reported on March 31, during the peak of the pandemic, but it is also far from the less than 200 detected in the last week of June. To find a similar figure, one has to go back to April 25, when 2,915 infections were registered. But while the number of infections may be similar on that day, there is a significant difference in the number of Covid-19 fatalities. On Wednesday, the Health Ministry reported nine deaths in the last 24 hours, compared to 288 on April 25.
There are several reasons for this difference: at that time coronavirus patients were older, meaning their prognosis was worse; hospitals were overwhelmed, making comprehensive care more difficult; and less was known about the impact of the virus.
The number of weekly diagnosed infections has soared tenfold since June 25, rising from 1,762 to 18,298
This trend is also evident in the other indicators, such as hospitalizations and ICU admissions. According to the latest figures, the total number of hospitalizations is 127,670. Of this figure, 638 were admitted in the last seven days, 42 more than on Tuesday. In the past week, 41 patients have been admitted into the ICU, up from 38 on Tuesday, bringing the total to 11,824.
All of Spain's 17 regions, as well as the exclave city of Melilla in North Africa, have recorded a spike in new Covid-19 cases. Indeed, the number of weekly diagnosed infections has soared tenfold since June 25, when Spain was entering the so-called "new normality" after a prolonged lockdown and deescalation process, rising from 1,762 then to 18,298 on Wednesday.
But not every region has been affected in the same way. Aragón, for instance, has seen a 9,000% rise in the number of weekly diagnosed infections – it went from recording zero cases on June 25 to 91 on Wednesday. In Valencia, there has been a 1,838% spike, and in the Canary Islands, weekly infections have risen 272% since June 25. In the Balearic Islands, 323 cases were diagnosed in 24 hours, and weekly infections have risen 1,438%. This, however, is due to the low number of cases, with just 21 diagnosed between June 18 and 25.
Since the beginning of the pandemic, a total of 28,499 people have died from Covid-19. This figure does not count suspected coronavirus cases who died before being tested for the disease. If these fatalities were taken into account the total death toll in Spain would be closer to 50,000, according to an EL PAÍS estimate based on regional records and data from three different agencies.
Outbreaks in Madrid
The Madrid regional health department reported five new outbreaks of Covid-19 on Wednesday, with 80 cases and 75 people under medical surveillance.
The first outbreak was detected at the San Marcos senior home, in San Martín de la Vega. A total of 47 people have tested positive, and another 38 are under surveillance. Six of the 47 cases have been hospitalized, and one person has died. It is the largest outbreak recorded since June 9. Of the cases, 28 are residents and nine are staff members.
The second outbreak was detected in the Madrid capital after 33 people attended a birthday party at a bar. A total of 17 people have tested positive for Covid-19, and another 17 are under medical surveillance.
The third outbreak, with three cases and eight people being monitored, happened at a closed nightclub in the capital. The fourth was detected in the municipalities of Alcorcón and Legánes, with four infections and three contacts monitored. And the fifth was reported at a social services residence in Pozuelo de Alarcón, with nine cases and another nine under surveillance.
Seasonal workers to be moved
The regional government of Castilla-La Mancha will begin to relocate on Thursday around 230 seasonal workers who have been confined since July 22 in a trade center in Albacete.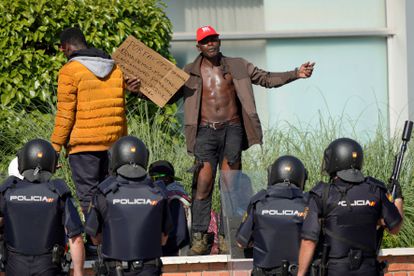 The workers were placed in quarantine there after a Covid-19 outbreak was detected at an abandoned industrial warehouse, where they were living. Several of the individuals left confinement on Wednesday morning, which prompted local police to cut the road leading to the trade center. The individuals were found shortly after, some carried signs with the message: "We need to work to send money to our family." Several non-for-profits have criticized the regional government for not providing the workers with enough information.
"The guys are nervous, they have been here two weeks already, many of them have tested negative up to three times and they don't understand why they can't leave to work," explained Cheikhou Cisee, the spokesperson for the Immigrant Support Collective.
With reporting by Elena G. Sevillano and Juan Carlos Espinoso.
English version by Melissa Kitson.