The first steps after lockdown ends: How will Spain return to normal life?
A collection of experts explains how the measures introduced to contain the spread of coronavirus could be lifted, including trips to the street alone or with small children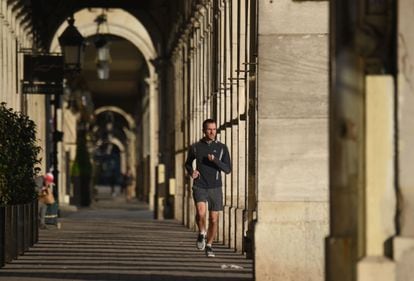 As the Covid-19 pandemic advanced, countries and international organizations began to create guidelines on the measures that needed to be adopted: detecting and isolating cases, when and how to introduce social distancing, and so on. What is yet to be published, however, is a manual on how to end these measures. This part of the process is not an exact science. It will depend on trial and error, experts admit, as part of a process during which governments will be learning from the failures and successes, both their own and those of others.
From the ongoing lockdown imposed in much of the world, citizens, the authorities and researchers are focusing on how we will return to normality. EL PAÍS has spoken to half-a-dozen public health specialists about the issue, and they all insist that the relaxing of the measures will depend on how the epidemic advances, and on testing in order to determine the immunization level of the population. For that to happen, millions of quality tests will be needed, something that will not be simple to achieve given the demand in the international marketplace.
It would not be unusual, epidemiologists explain, for the measures to be reintroduced, as happened in China
All of the specialists consulted say that the measures will not be relaxed suddenly. Once transmission levels are sufficiently low, more activities will gradually be permitted, and strict monitoring will be put in place if there are any new outbreaks. It would not be unusual, epidemiologists explain, for the measures to be reintroduced. This happened in China, where 600 theaters and cinemas were reopened, only to have to be closed again very soon.
There also may be different rules for different people. Epidemiologist Antoni Trilla, who is a member of the government's consulting team, explains that seniors and those with certain illnesses will have to stay confined to their homes longer than young, healthy people. "Everyone is clear that this will affect those who are over 65 or 70," he says. Trilla is even talking about some kind of "health travel document" for those who have had the disease, and who supposedly have immunity, so that they can get back to normal life having passed an antibody test. This is something that countries such as Germany and the United Kingdom are also considering.
This would be particularly useful in the healthcare sector, where it will be crucial to know which members of staff have had the disease.
Some epidemiologists are also talking about different measures according to regions. Not all areas of Spain are going through the same moment of the epidemic, which means that it may make sense for measures to differ or to be introduced at different times. Daniel López Acuña, a former director at the World Health Organisation (WHO), believes that this would be "complicated" because doing so would involve "compartmentalizing and sealing" areas. "If you start to have comings and goings in hot zones, there is a high risk of reintroducing the virus in a place from which it had already gone," he adds.
There is unanimous agreement that the confinement measures will continue throughout the month of April
The last report on social distancing measures from the European Center for Disease Protection and Control, dated March 23, recommended deciding on and announcing an end date as soon as possible, albeit adding that the organization is studying how these strategies should work. They depend on so many factors that any previsions run the risk of failing. The group of experts advising the government is debating this right now, while the WHO is going to publish recommendations "in the coming days," according to a consultant there. No one knows exactly which decisions will be taken nor when they will arrive, but there is a rough idea of how they should take shape.
There is unanimous agreement that the confinement measures will continue throughout the month of April. Spanish Prime Minister Pedro Sánchez announced on Saturday that the state of alarm will be extended another 15 days until April 26, and will be in place in one form or another for even longer. The first step, he said, will be to return to the first measures from April 11, ending the restriction that only non-essential workers can continue with their jobs, and seeing many employees who have been placed on obligatory paid leave return to work.
The majority of experts are also optimistic that sporadic and solo trips outside will be permitted, such as taking children out onto the streets. Health Minister Salvador Illa said this week in Congress that this possibility "is being studied." "Allowing people to go for walks could be one of the first measures, but with a lot of discipline when it comes to distance and only alone," says López Acuña.
The coming week will be key when it comes to the spread of the epidemic after more than three weeks of lockdown in Spain, and for intensive care units in Spanish hospitals. Based on this information, the authorities will be able to decide when the restrictions can be loosened. "There will have to be some trips out," says Trilla. "Little children can't be in the house for so long, or they'll go crazy and send their parents crazy too."
Little children can't be in the house for so long, or they'll go crazy and send their parents crazy too

Epidemiologist Antoni Trilla
More and more universities are canceling their classes for the academic year, but it isn't so clear as to what will happen with schools, given that their end of term coincides more or less with the dates that the experts believe would be sensible for a return to normality. They believe that most activities that involve crowds of people will be restricted or canceled altogether. "I think it will be difficult for children to return to school this academic year, because although the disease doesn't affect children in general, if the virus enters a school or kindergarten it will infect everyone, taking it to the family and spreading it once more," says Pere Godoy, the president of the Spanish Epidemiology Society (SEE).
Just as not everyone stopped working at the same time, not everyone will be returning to their place of work at the same time. "I think the return of the youngest and those who are immune has to be facilitated as soon as possible," says José María Martin Moreno, a professor in medicine and public health at the University of Valencia. "The criteria will always be that we can do those things that take us as close as possible to normality and that can be carried out while maintaining a certain social distance. We need to study how this can be done in essential production activities, so that people can return to work. Many are activities in the open air, such as construction, or very industrial sectors, where the distancing measures can perhaps be maintained," explains Fernando Rodríguez Artalejo, a professor in preventive medicine and public health at the Autonomous University of Madrid.
The experts say that homeworking will continue beyond the end of confinement wherever possible. "Where it can be done, it will stay," says Trilla. "Everything that can be done from home has to be done; and that is a lot," adds López Acuña. "It's not ideal for everyone, but it will be consolidated more and more, given that it is able to minimize the consequences of processes with contagious infectious diseases," says Martin Moreno.
The return to social life as it is lived in Spain is perhaps the most complicated element for specialists in public health. They insist that it will depend on the progress of the epidemic, the ability to carry out mass testing and whether suspected cases can be isolated, and even reversing some decisions. There is a widespread opinion that the capacity limits of bars and restaurants may have to be reduced.
"It will be difficult to close such an important part of the economy," says Ildefonso Hernández. "Perhaps, given that the good weather is on the way, street cafés can be taken advantage of, always with the highest levels of hygiene and the constant washing of hands on the part of waiters."
The return to social life as it is lived in Spain is perhaps the most complicated element for specialists in public health
It's very difficult to anticipate when all of this could happen, including concerts and sports events. "I would be incredibly cautious with social gatherings and I would not permit them during the month of May, because there is a risk that the disease could be amplified, and that's what we want to avoid," adds López Acuña.
"I'm sure that we will once again enjoy concerts, festivals and sporting events," says Martin Moreno, although he adds that measures that until now were unusual will have to be implemented, such as smaller crowds, assigned seating and hygiene levels that involve the public, "who will have to be a part of the solution via the appropriate behavior."
"This summer will be very family-based," Trilla believes. "It is not going to be completely normal, because tourism is not going to get back to normal." Will we be able go to the beach? The further the plans are away, the more difficult it is to predict them, but the general view is that we will. "It's reasonable to think that we will be able to enjoy many open-air leisure activities, including the beach, provided they are not too overcrowded," says Rodríguez Artalejo.
Martin Moreno says that this summer will be different to that of other years, with "lower density and smaller crowds, especially in closed premises. But I do hope that we will be able to go to the beach and I am convinced that we will have great opportunities to live our lives with affection and intensity and enjoy one of the benefits of this period of confinement: the better quality of air and water given the reduction in pollution."
English version by Simon Hunter.