Spanish doctors prepare to make difficult decisions if intensive care units reach capacity
Officials admit the worst is yet to come as Spain exceeds 1,000 deaths and field hospitals start going up across the country
Doctors in Spain are preparing to make difficult decisions as the number of coronavirus patients in intensive care continues to rise. Hospitals in hard-hit regions such as Madrid are quickly reaching capacity while the number of cases keeps growing and officials warn that "the worst is yet to come."
By Friday afternoon, Spain had registered 1,002 deaths, a 30% rise from 24 hours earlier. And the number of people in intensive care had grown by 21.5%, for a total of 1,141 patients.
These two indicators are particularly relevant in tracking the spread of the disease, because the actual number of cases "is very likely" higher than what is officially reported due to a lack of testing, said Fernando Simón, the head of the Health Ministry's Coordination Center for Health Emergencies and Alerts, and one of the most visible faces of the crisis-management effort.
The impact this is having on our society is not tenable for very long

Fernando Simón, Coordination Center for Health Emergency and Alerts
With nearly 20,000 reported cases, Spain is close to taking third spot on the global list of coronavirus infections. Of these, half have been hospitalized and 1,585 have been discharged following recovery. But with numbers expected to climb even higher in the coming days, government and health officials are preparing to see overwhelmed healthcare facilities.
"The worst days are coming," warned Health Minister Salvador Illa on Friday, admitting that he did not know whether Spain's aggressive measures to contain the coronavirus – the country has been on lockdown since Saturday of last week – will be effective. "We need to manage it, and we need to manage it as soon as possible," added Simón. "The impact this is having on our society is not tenable for very long."
Intensive care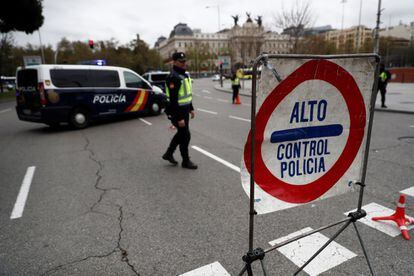 In places such as Madrid, which accounts for most of the deaths in Spain, critical-care physicians are preparing to make difficult choices if there is a shortage of intensive care beds. The Spanish Society of Critical Intensive Care Medicine and Coronary Units (Semicyuc) has drafted an ethical guide to help doctors make those decisions. The text recommends that, given two patients, priority should be given to the one with the greatest life expectancy taking into account quality-of-life considerations.
Neither this document nor the contingency plan drawn up by the heads of intensive care units (ICU) at Spain's hospitals mention any criteria of age. Instead, the ethical guide says that "chronological age (in years) should not be the only element to consider in assignation strategies."
Fernando Simón said that there are around 4,400 critical care beds in Spain and that "they already had restrictive criteria" as to who may be admitted, but "much more slack than what they have now." Because of the rise in the pace of hospital admissions, these criteria "have to become more restrictive." Simón added that the Health Ministry is working on "establishing algorithms or admission criteria that are as homogeneous as possible."
Field hospitals
The Madrid regional government and the Health Ministry on Friday said that a field hospital with 5,500 beds is being created inside Ifema, the city's trade fair and exhibition facility, with support from the Military Emergency Unit (UME). Authorities have also erected an emergency shelter for homeless people at Ifema.
Two hotels, the Ayre Gran Hotel Colón and the Marriot Auditorium, have already been converted into emergency wards for people with mild symptoms. Over 40 hotels in Madrid have offered their facilities, with room for nearly 9,000 people, according to the Madrid Hotel Industry Association.
Field hospitals are also being erected elsewhere in Spain, even in areas without a significant amount of reported cases such as the Valencia region, in preparation for what could come.
Crime down
The Civil Guard has warned citizens not to attempt leaving for a weekend break, as it would violate lockdown rules. "Don't go to your holiday residence this weekend. We will set up checks on roads and public spaces to ensure that restrictions are observed, and violators will be fined," warned the law-enforcement agency on Twitter.
The Civil Guard also reported that crime has been reduced by 50% since the stay-at-home orders went into effect, and that arrests have dropped by 60%. However, 75 people were arrested on Thursday for disobeying the state of alarm declared a week ago.
Criticism
Although opposition parties have mostly rallied behind Prime Minister Pedro Sánchez in the fight against the coronavirus, a growing number of regional leaders are criticizing the decision to centralize the purchase of critical health equipment, which is running low in many health centers.
And Pablo Casado, head of the main opposition Popular Party (PP), demanded more tests and harmonized criteria to determine the real number of cases. Casado also claimed that the recent peak in cases "unfortunately coincide with the peak of the massive demonstrations on March 8 [for Women's Day]. Sadly, we see now that it was irresponsible to participate in these marches."
English version by Susana Urra.