From 'sterile' to 'betrayal': idea of pardons for jailed Catalan leaders sparks political outrage in Spain
Spanish PM defends move to restart talks on the future of the region, but he has little legal backing. Meanwhile, new leaders in Barcelona say only a full amnesty will be acceptable
The Spanish government's apparent willingness to pardon leaders of the 2017 unilateral secession attempt in Catalonia, nine of whom have been in prison for more than three years, caused political outrage even before a formal decision has been announced.
Accusations of "betrayal," "humiliation" and "revenge" were exchanged in parliament on Wednesday, just hours before the Supreme Court delivered a report positioning itself against clemency. While the document is not binding, an earlier report by prosecutors also opposed the move, leaving the government without strong judicial backing should it opt to issue pardons.
But the executive is framing it as a way to unblock stalled talks on Catalonia, where a new separatist government has just been sworn in following a regional election earlier this year. "The spirit of the Spanish Constitution includes both punishment and concord. There is a time for punishment and a time for concord," said Prime Minister Pedro Sánchez, of the Socialist Party (PSOE), inside the Congress of Deputies on Wednesday.
On Thursday there was a wave of reaction to the idea, both for and against. Basque regional premier Iñigo Urkullu said that they would be "the best-justified" pardons of all those granted by a Spanish government in the last 40 years.
On the other hand, some leading members of the governing PSOE expressed doubts. Emiliano García-Page, regional premier of Castilla-La Mancha, said that issuing pardons "would not help bring the problem of Catalonia into focus"and that "chances are really high that it would be sterile" as a move, because none of the 12 convicted leaders have shown any regrets about breaking laws in their unilateral secession attempt. Ultimately, pardoning them could merely serve to suggest that "they can go back to it without any consequences."
As Thursday progressed, more Socialist officials privately expressed misgivings about the idea – including several mayors, members of Congress, senators, provincial secretaries and regional leaders consulted by this newspaper in Madrid, Andalusia, Castilla-La Mancha, Extremadura and Castilla y León. All of them said that it would have to be very well explained to voters. "This is going to generate a lot of noise and it will need to be softened," said one provincial secretary. Former Socialist prime minister José Luis Rodríguez Zapatero (2004-2011) has openly supported the pardons, but Felipe González, the longest-serving prime minister in modern times (1982-1996), has opposed them.
Meanwhile, right-wing parties warned that they will mount legal challenges in Spain and in Europe against any attempt to grant what they see as politically motivated pardons. Pablo Casado, president of the main opposition Popular Party (PP), warned Sánchez that by pardoning the separatist leaders he would be "betraying" his own word, as well as his party's "ethical code." The conservative party views the pardons as "the price" that Sánchez has to pay for separatists' support inside parliament, where Sánchez heads a minority government with junior partner Unidas Podemos.
Catalonia's newly elected premier, Pere Aragonès of the Catalan Republican Left (ERC), took the oath of office on Monday with a pledge to work toward full "amnesty" for the jailed leaders as well as to make "self-determination inevitable" for the northeastern Spanish region. The new Catalan government also wants to reach a deal on a legal referendum on the future of the region, and Aragonès said that he will be calling Sánchez "in the coming days" to resume talks.
The central executive has stressed that an amnesty, which would strike the crime from the record altogether, would be unconstitutional and that it is not an option. Instead, a pardon would eliminate the need to serve the remainder of the prison sentences. And because only a partial pardon is legally possible due to the negative Supreme Court report, the ban from holding public office would probably remain in force.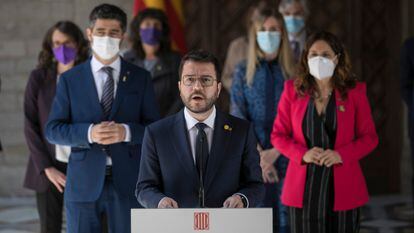 The far-right Vox party said it will organize street protests against such a move, while Inés Arrimadas, the leader of the center-right Ciudadanos (Citizens), cautioned that if Sánchez pardons the separatist leaders it will be "much more difficult" to reach deals in a parliament where the minority government needs additional support to get legislation passed.
According to the PP spokesperson in parliament, Cuca Gamarra, the court's report only leaves one option for Sánchez: giving up on any attempt at "pardoning the coup-plotters." If Sánchez "breaks the norms of democratic coexistence, of respect for the law and for judicial resolutions" by granting the pardons, he will become a leader "unfit to head this country," she said.
The measure could be adopted faster than previously expected, said sources in the executive, although the timing will ultimately be up to Sánchez. The issue has never been formally discussed by the Cabinet or any other executive body, but it has been part of informal conversations among core government officials for months. Several ministers believed that Sánchez would grant the pardons, but a few expressed surprise at the fact that he openly supported them even before the matter formally reached the Cabinet.
The issue, which had been on the back burner for months, picked up speed this week. On Monday, Justice Minister Juan Carlos Campo stated that the use of pardons should be viewed "naturally." On Tuesday, Sánchez said that his final decision will be based on constitutional values such as "concord" rather than "revenge." And on Wednesday he newly defended the idea in Congress.
Later that day, the Supreme Court issued a report in which all six justices unanimously rejected clemency. The court said there were no reasons of justice, equity or public usefulness to support such a move, and instead noted that "there is not the slightest evidence or even the weakest indication of regret" by any member of the jailed group. In October 2019, this court tried 12 leaders of the 2017 breakaway attempt and found nine guilty of sedition, while three more were barred from public office for disobedience.
The nine individuals found guilty of sedition were sentenced to between nine and 13 years in prison, and have now been behind bars for three-and-a-half years, including their time in pre-trial custody. This group includes ERC party leader Oriol Junqueras, who was deputy premier when Catalonia held an outlawed independence referendum on October 1, 2017. That was followed by an independence declaration passed by separatist parties inside the regional parliament. The Catalan premier at the time, Carles Puigdemont, fled Spain to avoid being tried for these events and has since been living in Belgium.
Past pardons
There have been other times when a Spanish government granted politically sensitive pardons to individuals convicted of serious crimes involving matters of state. In nearly all those cases, however, there was at least one favorable report by either state prosecutors or the court that handed down the conviction.

Alfonso Armada, one of the leaders of the coup attempt of February 23, 1981 was pardoned on Christmas Eve of 1988 after being sentenced to over 26 years in prison. The 69-year-old had made the request five times, had been hospitalized for over a year and had expressed loyalty to the Crown and the Constitutional. The court that convicted him supported his release.

In December 2000, the PP administration of José María Aznar fell back on religious arguments – Pope John Paul II had declared it a Jubilee Year marked by the remission of sins – and approved 1,443 clemency measures for individuals serving prison sentences for a range of crimes, from refusing to do their military service to involvement in illegal party funding in the so-called Filesa case.
English version by Susana Urra.