The fake travel agencies scamming travelers in Mexico
Mexican authorities have detected a sharp rise in the number of fraudulent companies promising holiday packages, then disappearing once an advance has been paid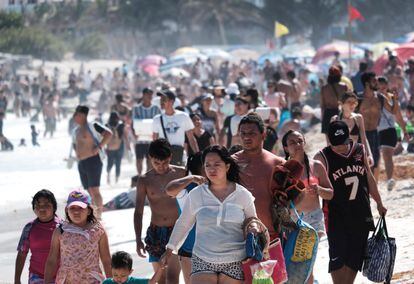 María de los Ángeles wanted to organize a three-day vacation with her family to Cancún. She searched on Facebook and found a profile called "Lilith Travel and Experiences" that was highly recommended by other users. The woman she spoke to promised her a fantastic trip: a driver would pick them up from the airport and take them to the hotel where they would stay for the next three days. She only asked for one thing: 11,000 pesos ($550) in advance. The money disappeared, along with the agency, as soon as the transfer was made.
These scams are particularly rife during holiday periods such as the recently ended Easter, when thousands of people desperately search for a nice and affordable place by the beach where they can take a few precious days off. To avoid the hassle of worrying about reservations, hotels and transfers, many turn to travel agencies to organize the vacation for them. And this is how victims can be scammed by ghost travel agencies — fake companies that offer below-market prices for holiday packages that include airport transfers, hotel accommodation and an itinerary of activities. As soon as a victim transfers an advance to the alleged companies, it disappears.
The Citizen Council of Mexico City, is in charge of receiving many of these complaints during vacation periods. In the past two years this type of fraud has skyrocketed in Mexico, according to this agency's figures. In 2021, the council received 77 cases. By 2022, the number had jumped to 244 — a rise of 271%. This year, it has already received 53 complaints, and by the end of the year, it is expected to be its highest yet. Most of the scams are run via Facebook and involve destinations such as Acapulco or Cancún, which are the two most-popular holiday spots in Mexico.
"It seemed like everything was going well, but the trip is two days away and she isn't answering," María wrote right before the Easter holiday in a Facebook group created to denounce travel scams. "She doesn't answer calls or messages, the [Facebook] page has disappeared and so has the private chat group we were in." In the Facebook message, María explained that she called the hotel where she was meant to be staying, and was told that her reservation had been cancelled and that the person who booked the stay was not from any agency. When asked about the deposit, the hotel told her that it had not been paid, and that the credit card that had been used for the reservation was not operational. "She swore to me several times that she was not a scammer," said María in the post.
The General Attorney's Office of the Mexican state of Quintana Roo — where Cancún, Tulum and Playa del Carmen are located — has launched an initiative to crack down on these fraudulent agencies. Authorities are already investigating 50 agencies that are suspected of fraud, but there could be many more, says Óscar Montes de Oca, the head of the office. "The scams happen online, so we cannot know exactly how many victims there are, but it is something that we must be addressing because this crime is also committed internationally," he said.
The Citizen Council of Mexico City recommends that people exercise caution when offered all-inclusive vacation packages at below-market prices. It also suggests that travelers research the agency online and on social media, and confirm their reservations with the airlines and hotels. While many of these scams are carried out via Facebook, the social media site is also where victims go to report the scams. The Facebook group called "Travel agency and scams" lists dozens of travel agencies that have been accused of fraud, including "Lilith Travel and Experiences."
María de los Ángeles initially trusted the company because its first visible Facebook comments were very positive, such as "highly recommended." However, after she sent the money, the woman at the agency started to give her confusing answers. When María asked about her itinerary and plane ticket, the alleged travel agent replied: "Payments and accommodation are pending." Then she stopped answering, and the bogus agency deleted its Facebook account and the posts that it had shared up until then. To denounce the scam, María shared a screenshot of her private chat with the agent. "When will you give me the two rooms and the itinerary?" reads one of her messages. "Did you block me from your discount travel group?" But no one replied. EL PAÍS unsuccessfully tried to reach out to the travel agency.
Sign up for our weekly newsletter to get more English-language news coverage from EL PAÍS USA Edition