Spring Break and Easter under the shadow of insecurity: Is it safe to travel to Mexico?
With recent acts of violence along the border, the U.S. has issued advisories for citizens who decide to travel south for vacation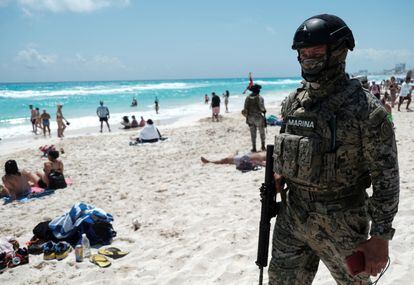 Is it safe to travel to Mexico? This question has been asked by countless reporters and travelers, and even the U.S. State Department is struggling to provide an answer.
A series of violent events have recently taken place in Mexico involving tourists. American travelers were kidnapped and murdered in the State of Tamaulipas, while taxi drivers in Cancun recently took violent action against Uber drivers and users. And, a few months ago, there were hours of crossfire between drug traffickers and the Mexican Army during the capture of Ovidio Guzmán, the son of El Chapo. Now more than ever, people are wondering whether travelling south of the Rio Grande makes sense.
With the start of Spring Break — which tends to last until the end of April — American citizens have been arriving in Mexico in droves, heading to beaches that have become international favorites in places like Cabo San Lucas, Cancun and Baja California, among others. However, as a result of recent events, U.S. media outlets have published some articles that have aroused concern, as well as indignation about the image that has been painted of Mexico.
The US State Department has issued alerts for different Mexican states, such as Guerrero, Colima, Michoacán, Sinaloa, Tamaulipas and Zacatecas. Travel advisories have been issued, due to the risk of crime and kidnappings. Destinations coveted by tourists – such as Acapulco and Mazatlán – are located in Guerrero and Sinaloa respectively. The State Department also recommends "reconsidering travel" to regions such as Baja California, Chihuahua, Durango, Guanajuato, Jalisco, Morelos and Sonora. Some of the 16 states in which tourists should exercise "greater caution" include Mexico City and Quintana Roo, which host destinations such as Cancun and Tulum, in addition to Baja California Sur, where Cabo San Lucas is located. The only two destinations where "normal caution" should be exercised are Campeche and Yucatan.
The map indicating levels of security has had certain modifications compared to last year. But, despite the fact that these alerts have not been updated on the State Department website since October 5, 2022, the reality is that more than 30 million Americans visited Mexico in 2022, an increase of more than 18% compared to 2021, according to data from the U.S. Department of Commerce. Mexican President Andrés Manuel López Obrador hasn't hesitated to affirm that the doubts expressed about the state of security in his country are part of a "vile" manipulation, referring to the warnings from the U.S. State Department.
López Obrador's statements come at a time when relations between Mexico and the United States are tense, especially after certain Republican senators have advocated for military intervention at the US-Mexican border to stop rising violence and insecurity. This follows the kidnapping and murder of two American citizens in Matamoros, which lies on the border with Texas.
Álvaro López López – a postdoctoral fellow in Tourism and Planning at the University of Waterloo, Canada – sees double standards on the part of the United States. While drug trafficking produces insecurity, he stresses that the role of Mexico is just one of the two faces of the coin.
"It's a way of disguising the great problem of drug trafficking within the United States. There have been discussions regarding the problem of the U.S. freely and unrestrictedly allowing arms sales to Mexico. Both the drug and arms issues [are] big business within the United States… [the fact that] part of the violence in Mexico corresponds to the U.S. isn't being discussed. It's a shared problem that has to be worked on," affirms the researcher, who also works at the Institute of Geography of the National Autonomous University of Mexico.
López López is aware that there is an international perception that, indeed, there is insecurity in Mexico. But he notes that this violence is very concentrated "particularly in the border area" and in areas near the Pacific that have traditionally been insecure. Also, unlike other destinations – such as Italy, France, Costa Rica, Spain or The Bahamas – Mexico as a whole doesn't have a global warning issued by the US State Department, only warnings on a state-by-state basis. In the aforementioned countries, however, American travelers are urged to exercise "greater caution" due to factors such as "terrorism," "civil disturbances," or "crime."
The researcher emphasizes that part of the discussion is now about what the López Obrador administration is doing so that violence and insecurity are reduced and resolved little by little.
During his morning press conference on March 13, the Mexican president stressed that, in recent years, more Americans have come to live in Mexico, while visitors to Cancun – the country's main tourist destination – are at record levels. "Mexico is safer than the United States… there's no problem travelling through Mexico safely," he affirmed.
According to the Mexican National Institute of Statistics and Geography, the country registered 35,700 homicides in 2021, compared to 26,031 in the U.S. the same year, according to the Centers for Disease Control and Prevention. EL PAÍS tried to communicate with Mexico's Ministry of Tourism to ask about the issue of tourism and security, but received no response.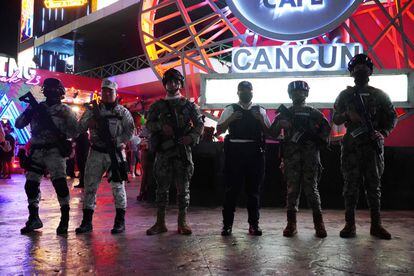 López López also sees inconsistencies in the discourse of the United States, considering the significant economic investment that the northern neighbor has made in Mexico. The Ministry of Tourism announced that, in the fourth quarter of 2022, foreign direct investment in the tourism sector reached $187 million, with the US representing $157.4 million, or 84% of the total.
"Computerized reservation systems, purchase and reservation of [tour] packages and air tickets are in the hands of North American capital, especially the United States. From a capital perspective, it is the most invested [country]... American tourists continue to flow to Mexico, particularly to the Riviera Maya and Los Cabos areas, [which are] very notable spaces due to the large investments [made by] different American hotel chains."
"The advertising strategy used by these large corporations is meant to provide an image of security in tourism spaces. In some way, this is also a counterweight to the discourse of fear generated by the [American] government," notes López López.
Matamoros – where four US citizens were kidnapped – is more than 1,200 miles from Cancun. The tourism specialist says that we must look at what is happening in Mexico with perspective, without stoking a discourse of fear. He recommends following the typical regulations and recommendations which are advisable at a global level, so as not to be assaulted.
"Tourists aren't implicated or involved in illicit activities. The ideal is to have the possibility of greater use of public space… fear shouldn't impair the opportunities to enjoy many spaces [and] live with the local population," concludes López López.
Meanwhile, the travel and tourism portal Skyscanner affirms that "we must be alert – both in Mexico and in any other destination around the world – [by] paying attention to our instincts at all times, as well as not exposing ourselves to situations where we feel that things won't end well."
Recommendations to take into account when traveling to Mexico
Avoid displaying valuables or expensive items in public
Have the emergency contact number of your embassy and/or consulate in case of need
Limit the amount of cash you carry with you
Keep an eye on your luggage and belongings at all times
Use ATMs in crowded places, but be vigilant
Use private transportation, if possible, or hire transportation from a trusted company
Avoid dark and deserted areas
Travel during the day and on toll roads if possible, and avoid neighborhoods not frequented by tourists at night
Trust your instincts

Sources: Álvaro López López; Department of State - USA; Lonely Planet
Sign up for our weekly newsletter to get more English-language news coverage from EL PAÍS USA Edition
More information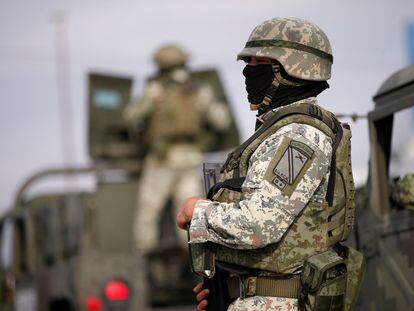 AP
| Ciudad Victoria (Mexico)