The missing Ukrainian children of the Russian invasion
Only 300 of the 150,000 forcibly expatriated minors have been reunited with their families during Moscow's 'de-Ukrainization' campaign
I Want to Go Home by Sergey Mikhalkov was a popular 1948 play about Soviet children torn from their families by the Third Reich who never returned home. It's a lesson that history buff Vladimir Putin seems to have forgotten, as an international arrest warrant has been issued for the Russian president due to the large-scale, forcible expatriation of Ukrainian children to Russia. While the international community demands the return of the children, the Kremlin propaganda machine issues baseless claims that most of them are orphans. Russian human rights activists decry the lack of a registry loved ones can use to locate their children.
There are several facets to the relocation of Ukrainian children. Many were interned in state-administered children's centers taken over by the Russians, and their fate is unknown. Some parents sent their children to Russian territory in the early stages of the invasion to get them out of harm's way. However, they never returned after Ukrainian soldiers reclaimed territory around Kherson and Kharkiv.
In Kozacha Lopan, a village in northern Ukraine near the Russian border, 11 of the 13 minors that the Russians took to a summer camp in August are still missing. Tatiana Glagola said she and another mother rescued their two children after a harrowing journey. Mayor Lyudmila Vakulenko thinks the other 11 children will never return because their parents followed them to Russia. Vakulenko calls them "traitors to the homeland."
Kozacha Lopan exemplifies the complex reality of relocating children during an armed conflict, considered a war crime. Ukraine has identified more than 16,000 children who were relocated to Russia but estimates there may be 150,000. Only 300 have returned home, according to Dmytro Lubinets, the Ukrainian Parliament's Commissioner for Human Rights. This led the International Criminal Court (ICC) to issue an arrest warrant on March 17 for Putin and Russia's presidential commissioner for children's rights, Maria Lvova-Belova. "Everyone is against him [Putin]," says Vakulenko. "But I have no idea how he will react – nobody does." The town she governs not only borders the invading country but is replete with families of dual nationality.
One nagging question lingers in the air. Who would send a son or daughter to a camp run by the same people who invaded your country? "There was a lot of bombing, so we sent her as far away as possible. We made the decision – we weren't pressured," says Tatiana Glagola, a 38-year-old resident of Kozacha Lopan who sent her nine-year-old daughter Polina to a Russian camp on August 28. The little girl was supposed to return on September 21, but a Ukrainian counter-offensive pushed the Russians out of Kozacha Lopan. The girl stayed on the other side until her mother personally retrieved her. It's a familiar story among the families we interviewed in eastern Ukraine, who were all motivated by the urgent need to get their children away from the war by any means possible.
'In Russia, we know very little about the fate of the children'
Tatiana Glagola is unaware of the arrest warrant for Putin. "I had no idea. We don't even have a TV. I don't keep up with the news," she says. The family was reunited on November 2 when Glagola returned with Polina, and the town has since remained under Ukrainian control. But only 1,500 of its 6,000 residents have stayed. Glagola has grown accustomed to the almost daily Russian bombardment of Kozacha Lopan, and her home has escaped damage so far. She confirmed the mayor's suspicion that the parents of the other 11 children had left for Russia. "We don't know for sure, but we have information that some are in Belgorod [a Russian city about 25 miles from Kozacha Lopan] because we have heard their negative comments about Ukraine broadcast from that city. They chose to be on that side – they made their decision," says Vakulenko.
The 16,207 minors relocated to Russia identified in mid-February represent the tip of the iceberg, says Lubinets. Kyiv estimates that up to 150,000 children and adolescents have been illegally transported to various parts of Russia or Russia-controlled areas of Ukraine. On March 11, Deputy Prime Minister and Minister of Reintegration of Temporarily Occupied Territories Irina Vereshchuk reported that 2,161 Ukrainian orphan minors had been illegally removed from their environments.
Lubinets says only about 300 children have been successfully repatriated. "We were able to do this because we had information from both sides," says Svetlana Gannushkina, a Russian human rights advocate and former Nobel Peace Prize contender. "In Russia, we know very little about the fate of the children. Ukrainians have more data because they receive information from parents and other relatives. But here, children are rarely able to demand contact with their families. Many are not old enough to have phone numbers memorized or to know where their grandparents are," says Gannushkina, who helped found the Civic Assistance Committee, a Russian NGO that campaigns for human rights.
Gannushkina belongs to Yabloko, a Russian opposition political party calling for a registry of Ukrainian minors. "For over a year, no one knows anything about these children – where they were taken, how they are being cared for, who and how many they are," says Yabloko founder Grigory Yavlinski.
Crimean children for adoption
The Russian government has a public website for child adoption: usynovite.ru ("adopt," in Russian). The database has photos and physical descriptions of the children up for adoption, including eye color, blood type and other characteristics. The registry has been updated to include the four Ukrainian regions illegally annexed in September 2022 (Donetsk, Luhansk, Kherson and Zaporizhzhia), but a search of these regions doesn't yield any results. The database does show children to adopt from Crimea, the Ukrainian peninsula seized by Russia in 2014. A search produced 202 Crimean children, many included in the last few months. One entry says, "Andrei: kind, curious, active, artistic, emotional and attentive. Member of the school choir." However, one important detail has been omitted: nationality. It's impossible to tell if they are Ukrainian.
There is a constant bustle of foreigners at the Civic Assistance Committee's headquarters. "Placing these children with families is often risky," says Gannushkina. "I got a call from a young woman who took in six Ukrainian children and was now asking for money to support them. When I asked her about the legal basis for adopting them, she told me about an agreement between the so-called Donetsk People's Republic and Moscow. But she never called again because she was worried about the legal issues we raised. What was their condition? She adopted six more children on top of the three she already had. Where would they live?"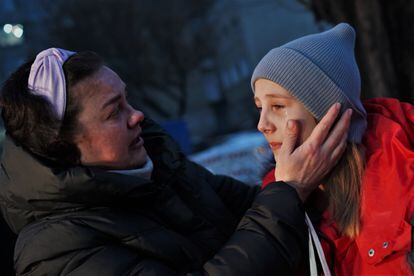 The state institutions for children in the occupied territories are one of the biggest problems. "Russian propaganda talks about saving orphans, but in reality, they are separating families," says Bill Van Esveld, a Human Rights Watch (HRW) staffer and author of We Must Provide a Family, Not Rebuild Orphanages. "Nine out of 10 children in these institutions have relatives. They are not there because their parents died or abused them. They were placed there because of poverty or some deficiency, and the parents couldn't care for them."
The Russian Children's Ombudsman estimates that when the war started in February 2022, about 2,500 minors were transferred from centers in Donetsk and Luhansk to refugee camps on Russian territory. "This is illegal under international law. You cannot relocate civilians, especially children, during a war or occupation. It's only allowable for security reasons, but that's not usually the case. That's why we think this is a war crime," says Van Esveld.
The lack of a database is compounded by another problem that makes it even more challenging to find Ukrainian children: the Russian government expedited granting citizenship to minors to facilitate their adoption by Russian families. "The law was changed to make them permanently adoptable — Russians cannot adopt children or receive aid if the children have Ukrainian nationality," says Van Esveld.
The "Russification" of Ukrainian minors
Fifteen children from the Ukrainian regions of Kharkiv and Kherson returned this week, announced the Save Ukraine NGO. They had spent the last few months in what the organization describes as re-education camps. The Yale School of Public Health reported that up to 6,000 minors are located in 43 re-education camps that comprise an extensive adoption network stretching from Crimea to Siberia. The Yale report alleges that Russian authorities actively prevent family reunification and sometimes even provide military training for the children.
Lvova-Belova boasted in a meeting with Putin last September about the forced re-education of Ukrainian children to make them forget their roots. "When we brought them [the minors] to the Moscow region so that they could recover a little bit, the story started that they were saying negative things about the president [Putin] and singing the Ukrainian anthem, 'Glory to Ukraine' and all that. There is some negativity, maybe at first, but later it turns into love for Russia," Lvova-Belova told Putin. According to her figures, 380 minors had been adopted by Russian families by the end of 2022.
"If children from another nation are brought here to Russia, our country has to guarantee that they will receive training in their language and culture," says Gannushkina, citing Syrian minors who were temporarily taken in by her organization. "Taking children out of their environment and imposing the language and culture of another country is considered genocide."
Human Rights Watch agrees with Gannushinka. "It's a crime — that's why the Geneva Convention prohibits forced relocation. Some of these children are two or younger: they cannot be separated from their families and communities to be injected with a different nationality," says Van Esveld.
The situation for families in the Russian-occupied regions could be even worse. Sources from the Museum of Civilian Voices organization founded by Ukrainian billionaire Rinat Akhmetov told EL PAÍS that some of the adoptive families in the Donetsk and Luhansk regions — in cities like Mariupol, Rubizhne and Volnovaja — have not been able to escape the area. "The minors have been reassigned to local authorities loyal to Russia," they said. "The phones of the adoptive families were tapped, and their social media access has been blocked. It is not safe for them to contact Ukrainian representatives."
Tatiana Glagola and the other mothers we spoke to did not report mistreatment while their children were in the camps. "Everything was proper," said Glagola. "The teachers gave them clothes, shoes, a new telephone... When my daughter's eyeglasses broke, they gave her a new pair and took her to the doctor to have her eyesight checked. My daughter has not said anything bad about the camp. They had classes several times weekly so they wouldn't forget their schooling. Unfortunately, she can only attend online classes now."
"Deportation of children is a war crime," tweeted European Commission President Ursula von der Leyen on March 23. Her post said the EU would facilitate Ukrainian repatriation through Poland, often used as a transit route.
Officials in Kyiv readily acknowledge some repatriations occurred with help from Russian authorities. Lubinets reported on March 23 that two minors returned thanks to "cooperation between the Ukrainian and Russian ombudsmen." But Russian cooperation is fickle, according to the Zelenskiy administration, which accuses Moscow of deliberately destroying documents to thwart the identification and repatriation of minors. Some were orphans in state custody, and others were disabled children separated from parents and guardians by war or death.
Despite her pleas for assistance, Glagola says no one helped her and the other mothers rescue their children from Russia. Although their town is a stone's throw from the Russian border, the two mothers had to travel across the entire country and enter Poland. From there, they crossed Belarus and into Russia, journeying hundreds of miles south to Anapa, a Russian port on the Black Sea. Then they crossed the Kerch Strait to the Crimean Peninsula, where they found their children in Camp Vita. Glagola says it took 15 minutes to identify themselves, present their documentation and get their children back. Days later, the Ukrainian guards at the border post who heard their story called them "crazy."
Sign up for our weekly newsletter to get more English-language news coverage from EL PAÍS USA Edition