Colombia's surrogacy market: Buying a baby for $4,000
The Andean country's lack of regulations has led to scores of ads offering the service on social media
Finding a surrogate in Colombia is as easy as buying or selling a second-hand car in the classified ads. One need only go on Facebook to find dozens of ads: "Surrogate for hire, I'm from Colombia," says one. "Hello, I am interested in becoming a surrogate. Strong womb and pregnancies without complications," reads another. Like a huge auction, the messages compete with each other to offer potential clients what they believe are the most advantageous conditions. On these same websites, buyers make their demands clear. In general, the interested parties are looking for what any customer would seek in a classified ad: good quality at a fair price.
In Colombia, buying babies through surrogacy is becoming increasingly common. This practice – which is prohibited in Spain, France, Germany and elsewhere – is not regulated in Colombia. Dozens of agencies and clinics take advantage of that legal vacuum to do business, usually with foreigners who go to the Andean country looking for a surrogate and as little red tape as possible.
Yamile is a 33-year-old from Barranquilla. She is one of the women who advertising her services as a surrogate in an online forum. "We have a clinic here that does the whole procedure for you, and I have a cousin who takes care of all the paperwork for us," she tells a potential client over the phone. Yamile can't bring herself to say when she will be paid.
- How much are they offering?
- 20 million pesos [about $4,000].
- But that's a very low price.
- I am asking for a total of 40 million [$8,000]. They would pay me 1.5 million [$300] a month and the rest when I give her the baby.
Yamile has two children of her own, and this is the first time she will be a surrogate and gestate someone else's baby. "My cousin did it and convinced me to get into it," she says.
When Yamile says that her cousin takes care of the paperwork for her, she's referring to paying a notary under the table to list the surrogate's clients as the parents on the birth certificate. That means that the clients don't have to go through the normal adoption process, which, in addition to being more complicated, takes much longer.
In Colombia, the birth certificate defines who the newborn's parents are. That information is based on so-called "certificates of live birth," which are filled out by the doctor or nurse who attends the birth. On this certificate, the woman who delivers the baby is listed as the mother, and she provides the father's name. For this reason, surrogacy clinics also pay the doctors to provide the names of the parents who bought the baby instead of the woman who has just given birth. The whole business is neatly tied up.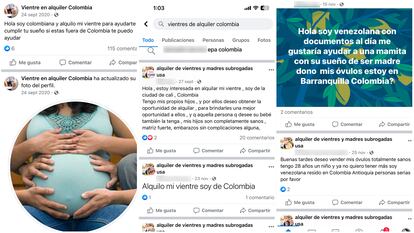 These machinations have given rise to an entire network of document forgery and fraudulent records of newborn babies that the Colombian authorities have been unable to address effectively. Each year, with the help of lawyers and aided by notaries, hundreds of foreigners return to their countries with babies born via surrogates. No surrogacy records have been kept.
In recent years, congresspeople from different political parties, such as the right-wing Centro Democrático (Democratic Center), have introduced 16 bills in Colombia's Congress to regulate the practice and to make it an exclusively non-profit endeavor. But none of these bills has survived the initial debates.
Santiago Valencia, a former Centro Democrático congressman, submitted four of those bills. Valencia believes it is vitally important to regulate this practice in the country, but says that he has started to lose faith after his failed efforts. "Until something very serious happens with a surrogate, no one is going to do anything. It's a business," he says. Meanwhile, surrogacy is becoming increasingly common, but at lower fees and in worse conditions for the women acting as surrogates.
In September 2022, Colombia's Constitutional Court ordered Congress to regulate surrogacy. The court gave the legislature a six-month deadline to act after a ruling highlighted the practice's underlying problems. But to this point, Congress has not passed any legislation.
Colombia has two forms of surrogacy: in one, the pregnant woman has no genetic relationship with the embryo, that is, the fertilized egg belongs to another woman and the surrogate carries it. The other type of surrogacy is more complicated: the surrogate donates her own egg and gestates. This latter practice involves so many legal complications that, despite the fact that it is an additional business opportunity, some agencies prohibit it.
Wendy, 29, offers both options to anyone who contacts her. After all, under the strict law of supply and demand, only those who stand out from the competition win. "I charge 20 million pesos [$4,000] plus a monthly fee of 1 million pesos [$200] for nine months," she says. That ends up being a total of 32 million pesos, just over €6,000 ($6,336), which is far cheaper than the €40,000 or €50,000 ($42,246 or $52,814) that surrogacy agencies charge in other countries. However, she notes that the buyers are also responsible for paying the notary fees, so they can skip the adoption process.
Surrogacy agencies: $65,000 for an all-inclusive transaction
Colombian surrogacy agencies also offer the option of arranging everything for their clients. They take care of providing a hotel and transportation, finding the surrogate and doing all the paperwork within a maximum period of one year. But that package costs about $65,000, which is 10 times more than the price Wendy is asking. Peace of mind comes at a price.
Some of the agencies also give prospective parents the option to choose the baby's sex. They can even choose the infant's skin color. As one agency website explains: "Thanks to scientific and technical advances, such identifications can be made with embryos."
These agencies strictly control who acts as a surrogate for them. Requirements for these women include having previously given birth without complications, not smoking or drinking alcohol, and possessing a Colombian national identity card. In addition, the agencies only accept women between the ages of 20 and 38 who are at a healthy weight and are willing to be monitored throughout the process. There may also be other restrictions. For example, one agency has the following policy: "Because Bogotá is located at 2,600 meters above sea level, we do not recommend that our surrogates carry multiple or twin pregnancies. A separate surrogate must be used for each baby."
But agency control often veers into mistreatment of the surrogates. As former congressman Valencia says, "some women are locked up in apartments rented by the agencies to control them during their entire pregnancy, and they inject them with hormones that alter the baby's appearance."
While Colombia doesn't have official statistics on surrogacy, according to the information gathered by the Congress, advertisements in the country offer this service at prices that are 90% cheaper than they are in the United States and Western Europe.
Sign up for our weekly newsletter to get more English-language news coverage from EL PAÍS USA Edition