The real story of Mexico's surrogate mothers
A look beyond the headlines into the lives of Mexican women who 'rent out their wombs' to foreigners
The Mexican state of Tabasco was once a hub of international surrogacy. Entire neighborhoods of women were making a living by giving birth to babies for foreigners, until last year when the government put new restrictions on surrogacy. This is the testimony of women who, despite the risks, decided to become surrogate mothers.
Paty waits beside the dusty road that leads to her home on the outskirts of Villahermosa, the capital of Tabasco. Her home is like the others that populate the area, propped up by cement walls, and covered with an unlikely zinc roof that makes the home unbearable in 40ºC heat.
She boasts about having built the house for her husband and three children with the money she made as a surrogate mother. She smiles and her eyes get brighter when she tells her story – she is five months pregnant and it's the third time she's carried a child for someone else. In total, this will be the sixth time the 34-year-old has given birth.
After handing over the baby Isabel has carried for nine months, she feels "happy and satisfied."
When she found out about the possibility of surrogacy, her husband was unemployed and she had a modest job as a promoter. She thought it would be a good way to pay off her debts and get rid of the constant worry about making it to the end of the month. For the three births she made a total of 510,000 pesos (€23,000), without taking into account the personal gifts from the parents.
The first couple she worked with, two gay men from Canada, paid for her oldest daughter's quinceañera party – held when a girl turns 15 and marking the moment when a child becomes a young woman – and bought her a new laundry machine, a sound system and a television for her new house. She shows off the possessions with pride.
The second time, Paty worked with a single mother, also from Canada, who gave her an extra 25,000 pesos (around €1,200) in cash. She hopes that the family she currently is dealing with, two gay men from France, will be similarly generous. The first two families also continue to send her pictures and videos of the children she gave birth to.
Surrogate pregnancies are at the center of an international debate. Among the countries that allow the practice, with certain restrictions, are the US, the UK, Brazil, Thailand, Russia, the Ukraine, India and Mexico. But for 18 years Tabasco, in southern Mexico, was the only region in the world that permitted the practice not via any national health or assisted reproduction law, but simply through a modification to the state's civil code in 1997. The code specifically stated that a child born from a surrogate mother would legally belong to the parent(s) who contracted the birth.
The first surrogacy birth wasn't recorded until 2008, but by 2012 the numbers had skyrocketed. Tabasco's civil registry allowed the contracting parent(s) to register the baby as their legal child, using only a certified copy of the surrogacy contract. In response to the international demand from hopeful parents whose countries don't allow surrogacy, intermediary agencies began to spring up in search of profits.
Tabasco's law did not explicitly prohibit or permit trade. It became common for a Mexican woman to receive between $13,000 and $15,000 (€11,700–13,500) for a pregnancy and contracting parents to pay between $50,000 and $70,000 (€45,000–63,000) for the entire process – half of what surrogacy costs in the US.
However, the agencies' heyday came to an end in December of last year, when Tabasco changed its civil code again, prohibiting intermediaries and limiting surrogacy to Mexican couples with certified fertility problems. This excludes homosexuals.
Now Mexican Congress is debating whether or not to extend these restrictions throughout the country. In Tabasco, the surrogacy contracts that were signed before the legal change took effect are still valid, which is why there are still dozens of women carrying babies for foreigners.
When you do this, you help people who want children, you get paid and you don't owe anyone anything. Surrogate mother Selene
"Yeah, it's pretty terrible luck that they've taken away the [surrogacy] program. I want [to give birth to] another one but now I won't be able to!" says Paty, laughing. She admits that the money was the main reason she did it, but says it is more than that.
"These are families that can spend a lot of time with the babies and love them a lot. When the first one was born...awww. They screamed and cried and hugged me! It was such a happy moment."
When people ask her if she feels like she's sold her body or been taken advantage of, she replies that it's just like any other job.
"If sweet God made me for this, I tell my husband, then we are going to help."
Paty's manner of helping has even involved recruiting more women for the agencies. This includes her own sister, her sisters-in-law, and many girls in her neighborhood.
"It's a chain: the word spreads fast."
Everyone on the block
In Mirna and Nohemi's neighborhood, every girl on the block, they say, has worked as a surrogate mother. They are sisters and both chose to work in surrogacy.
The girls' mother remembers when the neighbors used to talk behind their backs. She says she always defended their decision. "'They're selling their children, blah blah blah', they would say… Your child shares your blood, and these babies don't. The girls are just lending the child a little house for a while."
Mirna, 35, with three children of her own, has recently been "transferred" for the first time. That's what they call it after the doctor has implanted the contracting parents' embryo into the surrogate mother. Prior to the transfer, the surrogate has to take hormones.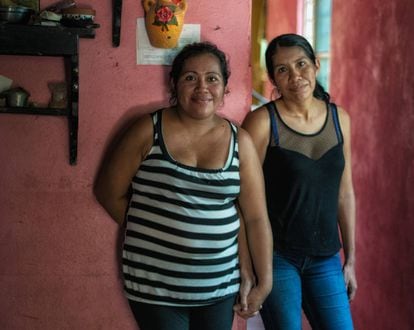 Before Mirna it was her sister Nohemi, 32 and married with two children, who had become a surrogate mother. Agencies which are serious about their work require surrogate mothers to be younger than 35 and to have previously given birth. Nohemi found the agency on Facebook, but since then the number of agencies has multiplied. Even today, finding them with a simple Google search is easy.
Last year, Nohemi gave birth to a pair of twins for a gay Australian couple. Just two months later, she got pregnant with the third child of her own. It's hard to image that five babies have come out of her slim body, with the last birth just two weeks before.
The reason behind the spike in surrogacy in Tabasco goes beyond the law and into socioeconomic factors. Neither Nohemi nor Mirna finished high school. They confess that their father, with whom they lived after their mother left the family for another man, abused them.
"I decided to leave home at 18," says Mirna, as she shows off the tiny home where she now lives with her sister and their children.
In the boom years where control was lax, every time Tabasco's surrogate mothers made headlines, it was because something had gone wrong. Clinics were closed for operating without licenses; fake doctors were caught practicing without titles; and clinics would suddenly shut down, leaving clients without contacts and surrogates carrying their babies.
Last year Tabasco changed its law limiting surrogacy to Mexican couples with certified fertility problems, homosexuals excluded.
"There was a case of one girl, the baby died inside of her and she almost died too," says Selene, another surrogate mother.
Selene escaped from a house where an agency owner was holding her captive. She had arrived a few months earlier with her children, aged one and five, to work as a surrogate. The agency had promised her a home, food and schooling for her children until she gave birth in Tabasco. But what she found was very different: a house that she shared with nine other women and their respective children, where there was nothing to eat and they had to do the cleaning.
"It was full of cockroaches, the water was green, there was no electricity, no furniture. It was horrible. The psychological abuse was tremendous," says Selene, 29, who is using an assumed name and refuses to have her picture taken for fear of retaliation.
Although she asked the agency to let her go, the owner told her that if she left, she would be forced to reimburse the agency for "all they had spent" on her and her children. One day, however, on a trip to the supermarket and with help from a friend, she managed to escape with her children. The agency reported her friend for robbery.
Despite her odyssey, Selene went back to surrogacy. Her husband didn't have a job.
"Right now the situation is really difficult. You go to the bank to ask for a loan and they charge you a lot of interest," she says to justify the decision. "You do this, you help people who want children, you get paid and you don't owe anyone anything."
A year ago she gave birth to a girl for a gay Israeli couple through another agency, and now she wants to do it again.
"I'm good at having babies," she emphasizes. "Now I'll try to work directly with the dads because we formed a beautiful friendship," she says.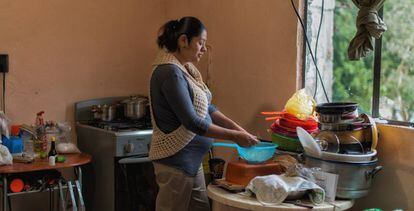 How does she feel about the baby girl who came out of her body? "Affection, but not like a mother. It's affection as if she were my niece."
Women from all over the country have given birth in Tabasco, where the law used to apply to whoever gave birth in the state. That is the case of Isabel, 27, a single mother of a six-year-old, who lives in a tiny house perched on one of the ravines to the west of Mexico City. She says she didn't become a surrogate for money, but for medical reasons: before lending herself to be a surrogate mother she had "abused" the ovary donation system.
"It's allowed five or six times. Every six months. This is normal and doesn't have any effects. I was donating every three months," she confessed.
It's called ovary "donation," but like surrogacy, it is usually done for money. Isabel made 10,000 pesos (€500) each time. Mexico lacks a law on assisted reproduction. This creates a legal vacuum not just when it comes to surrogacy, but also around stem cell donation or the "three-parent birth" that New Science magazine reported on in September 2016.
Isabel asserts that her doctor told her she was at risk after the excessive ovary donations, and he recommended getting pregnant to improve her health. According to medical literature, one of the possible side effects of ovary donation is ovarian hyperstimulation syndrome. In rare cases, it can lead to serious illness or death. However, under no circumstance is it medically advisable to become pregnant. The truth is quite the opposite: pregnancy can aggravate the symptoms.
But Isabel insists that if she hadn't been paid, she would have been a surrogate mother anyway "to give my daughter a healthier mom." Now, after handing over the baby she carried for nine months, she feels "happy and satisfied." She says she wants to study and become a police officer.
By contrast, Guadalupe, 33, began to feel uneasy while she was carrying a girl for a gay couple from the US. During our first interview in her home in Cuautitlán Izcalli, in Mexico State, she seemed calm, as pictures from a photo shoot show. It was the summer holidays and her children were home from school. Her husband was there too because he works the night shift in a warehouse.
Happily, she explained the process. First, she said, she decided to leave her job at a daycare where she earned 2,000 pesos (€91) a month.
"They interview you and if you meet all of the requirements, you stay and they give you a client," she says. The embryo transfer was quick, "like 15 or 20 minutes" she said.
She broke down her payment: €160 upon signing the contract, €140 for the transfer, €230 on the day of the first ultrasound, and after 12 weeks she would earn €460 for each medical appointment. When she gave birth it would be another €3,500, and €1,370 more for twins. In total, she said she would make around €6,700.
Despite the economic gains, childbirth has inherent risks. In Mexico, 38 out of every 100,000 women die during childbirth, according to 2015 figures from Unicef. In the US, that figure is 14, and the UK it is nine.
Despite her previous optimism, weeks after the initial interview Guadalupe wrote a letter voicing her concern. "All of this is starting to scare me," she said.
A friend of hers, also a surrogate mother, almost died from a hemorrhage during Cesarean section. She ended up having placenta previa, a condition that affects one out of every 200 pregnancies. In the end, doctors had to remove her uterus.
There is no extra compensation if the surrogate mother needs a hysterectomy. The contracting parents agree to pay the medical costs until the surrogates give birth, but the surrogate mothers sign a contract saying that they accept the risks that come along with childbirth.
Guadalupe gave birth to a healthy baby girl in December.
English version: Alyssa McMurtry.