From 'Game of Thrones' to 'Black Mirror': the Spanish sets attracting thousands of tourists
Spain has been used for dozens of shoots and now cinema buffs are planning their holidays around the backdrops to their favorite shows
Pilgrims on the Camino de Santiago or Way of St James might well gasp in wonder as they enter the Mirandilla Valley in Santo Domingo de Silos at the point where the Sad Hill cemetery comes into view. This was the location for the final shoot out in Clint Eastwood's most famous spaghetti western, The Good, the Bad and the Ugly. After the film was shot in 1966, the iconic spot in Burgos was abandoned and only the odd passers-by would stumble upon it and stop to stare.
In 2014, however, four film buffs took it upon themselves to breathe new life into the dilapidated graveyard by setting up the Sad Hill Cultural Association. First, they excavated the vast cobbled esplanade where one of cinema's most memorable scenes took place. Then, to celebrate the film's 50th anniversary in 2016, they launched a crowdfunding campaign to rebuild 5,000 cross-shaped tombstones. "We now have 3,000 crosses and visitors from all over the world," says Joseba del Valle, one of the association's four founding members.
Back in 1966, the crosses were erected by the military in return for a 75,000 peseta – €450 – donation to support orphans. Keen to show off their thespian skills, dictator Francisco Franco's Armed Forces also provided the film with 1,000 extras.
The restoration of Sad Hill is now the subject of a documentary called Sad Hill Disinterred, directed by Guillermo de Oliveira and set to premiere in Spain at the Sitges film festival. The footage includes an interview with Clint Eastwood as well as Metallica front man James Hetfield who opens all his concerts with Ennio Morricones's famous soundtrack.
Traditionally, the shoots were done in Madrid, Barcelona and the Tabernas desert in Almeria. That has completely changed
Carlos Rosado, president of the Spain Film Commission
"Once it was shown in November at the film festival in Tokyo, we even received a bus filled with Japanese tourists," says Del Valle, who estimates that around 10,000 people will visit this August. "We are lobbying for the spot to be declared an Asset of Cultural Interest (BIE). Ten years ago it was forgotten. I'm from Bilbao and I'm excited that we can now compare it with what is happening at San Juan de Gaztelugatxe."
San Juan de Gaztelugatxe is one of the most manifest examples of cinema tourism in recent years. The producers of HBO's runaway success Game of Thrones chose this small peninsula in Bermeo in the Basque Country with its 10th century hermitage for Rocadragon, a key location in the seventh series. The choice, together with locations in Seville, is a feather in the cap for Spain. However, the ensuing tourist invasion is taking its toll – in August 2017, after the end of the seventh series, 142,000 tourists descended on Queen Daenerys' fort.
And the crowds show little sign of abating. San Juan de Gaztelugatxe has become the region's second biggest tourist attraction after the Guggenheim. Taking a photo without having a fellow tourist's head in the frame is about as easy as catching a glimpse of a flying dragon. Consequently, the Basque authorities are establishing a project for sustainable tourism and debating potential solutions such as an entry fee.
In recent years, Spain has become a favorite with directors and producers looking for a suitable backdrop for their movies. "Traditionally, the shoots were done in Madrid, Barcelona and the Tabernas desert in Almeria. That has completely changed," says Carlos Rosado, president of the Spain Film Commission. "There is an enormous increase in the number and range of locations." Navarre, Cantabria and Andalusia all have their cinema routes and Cantabria estimates tourism has risen 30% because of them.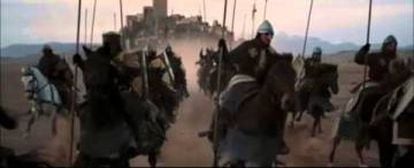 Being used as a location has obvious benefits. More tourism is a boost to an area's economy. So naturally, most of Spain is vying for a piece of the pie. According to the Spain Film Commission, the National Parks of Urbasa and Andía in Navarre, Teide volcano in Tenerife, Fuerteventura (where Wonder Woman 1984 is being filmed) the Plaza Mayor in Salamanca and Valladolid, the city wall in Avila and Los Barruecos in Extremadura are just some of the iconic sites favored by international filmmakers. "Spain has all the right conditions for a shoot – variety within a small area, a good climate, an audiovisual infrastructure, skilled professionals and lower prices than you might find in the rest of Europe," says Rosado.
Director Ridley Scott is just one of many directors who are passionate about Spain. "He knows Spain inside out," says producer José Luis Escolar who provides services to film crews shooting in Spain. "That's why he always comes back and we work together. We shot Kingdom of Heaven in the Loarre castle in Huesca and when it came out [in 2005] those in charge said that visits were up by 1,000%."
Scott also filmed parts of his movie Exodus and also The Counselor in Spain. Recently, he visited the old jail in Malaga, which could provide the location for his next movie The Cartel, adapted from the novel by Don Winslow. Since it was shut in 2009, the vast prison has only opened its doors for the cameras. And with increasing frequency. Since Enrique García filmed 321 Days in Michigan there four years ago, many filmmakers have fallen captive to its charms. "Along with the one in Segovia, it's the only prison open for movie shoots," says a spokesman from the Malaga Film Office. "We receive requests for information on it from five or six production teams annually."
A walk past its cells is enough to explain why. Although somewhat abandoned, the structure remains intact and the atmosphere chilling. In 1985, a riot broke out here with tragic consequences. This year, another was filmed for the Spanish series Allí Abajo. And the producers of Black Mirror chose it for the last episode Black Museum, encouraged by a minimal fee of €500.
Inside the prison, you can still see a guitar painted on the wall of cell 28. And there is graffiti, such as the 'H' for hotel and five stars. A security report from 2010 lies on the ground. It reports a security watch without incident. From now on, the jail can expect action from the movie industry and tourists, who come to pay homage and turn these locations into 21st century shrines.
English version by Heather Galloway.