Carles Puigdemont's smokescreen
The lawsuit the former Catalan premier has filed in Belgium against a Supreme Court judge is nothing more than a political ruse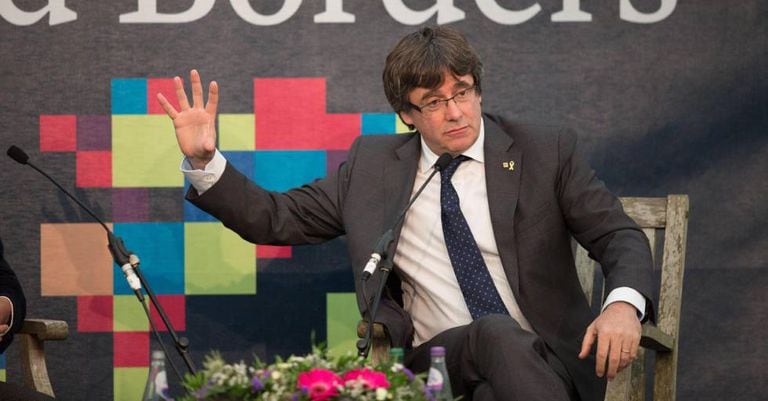 A lawsuit filed by former Catalan premier Carles Puigdemont against Supreme Court Judge Pablo Llarena is not, strictly speaking, a judicial initiative, but rather a political ruse aimed at using the Belgian courts to cast doubts about the democratic character of the Spanish state and to try to cause confrontation or distrust between political forces.
For the purposes of Puigdemont and his lawyers, it matters little whether in the end the Belgian justice system accepts his case or not, nor the actual conclusions of the court. The aim here is to perpetuate suspicions about the Spanish system for as long as possible, and with one eye on the court cases against the pro-independence leaders who are being tried in the Spanish courts.
To achieve this objective, it was not enough to challenge Judge Llarena within the process currently taking place in the heart of the Spanish justice system, but rather it was preferable to begin a civil suit in a foreign jurisdiction. This is exactly what Puigdemont and his lawyers have done, trusting that they could turn the steps that any civil suit must follow into the basis for a new propaganda campaign against the Spanish democratic system.
For someone who has fled justice as Puigdemont has it was difficult to expect any other kind of behavior. The seriousness of these actions lies not in the damage that they could do to the view from abroad of Spain's democratic institutions, but rather in his frivolous willingness to deepen divisions between Catalans, going to new extremes that could end up in new fractures and episodes that will be difficult to heal.
By contrast, what is unfathomable is the fact that the Spanish political forces, and even some institutions, such as the CGPJ legal watchdog or the solicitor general's office, did not warn from the outset that the main problem posed by the lawsuit filed in Belgium is not of a judicial nature, but rather political. Specifically, the response that is urgently needed and that is so far lacking is not one that refers to the protection of Spanish jurisdiction, but rather one aimed at debunking the political chicanery of Puigdemont and his lawyers – the abuse of the law that they are carrying out.
In the republic of fantasy in which Puigdemont has been living since he began this conflict with the 1978 Spanish Constitution, any official document from a third country, even something as simple as the response to a civil lawsuit, appears to give his strategy an element of the reality that is so lacking. But what is not a fantasy was the attempt of Puigdemont to impose independence in Catalonia despite the rejection of it by the majority of Catalans. He can put up smokescreens, but he cannot escape the very serious responsibility he bears for that outrage.
English version by Simon Hunter.