HERITAGE
Does Spain have another 'Ecce homo' botched restoration on its hands?
Amateur work on a 16th-century sculpture of Saint George in Navarre is slammed by restorers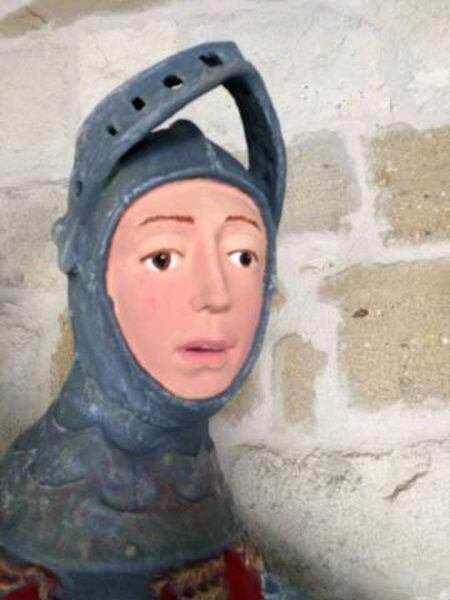 It has happened again. Another botched "art restoration" has made waves on social media, bringing back memories of the notorious 2012 "restoration" of a religious painting by an elderly resident of Borja, Spain.
Back then, even Le Monde and The New York Times picked up on the story of the Ecce homo painting that had been disfigured beyond recognition by a well-meaning local lady. Meanwhile, tourism to the tiny village of Borja soared.
This time, the restored artwork is a wooden sculpture of Saint George dating back to the 16th century. The sculpture sits inside the Church of Saint Michael in the northern town of Estella, in the Navarre region.
Images shared last weekend show the dragon-slaying warrior covered in a layer of paint that has eliminated all previously existing nuance; but more shocking yet is the saint's face, which looks straight out of an old TV cartoon.
Karmacolor, the company in charge of the restoration work, had uploaded a video to Facebook showing every step of the project, but it has since been taken down.
The Association of Conservators and Restorers of Spain (ACRE) said in a statement that the outcome "shows a frightening lack of training of the kind required for this sort of job."
Ana Herrera, Navarre chief of cultural affairs
It turns out that church managers hired an arts-and-crafts workshop to carry out the restoration of a Gothic-era artwork. Sources at the Pamplona archbishop's office told the news agency EFE on Monday that the parish priest did not intend for the sculpture to get redone: "He just wanted to clean up a space that was dirty."
The art conservation association ACRE notes that any actions carried out on Spain's cultural heritage are covered by state legislation, and in this case, also by the laws of Navarre, which say that any conservation and restoration work must be carried out by highly trained, specialized and accredited personnel working under administrative oversight.
Now, experts will have to analyze Saint George to determine whether he can be brought back to his original look. In the meantime, ACRE said it will file a legal complaint against the people in charge of "this unfortunate intervention" that has resulted in "the destruction of part of Navarre's cultural heritage."
The mayor of Estella, Koldo Leoz, on Monday described the so-called restoration as "unfortunate," while the regional head of cultural affairs, Ana Herrera, said that her department is considering sanctions. "The restoration project should have been presented to the authorities first, and they should have waited to get the green light," she told the news agency Europa Press.
On May 12, Spain's ACRE contacted the European Confederation of Conservator-Restorers' Organisations to seek support for a public statement deploring the harm to their own profession caused by these amateur "restorations."
English version by Susana Urra.