Nine Spanish destinations not to be missed this Easter break
Take a look at our action-packed guide to the holidays complete with tulips, zombies and water slides
Over half of Spain will be traveling next week for the Easter holidays and most will choose places within the country, according to the annual TripAdvisor poll. We have pulled together the nine most popular destinations, as rated by TripAdvisor users, and recommended the best activities to do in each of them.
1. Admire tulips in Madrid
"You don't need to go all the way to Holland to admire tulips," says the staff at the Royal Botanical Garden in Madrid, which to celebrate the start of spring has organized the Tulip Tulipae exhibit (until May 20) at the Villanueva Pavilion. Visitors can learn about the plant's history and see over 80 works by 50 of the best botanical artists in the world, who were given a tulip bud over a year ago and asked to paint it once it bloomed. Visitors will also have the chance to see a tulip carpet where some 21,250 tulips will be in bloom just in time for the Easter break.
2. Slip and slide in Tenerife aquatic park
Singha is a 240-meter-long water slide with 14 twists that soars up six meters per second and drops at 18 meters per second. It is one of the star attractions of Siam Park, in southern Tenerife, and has been named best aquatic park in the world by TripAdvisor users every year since 2014. Best of all the island's dependably warm climate means Siam can be enjoyed throughout the year. While good weather is forecast for the Easter break, the water park has a wetsuit rental service and a special Winter Ticket that comes with other benefits.
3. Follow the brotherhood on a guide to Seville
It's easy for a visitor to get lost in the enormity of Easter week celebrations in Seville. To provide an in-depth look at the city at its most important moment, tour guide platform Conoce mi ciudad (Know my city) has organized two guided visits with a cofrade, a member of one of the Catholic church associations that play a key role in Holy Week activities. The first leaves in the morning and shows tourists around the city, explaining the last preparations members make before their procession in the afternoon. In the second afternoon tour, a cofrade leads a smaller group (no more than six people) through the different processional routes, pointing out the best spots to watch them – be it a nice corner or a good place to hear a saeta, a revered Spanish religious song. The platform can also organize other personalized private tours.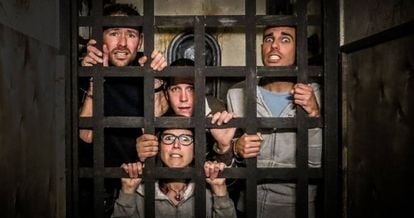 4. Escape zombies in Benidorm
There are lots of fun things to do in Benidorm that don't involve lying in the sand in the sun or visiting a chiringuito,a beach hut bar. Lockdown Escape Room gives visitors the chance to play a series of escape games. In one, participants are pit against zombies and have to split up and work together to save themselves from the swarm of the living dead. In another game, they are thrown into a 1960's spy thriller as Russians and Americans race to be the first to the moon. And in the last, visitors are sent into The Orphanage movie and have 75 minutes to escape.
5. Go deep-sea diving in Gran Canaria
The El Cabrón beach in Agüimes has areas suitable for both beginner and advanced divers and is one of the most well-known places for scuba diving in Gran Canaria (you can also go snorkeling). The island has diving schools all along the coastline. El Risco Verde (also in Agüimes) or Sardina (another one of the most popular locations) are other easy scuba diving spots. More complicated dives can be done in the town of Mogán, to the Alfonso XII shipwreck (a huge steamship that sunk in 1885 with several cases of gold on board), or to the sunken ship Arona.
6. Visit a citrus fruit orchard in Mallorca
In Sóller, about 30 kilometers away from Palma de Mallorca, you'll find Ecovinyassa, an 18,000-square-meter ecological orange and lemon orchard, with views of the Tramuntana mountain range. There are also pomegranates, avocados, and loquat,  as well as chickens and peacocks. The orchard is open throughout the Easter break, from 10am to 2pm, and allows visitors to go on one-hour tours to see (and smell) the orange trees in full bloom. A maximum of 15 people are allowed on each tour. "We want visitors to enjoy the silence of the landscape," says its owner, Sebastiana Massanet. The visit ends with a glass of freshly squeezed orange juice and a serving of pa amb oli, a staple of Catalan cuisine consisting of olive oil, salt and tomato spread over a slice of bread.
7. Discover Granada on a nighttime tour
The nighttime tour of Granada's historic Albaicín neighborhood starts at 9pm and leads visitors through the area's winding backstreets where processions (and tourists) are nowhere to be seen. Under the cover of darkness, the visitors (kept to small groups out of respect for the residents) learn about the most important events and sites of what was the once heart of the city. The tour is one of seven routes organized by Granada Secreta, an organization dedicated to unconventional cultural tourism that hosts alternative guides of the city.
8. Explore Catalan modernism in Barcelona
While the modernista Barcelona pass – which will give visitors admission to the city's least-known art nouveau landmarks for a week – is not set to be ready until the end of April, tourists can still enjoy the city's spectacular architecture. A visit to Casa Batlló, the famous creation of legendary architect Antoni Gaudí, provides insight into the Catalan's imaginative world, while Casa Vicens, in Barcelona's Gracia neighborhood, has recently opened as a museum after being heavily remodeled – a young Gaudí designed it to be a holiday home for the Vicens family 130 years ago.
9. Surf in Lanzarote
It's no surprise that Lanzarote is considered to be Europe's Hawaii. Wind, waves for all skill levels and great surf schools make this Canary Island a top surf spot. Calima Surf School, one of the best-known schools, offers classes for all levels. Specialized instructors teach classes no larger than six people at Famara cove in Teguise, one of the most beautiful beaches on the island. Surfing season is typically between September and the first week of April, but there are waves to be caught no matter the time of the year.
English version by Laura Rodríguez.