Four suspected ISIS members arrested in raids in Spain and Morocco
Alleged terrorists detained in Catalonia, Madrid and Tangiers in joint Spanish-Moroccan operation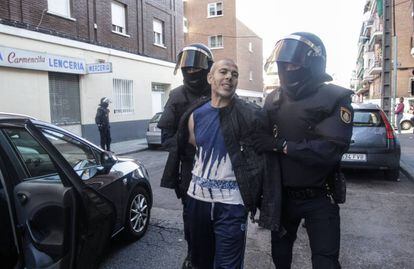 Four people believed to belong to the so-called Islamic State (ISIS) have been arrested in Spain, according to Interior Minister Juan Ignacio Zoido.
The arrests came as part of a joint operation between the Spanish National Police and the Moroccan General Directorate of Security against jihadist terrorism. According to the minister, two suspects were arrested in Figueres (Girona), one in Parla (Madrid) and another in Tangiers in Morocco.
Moment of the arrest of two men in the Catalan town of Figueres in a joint Spanish-Moroccan anti-terrorist operation
In a press release, the police reported that the suspect detained in Morocco is considered a "dangerous and well-known" member of ISIS who created "over 300 social media profiles" to spread jihadist ideology. The two arrested in Figueres are "direct students of the former" and allegedly hacked social media accounts of unsuspecting people to publish violent and graphic material.
According to the police, the suspect arrested in Parla posed "a real risk" to Spanish national security and was already "in an advanced process of radicalization," recruiting accomplices to "plan an attack."
The operation took place with the support of the Guipúzcoa and Barcelona intelligence squads, Europol and the General Directorate for Territorial Surveillance of Morocco (DGST).
English version by Melissa Kitson.