International Day to End Violence against Women
Sexual violence survivors: "Telling my story has helped me heal"
Five women recall the abuse they endured, and the guilty feelings they had to overcome before speaking out
Approximately 120 million girls around the world – more than one in every 10 – has suffered some form of sexual violence throughout their lives, according to recent figures released by UNICEF. In Europe, one in every 10 women has been a victim of sexual violence since the age of 15, and one out of every 20 has been raped, according to the latest survey by the EU Fundamental Rights Agency, which uses 2014 data. At the global level, one out of every 14 has suffered some form of sexual aggression – abuse with and without penetration – from someone who was not their partner, says the World Health Organization (WHO), in what constitutes the biggest global report on the issue to date.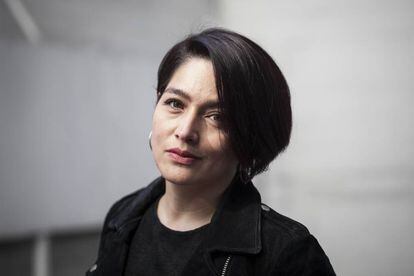 Yet experts note that even this overwhelming tide of figures does not capture the full extent of what they consider to be a silent epidemic. "Epidemic" because of its devastating effects on more than half of society, and "silent" because a majority of women do not report it.
"They are very scared of being misjudged, they have a tremendous guilt complex that they pick up from their environment," says Tina Alarcón, president of the Madrid Center to Help Victims of Sexual Aggression (CAVAS). "It is the kind of environment where you still hear things like, 'she was asking for it,' especially when the person is a relative, a friend, someone you know, which is the case 80% of the time."
This tendency to blame the victim is a common pattern throughout the world. The following are stories of women who suffered sexual violence and broke their silence in a bid to help stop the epidemic.
Ana: "The person who should have taken care of me robbed me of my innocence"
The first time he walked into her room she was asleep. It was cold and she had pulled the covers up to her nose. It's been 21 years since that night, but Ana has gone back to it in her mind many times. She can still see the color of the bedsheets, and she remembers that he was wearing blue pajamas. The nightstand lamp was casting an orange-hued light on the textured walls. "I was seven; I was a little kid who loved playing with building blocks and going out in the backyard, I was quite happy," she recalls, shrugging as she holds a cup of tea between her long, bony hands.
Ana is 28 today, a willowy young woman with dark hair and hazelnut eyes. It's taken her five years to talk about the sexual abuse that she endured from a very close relative for an entire decade. She never told her mother or brother about it. "That's why it's better for you to call me Ana," she says.
"I grew up as though I were two different people: one who was small and scared about the visits by that man, and another cheerful, talkative one who was afraid that somebody would discover what was going on."
Then, after a suicide attempt, the "visits" became less frequent. Later she left home and moved to Madrid. She has hardly been back since then. Ana is still recovering. She has been following treatment for anxiety and for the eating disorder she developed as a teenager – a very common circumstance among victims of abuse, say the experts.
"Every day I tell myself that I am a survivor, that I have been through a lot and that I can deal with anything that comes my way," she explains. "That this man whom I trusted completely, who was meant to take care of me and protect me; my abuser, as I force myself to say, ruined my childhood and robbed me of my innocence, but he will not destroy my life. There's many of us out there [1.4 million, according to a 2015 survey by the Equality Ministry], we are not alone."
But Ana is still dealing with feelings of guilt. He used to give her little gifts that she could not refuse, and then he would call her a whore for accepting them. And she still cannot bring herself to tell the whole story. "I know that if I do, everything will change, and those I love the most will suffer a lot."
Juanita Díaz: "Telling my story has helped me heal"
It took Juanita Díaz many months to come to terms with what had happened to her. She was a 19-year-old art student at Javeriana University in Bogotá, and not sexually active yet, when a classmate assaulted her inside a photography lab. "I was waiting for the photos to dry for one of my final projects. I was alone because it was lunchtime. He walked in and said hi; I knew him so I did not suspect," she recalls. Juanita is a slight young woman with large brown eyes and fair skin. In a calm voice, she explains how he blocked the door, grabbed her and ripped off her shirt.
"I froze; I was in shock. All I could manage to say is stop, leave me alone. He kept yelling that I was a bitch," she recalls. Juanita managed to escape before her assaulter finished what he had come for.
"I was so nervous I didn't know where to go. I couldn't even tell anyone about it that day. Later I left my boyfriend because I couldn't stand being close to any man. I locked myself up at home and I was so scared that I carried a screwdriver around in my purse for a while."
Then, when it was time to go to class again after the holiday vacations, she bumped into her aggressor. "I ran into the bathroom and threw up. I felt I was going mad, then one early morning I broke down and told my brother about it. Then I told my father and my mother."
Juanita began treatment for post-traumatic stress and reported the case to university officials and then to the police. But it was a year-and-a-half before she was able to bring herself to do so. She then learned that she was not the only one, that this student had assaulted around 10 other young women. He was expelled, but five years after the events, no trial date has been set.
Just like the cases of Juanita and Ana, over 80% of abusers are people whom the victims know: relatives, friends, colleagues, sometimes even their own sentimental partners. And this helps perpetuate the silence.
"I was finally able to talk about it. Talking about being assaulted has helped me heal," says Juanita. "I am now an empowered woman."
Juanita has gone one to write a song, Despegas, she has founded an organization to fight abuse at institutions, she helps other victims, and has co-drafted university protocols to prevent such situations from happening again.
Macarena García. "I was ashamed to say that my husband had raped me"
"I suffered abuse for years, and if it's embarrassing to say that you've been beaten or insulted, imagine saying you've been raped. I was extremely embarrassed. Talking about sex is still not a normal thing, it's viewed as an inadequate subject matter," says Macarena García, 48. For 23 of those years, she was married to a man who abused her physically and psychologically. This included sexual violence, as is often the case.
"At first you think, 'he's my husband and that's the way these things are done.' But that's until you realize that you are a person, not an object, and that you do not have to do anything you don't want to," says Macarena, who lives in a village in Seville and has since left her husband. She now volunteers for the Ana Bella Foundation for victims of abuse.
Macarena says it is important to break the silence so those who are still suffering will know that they are not alone. "I remember nights of terror when I would yield and have sex with him just so my children would not wake up. Or when he told me that if I wanted to sleep in the bed, I had to do whatever he asked of me."
Macarena, who has two teenage children (aged 18 and 19), says that when she finally asked for help, nobody asked her about the sexual violence. She only began talking about it after some time, when she had partly recovered: "It's not really about sex, but about domination, about power."
Sunitha Krishnan: "Eight men abused me, but I was the guilty one"
Sunitha Krishnan, a native of India, tells her story with breathtaking serenity. "When I was 15 years old I was raped by eight men. My community considered that I was the guilty one, not the victim of a crime. They decided that my character was not good, that I had done something to deserve this. I was isolated and my family stopped getting invited to social events. I was viewed as a prostitute," recalls this petite woman.
Now 44, she recalls that "after that, I promised myself that I would not let it destroy me, that I would recover and devote my life to fighting sexual violence, making the topic visible and helping other women."
And she did. Sunitha founded Prajwala, an organization to help women who have been sexual slaves. "Women who were not raped once like myself, but hundreds of time," she notes.
Her demands include better assistance and prevention policies, and a change in the way women are socialized to feel guilty about being victims of sexual crimes.
"We shouldn't educate our girls to 'take care of themselves,' but our boys to respect them and not be aggressors," she says.
"It's important to talk, to break the silence," she adds. "It's the only way to change things."
Sindy Hernández: "I am not seen as a victim because I don't go around crying"
When Sindy Hernández was four years old she was abducted in the middle of the street and raped. Her parents were poor peasants who had moved to Bogotá, the capital of Colombia, where they ran a tobacco store. She had run out of the establishment to play in the street while her parents worked.
"I don't remember much, but I can clearly recall something my aggressor told me, that I was 'a very good bitch.' This marked my sex life from that moment on," says Sindy, who is now 41.
Her family never talked about it: "They are very conservative and their way of dealing with it was to conceal it, as though it had never happened."
When she was 10, a friend of the family locked Sindy in the bathroom and touched her while he masturbated. "He was smart: he did not threaten me. Instead he manipulated me, told me not to tell my parents, because this was what couples did together. I never saw him again, but that defined my character. I ended up accepting the phrase that my first aggressor told me, and I became a yielding person with my sexual partners. That made me tremendously vulnerable to aggression," she notes.
Later she met her future husband, a Mexican actor who began abusing her after their honeymoon. "When we split up, three years ago, I came to realize that he had abused me sexually as well. At first I couldn't grasp the fact that it's possible to get raped if you are married. But if you don't consent to the sex, then it's rape. So I was raped many times within my marriage."
She is still afraid of her ex, and has yet to fully recover. "I am not seen as a victim because I don't go around crying and dragging myself on the floor. One needs to survive, and that's what I did. And I survive because I talk about it. I talk so that this secret that society normalizes because it's concealed will come to light and be viewed as intolerable. Every day I say to myself and to my son: "Your body is sacred and you decide who gets to touch it."
English version by Susana Urra.