Catalan independence
Analysis
Educational exposure of ideas, assumptions or hypotheses, based on proven facts" (which need not be strictly current affairs) Value in judgments are excluded, and the text comes close to an opinion article, without judging or making forecasts , just formulating hypotheses, giving motivated explanations and bringing together a variety of data
Lawlessness in Catalonia
Nativism, supremacism and nationalism have fueled a serious threat to Spanish democracy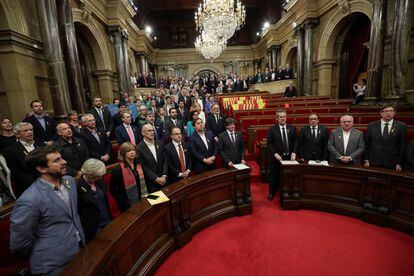 Catalan leaders on Friday voted for independence in an assembly that was half empty, where they cast secret ballots on a resolution with neither legal or effective value. Of 135 deputies, 70 voted in favor of a resolution that urges the regional government to open up a constituent process. Another 55 lawmakers walked out, and 10 voted against it.
Images of an empty parliament secretly voting on such a relevant issue will forever change not just Catalonia, but all of Spain. The vote was secret because proclaiming independence is considered a crime of rebellion, which entails prison terms of up to 35 years.
Pro-independence parties in Catalonia represent 2.5 million voters out of a total population of 7.5 million and a voter census of 5.5 million. 
To all effects and purposes,

Catalonia is not independent

.
The Spanish government has challenged the declaration in the Constitutional Court. The Senate has approved measures suspending the autonomy of Catalonia. In the coming hours, the entire Catalan government will be removed from office, and its functions taken over by Madrid until new elections are called within the next six months.
To all effects and purposes, Catalonia is not independent. Pro-independence leaders do not have the social or political majority required to follow through on what this freshly-approved declaration promises to do, which is to "constitute a Catalan republic as an independent, sovereign, democratic and social state based on the rule of law."
Legislative, executive and judicial powers in Spain have repeatedly warned that what happened today in Catalonia is illegal.
Friday marked the climax in an increasingly radicalized journey undertaken by regional political leaders who have joined the radical left in order to proclaim Catalan independence regardless of the cost, triggering a massive capital flight in the region, where 1,000 businesses have changed their registered corporate addresses to other Spanish cities.
These leaders have left out of their plans the five million voters who didn't vote or cast their ballots for non-separatist parties at the 2015 election, and the many Spaniards from other parts of the country who live and work in Catalonia.
The only real achievement of separatist leaders today is to take us back to those dark times
The crisis took a turn for the worse during the global economic crisis that began in 2008. Catalan nationalist parties responded to the rise in unemployment and cuts to public services with a supremacist, nativist narrative about an impoverished Spanish state dragging down a Catalonia that was, in their own view, economically and culturally superior. The message gelled, and civic groups were formed that later offered political leaders the chance to organize massive street demonstrations.
Now, these leaders have made the most of the populist tide rising across the West. Just as Donald Trump made it into the White House with an isolationist message, and Brexit triumphed on the back of supremacist arguments, nationalism has imposed itself in Catalonia, causing irreparable damage to the region. In all of these cases, Russia has set its interference and fake news machinery in motion, always with the aim of weakening the United States and the European Union.
In just a few hours, the central government will take over Catalonia's powers of self-rule. This is something that had not happened since the 18th-century civil war between supporters of different contenders for the Spanish Crown. The winner at that time was Felipe V, the first Bourbon monarch in Spain, who cancelled Catalan self-government.
The only real achievement of separatist leaders today is to take us back to those dark times. This time, they have left the Spanish state no other way out. Prime Minister Mariano Rajoy and the opposition Socialists (PSOE) have said on countless occasions that they did not want to reach this point. But in the end they had no other option, because the alternative would have been to declare a state of exception.
The next step is for the Spanish government to call regional elections as soon as possible so that things can go back to normal in Catalonia. But before that, the law has to be restored.
English version by Susana Urra.